Culture
Cities versus climate change
7,000 city mayors have committed to tackle climate change - how will this shape the future?
Progress: How cities are tackling climate change
Our cities are changing. More than ever, cities around the world are taking action to build sustainable economies. With over 1,000 projects planned worth US $52 billion, a tipping point on environmental action is within reach. But to get there, we need to move even faster. Cities are being encouraged to continue to take bold action in tackling climate change. Housing over 50% of the world's population and responsible for 75% of GHG emissions, the transition to a sustainable economy could well be won or lost in our cities.
Can cities drive the transition to a sustainable economy?
'Progress' a new video from non-profit CDP, celebrates those cities acting on the environment and tells a story of a world in transition. The video follows the commitment of 7,000 city mayors to tackle climate change, and shines a welcome light on those cities creating a new low carbon future from London to Chicago, Adelaide and Rio de Janeiro. CDP has seen a ten-fold increase in the number of cities disclosing their activity over the last six years, with a 20-fold increase in the number of climate actions underway. The new data from nearly 600 global cities has found that around 8,000 actions are being taken, with projects worth US $52 underway to build a new sustainable economy and US $9.5 billion worth of water projects open for investment. Kyra Appleby, Head of CDP Cities said: 'From investment in renewable energy; low carbon transport; green spaces and more, we're seeing hundreds of cities transitioning to a new sustainable economy. Cities are in action and creating good jobs, improving public health, boosting tourism and attracting the innovative industries of the future. A tipping point is emerging, as cities increasingly recognize sustainability as essential to not only for tackling climate change, but making more attractive places to live and work. Together, we're making progress.'
7,000 city mayors have committed to tackle climate change - how will this shape the future?
Information from nearly 600 cities is now available on CDP's Open Data Portal. In the belief that information is key to meaningful action, the Open Data Portal is packed full of charts, graphs and maps on who's tackling climate change, and more.
Find out which cities are building a sustainable economy: at cdp.net
[caption id="attachment_10335" align="aligncenter" width="736"]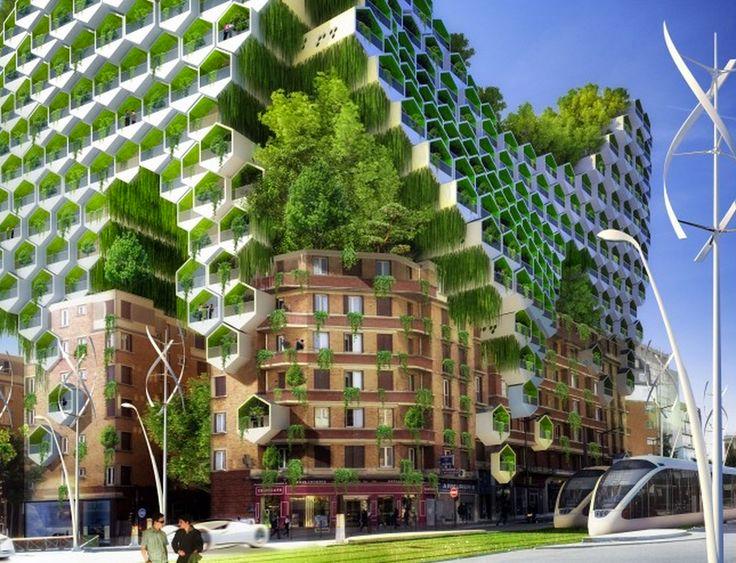 An artist's rendition of a future green city[/caption]