Technology
Fair trade by sail - a celebration - you're invited
New Dawn Traders welcome Sailing Cargo Vessel Tres Hombres on her arrival in Falmouth (UK) this May
New Dawn Traders welcome Sailing Cargo Vessel Tres Hombres on her arrival in Falmouth (UK) this May. The world's only trans-Atlantic, engine-less cargo vessel, Tres Hombres, will arrive in Falmouth on 1st May 2015 as part of her sixth consecutive journey from Europe to the Caribbean and back. Trading in the finest ethical products all along her route, Tres Hombres is leading the way towards reviving an industry in shipping goods under sail. This beautiful brigantine, the first of the Fairtransport Shipping fleet, set sail from Holland in October 2014, calling in to Norway, France, Portugal and the Canaries on her way to the Caribbean, and returning via Bermuda, the Azores and England before the last leg to her home port in the Netherlands. . . . . . .
Her belly is filled to the brim with rum and cocoa part of which is destined to become New Dawn Rum and New Dawn Chocolate available in the UK only.We are honoured to work with this majestic ship and be part of the growing Fair Transport family!
Join us as we celebrate this exceptional ship, her cargo of delicacies and the adventures she's had at sea.
In a series of events you can learn more about the renaissance in sail-shipped cargo through talks, films, performances, tastings, and general revelry. Meet and make merry with the magnificent crew that is visioning the future of fair transport in the UK and beyond.
Friday - 1st May
3pm : Prince of Wales Pier
Welcome Tres Hombres Ship as she sails in with performances from The Story Republic and music. Watch the unloading of rum from boat to horse and cart followed by a procession through Penryn. FREE event.
7pm : Watersports Centre
Meet the movers and shakers creating a new paradigm for ethical food, trade and ocean conservation. FREE event.
Andreas Lackner, Fairtransport Marcus Rowden, Grayhound Lugger Sailing Hans Zeeldieb, Onion Johnnies Emily Penn, EXXpedition Jo Royle, Ocean's Advocate Mike Longman The Chocolarder and more...
Sunday - 3rd May
11am : Tres Hombres Open Ship
Guided tours of this pioneering cargo ship. Ticket includes water taxi from Custom Quay. Book here.
2.30pm: Rum Tasting
An afternoon's rum tasting aboard the ship with a selection of what is still available from previous editions of New Dawn Rum and Tres Hombres Rum, plus the first sips from this year's delivery! This event is SOLD OUT, but if you are interested please emailinfo@newdawntraders.com to be added to the waiting list.
Sunday & Monday 3rd, 4th May
6.30pm: Bullshit Tour of Falmouth
Come discover many things you never thought you needed to know, on this highly recommended Bullshit Tour of Falmouth. Tickets here.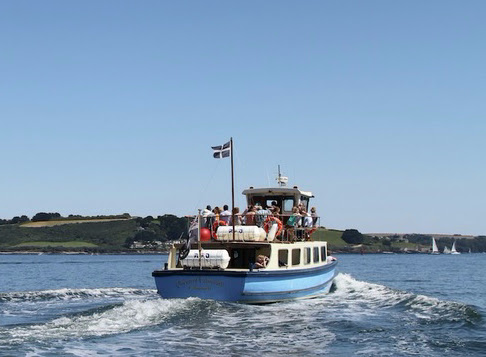 Friday - 1st May
1:45pm : Ferry Trip to meet the Ship
Wave the ship in from the water aboard the local ferry. Ticket includes a pasty but places are limited, so please book here.
Friday - 1st May (& on 2nd, 3rd)
Grayhound Lugger Sailing
The handsome Grayhound Lugger, the UK's first regular sail cargo ship, is offering daysails over the weekend. Friday's sail will accompany the Tres Hombres into Falmouth and all trips include a cooked lunch and cream tea. More information and reservation here.
Saturday - 2nd May
2pm & 3.30pm : Tres Hombres Open Ship
Guided tours of this pioneering cargo ship. Ticket includes water taxi from Custom Quay. Book here.
8pm : The Poly
Double Bill: "Wild Ocean Wonderings" - anecdotes from life aboard the Tres Hombres presented by a bemused landlubber. "Nothing Like Chocolate" - Documentary film by Kum-Kum Bhavnani about the radical Grenada Chocolate Company. Tickets available from The Poly.
Sunday - 3rd May
8pm - late : Mono
Trawl for your brightest threads, rehearse your bounciest booty bumps and join the Apocalypso Party at Mono! As a culmination of the weekend's events we will be launching our second edition of New Dawn Rum, alongside expert crafted cocktails and the finest afro-future-pirate-calypso tunes... No excuses now! Tickets on the door.
"…an adventure under sail: trading, sharing, feasting and daring our way to a sustainable future!"