A review of the UK's premiere ecological art event of the year.
[caption id="attachment_6804" align="aligncenter" width="761"]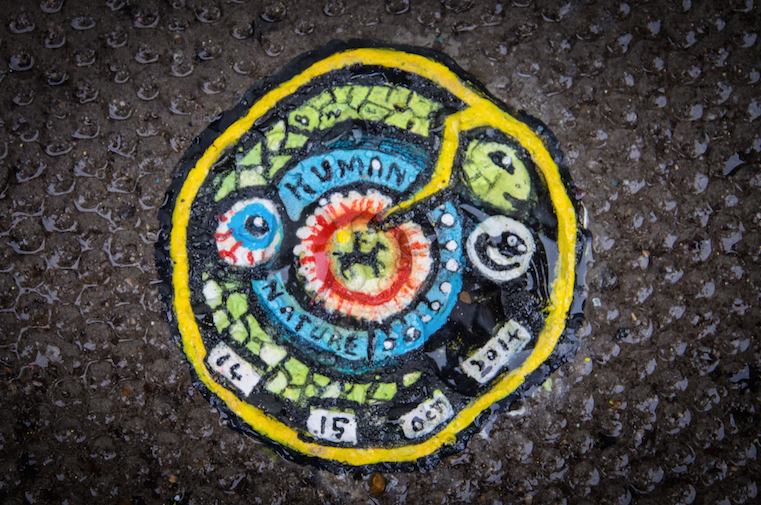 Ben Wilson's cheming gum art[/caption] EcoHustler was thrilled to be invited down to the UK's premiere ecological art event of the year - Human Nature - curated by Good Shout Studio. We braved a drizzly October night to get there but were rapidly warmed by the bright lights and high spirits under Hoxton's Arches. The ecological illuminati was out in force discussing various hot topics like: divestment, extreme droughts, crowd-sourcing investment for energy efficiency and how many drinks one can have before heading out onto greasy streets on two wheels. [caption id="attachment_6805" align="aligncenter" width="740"]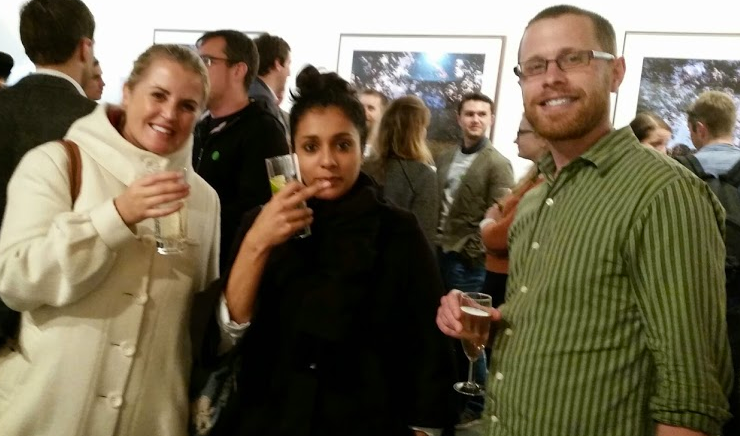 The Illuminati[/caption] The art was great too. Highlights included intriging paintings on cheming gum by Ben Wilson. Wilson, a woodcarver by trade, began experimenting with occasional chewing-gum paintings in 1998, and in October 2004 began working on them full time. He has created more than 10,000 of these works on pavements all over the UK and parts of Europe. Ben said: "When people detach from the environment, that's when the environment gets destroyed and that's also when people destroy each other. When a person throws chewing gum, it's a thoughtless action. I'm turning that around. People think they don't have an effect. But all the people that chew gum and throw it on the street, they created that. Once painted, it suddenly takes on new meaning and has been given the kind of worth that would otherwise be unthinkable." [caption id="attachment_6806" align="alignright" width="367"]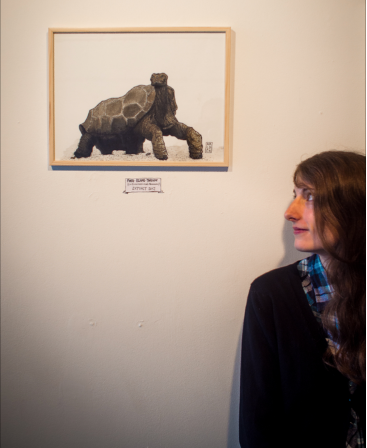 Indiana Caba[/caption] Indiana Caba (street art moniker: 'Walden') has been uploading extinct species into the urban landscape as art challenging people to see the havoc of the human-induced 6th mass extinction event. She says: "For the last three years my work has focused on the idea of wilderness and freedom, escaping from modern society and moving to the country. Society steals most of our time in exchange for money that we spend on things we do not need, and in the process we are destroying what we really belong to: nature and the wild. The 'Extinction project' project aims to give a new purpose to extinct animals, dominate the streets of our modern cities and make people realise what we're losing along the way. Killing species is killing ourselves, one step at a time." Perhaps the most striking piece of art was fish leaping out of the middle of the gallery and into the wall. These were the work of Christiaan Nagel who works globally but is based in London and famous for his mushrooms that brush up in unexpected places. Somewhat mysteriously he said: "This world is accessed by consuming a type of Psilocybin with the nickname Manna. This is not a bio-chemical reaction but a spiritual merging of the person and nature. "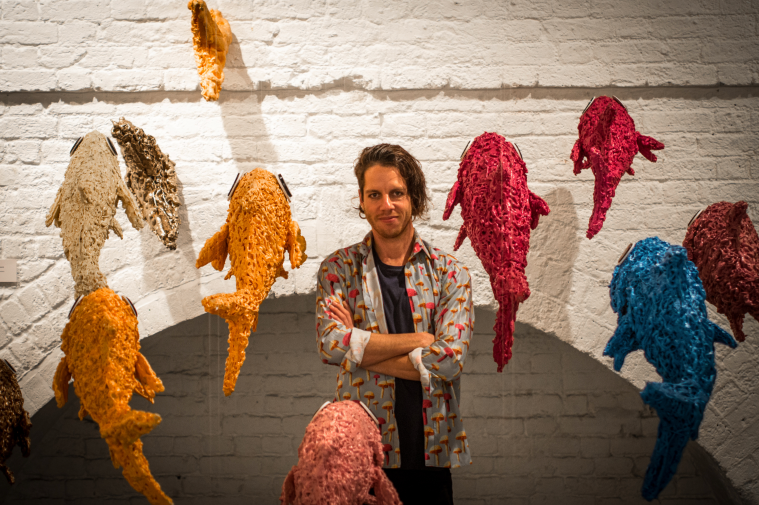 [caption id="attachment_6808" align="alignright" width="346"]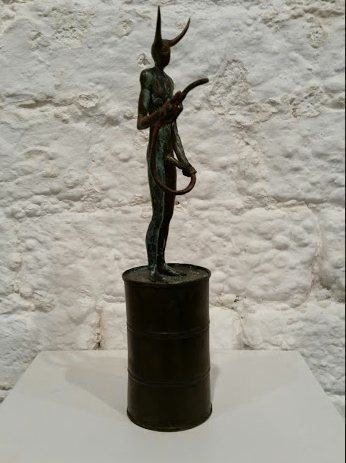 "Devil"[/caption] My personal favourite was a piece called "Devil" by Mark Jones (Jonesy) I could relate to it on many levels. The event was sponsored by Abundance Generation who crowd source investment for renewable energy projects. Moving our money away from banks that typically invest in fossil fuels and into a shared investment pot does more than just generate clean energy... it may earn you a good return too meaning the devil can just tie a knot in it.