EcoHustler editor Matt Mellen rounds off his Asian adventure
[caption id="attachment_6356" align="alignright" width="398"]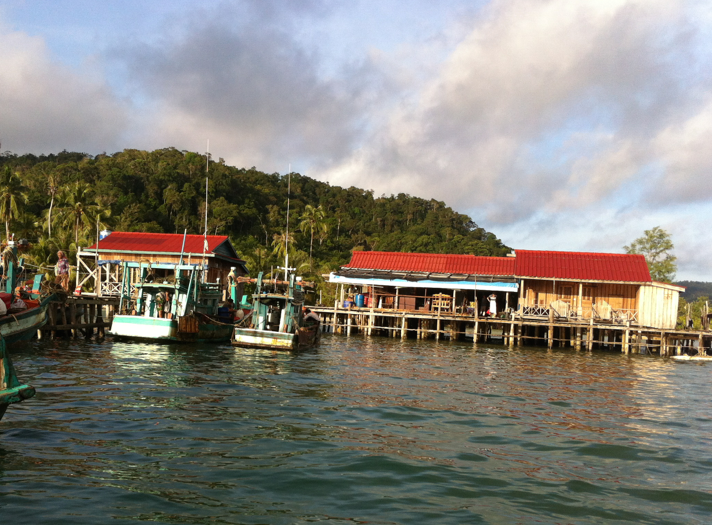 The local floating village on Koh Rong[/caption]
My adventures with the Mekong river dolphins came about after a bouncy exit from a job I had taken at a very fancy hotel in the Koh Rong Archipelago. Serendipitously, Sri Lanka was my next port of call. My dear friend and occasional employer Rory Spowers had invited me to look after his spectacular tea estate again - Samakanda. I was thrilled to return. After 3 months of sheer isolation on the Koh Rong archipelago this hilltop retreat was veritably cosmopolitan. It sits 30 minutes travel from Galle and the vibrant southern beaches near by. I could work for Rory, write, edit EcoHustler and maybe even find some people to talk to.
[caption id="attachment_6379" align="alignleft" width="300"]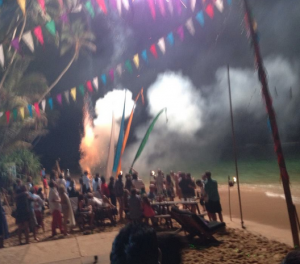 NYE 2014 @ The Widj - Credit Ben Cotton[/caption]
Samakanda
I made it to Wijiya beach bar just in time for New Year's eve. A couple of days later as the dust settled I made my way up to Samakanda. It was as beautiful as I remembered perched high above sprawling rainforest and tea. There was more wildlife than ever. I saw mongoose, monkeys and a bird of paradise on my first few days. I got reacquainted with the team there and we got ready for the first guests - the Gottwood Festival Massive were throwing a party.
[caption id="attachment_6361" align="aligncenter" width="632"]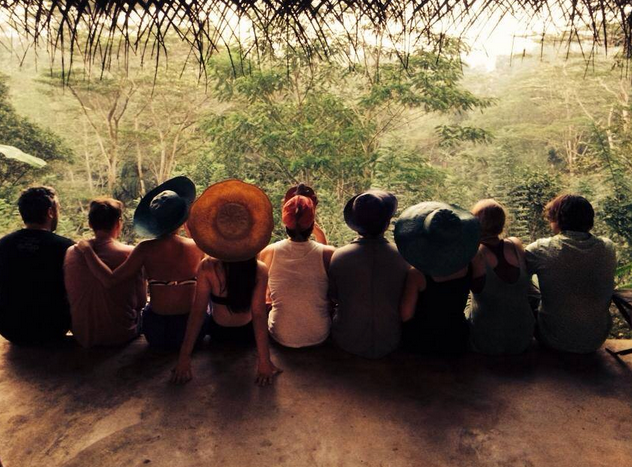 The Gottwood Posse enjoy the view @ Samakanda[/caption] [caption id="attachment_6380" align="alignleft" width="300"]
Swimming in the fresh water pools @ Samakanda - Credit Ben Cotton[/caption]
As ever, the people visiting Samakanda were a fascinating bunch - prepared to depart from the beaten path, often interested in ecological issues and keen to sample an authentic and unspoiled slice of life in Sri Lanka. We hiked down to the river to swim in the pools and get blasted with the mini-waterfalls, bird-watched, read books, meditated and generally luxuriated in the lush, verdant surrounds.
Several times a week I would blast down the hill to the secret surf spot my buddies were riding this season. Despite the ongoing optimism of the tourist sector that Sri Lanka will be the next Thailand there are still secret beaches, breaks and undiscovered wild spots awaiting the curious. I got a lucky break and joined a road trip which uncovered some undisturbed gems.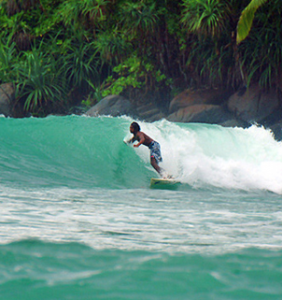 The Secret
A friend in Galle who occasionally models pulled out of making a promotional video for a guest house and asked me if I could step in. Not as good looking and a foot shorter I was reluctant, but the itinerary twisted my arm. We would ride in a van south from Galle stopping to go whale-watching as we made our way to shoot the video at a new, luxury tented camp called The Secret on the edge of Yalla National Park.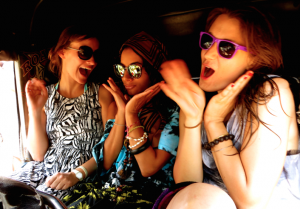 For some strange reason the video was to feature me and three girls. I didn't let this get me down and bravely persevered with the project. It was incredible to see blue whales but I was, like others, disturbed by the number of boats chasing them. The whales seemed stressed to me and I think the captains should have stayed further back. Perhaps the future is whale watching by hot air ballon or blimp?
Although Sri Lanka is tiny it always seems to take four hours to get everywhere. The arduous van rides were punctuated with frequent thambili (coconut) breaks which boosted morale. The Sri Lankan film crew were young and fun Colombo hipsters. Much more sophisticated then young Sri Lankans "down south" they were fashionable, tech-savvy chain-smokers with an interesting international outlook. GV - the unofficial bossman - is in 3 bands with unlikely international names like Battery. Saffron - the dangerously good looking thinker in the posse smouldered creatively on the set. They were an awesome and enthusiastic team to work with.
[caption id="attachment_6364" align="aligncenter" width="603"]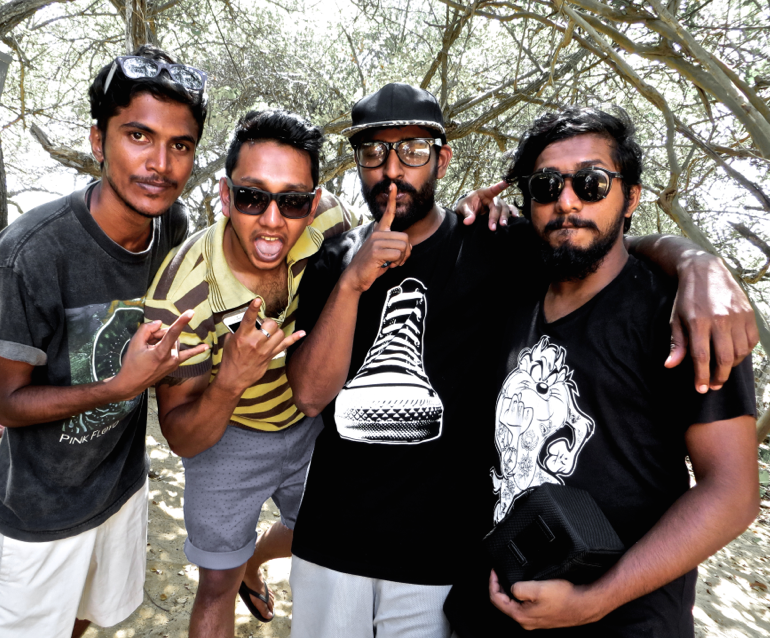 The film makers - Credit Lara Carew-Jones[/caption]
Yalla National Park didn't disappoint. On entering on our first day we immediately got stuck in a traffic jam of safari trucks queued up to see a leopard languidly enjoying the shade of a tree. She struck me as so much more refined and intelligent then the gaggle of bald monkies lined up with their little handheld gadgets to get the snap to prove they had bared witness to this mighty feline. They should give us lessons in mindfulness.
Once properly in the park the landscape opened up and we were thrilled to see elephants, wild boar, deer, eagles and a plethora of fowl. We decamped and had a picnic on a river bed and enjoyed the evening throng as the sun set and the waterholes became bustling hotspots of animal activity. That evening we rolled into The Secret Guesthouse at night and loved the comfy beds in the posh tents.
[caption id="attachment_6366" align="alignright" width="883"]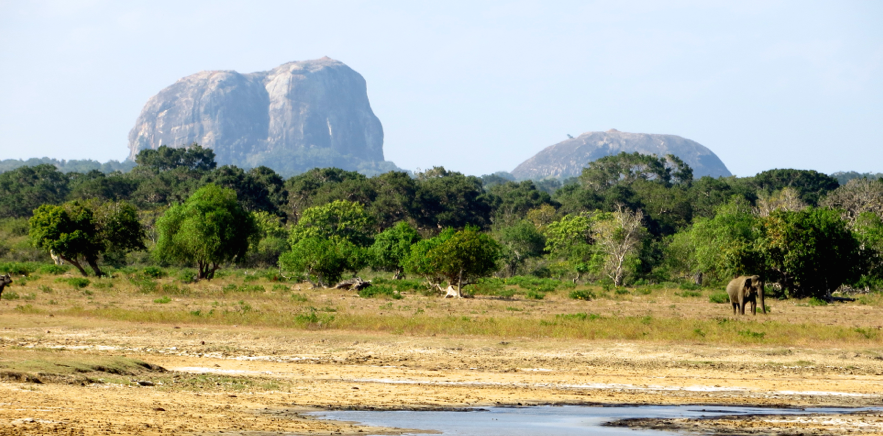 An elephant in front of "elephant rock" in Yalla - Credit Lara Carew-Jones[/caption]
The following day we headed down to the beach and the full glory of where we were became apparent. The east coast of Sri Lanka is hardly developed. Long stretches of unspoilt coastline disappear into the distance and the Indian Ocean rolls in with its generous and dependable lashings of rideable waves. From where we had breakfast there was not a single object of human construction visible. I got enormous satisfaction thinking that dinosaurs roaming here would have had a similar view. Giant prehistoric boulders lay ancient and mysterious between the arid bush where Sri Lanka's diverse ecosystems meet the sea.
[caption id="attachment_6367" align="aligncenter" width="794"]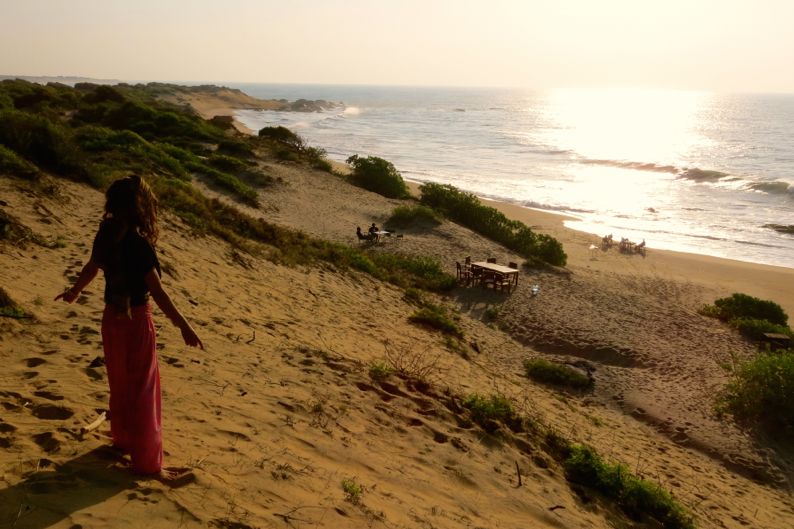 Sunrise @ The Secret[/caption]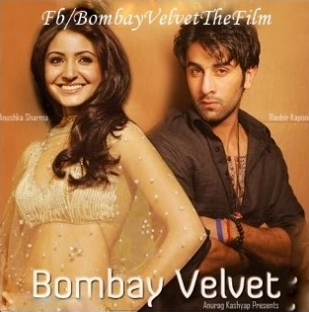 On the last day of filming one of the girls mentioned she was going to be an extra that night in a Bollywood film. I jumped in the van with her and was surprised to discover that one of the biggest films of the year is being shot in Hambantota - Bombay Velvet. Enrolled as an extra, I queued with tens of others to get my costume and make up and then was bussed to the enormous set. Ten assistant directors were shouting at each other and the main director terrified as he stormed around. The lead actors swept onto set in a convoy of limousines and I was starstruck by the glamour of filmstars I didn't even recognise.
While working at the private island hotel in Cambodia I was wheeled out one night to meet a group of sophisticated journalists from London who were reviewing the spa. I struck up a friendship with one and we became pen pals sharing ideas, writings and poems over the months that followed. It took months of persuasion but in the end she booked a flight and came to join me in Sri Lanka for two weeks.
[caption id="attachment_6369" align="alignright" width="359"]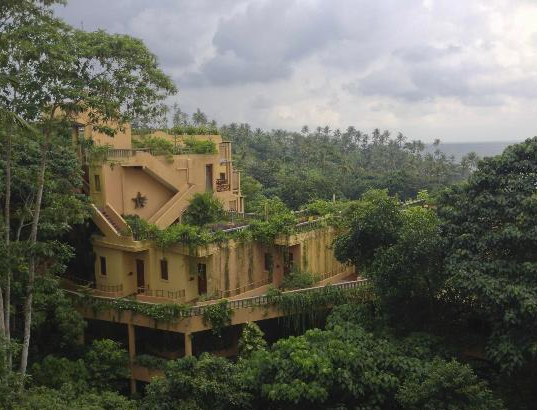 Barbyrn Beach Resort[/caption]
Barberyn Ayurveda Resort
My companion had arranged for us to retreat for 3 nights at Barberyn Ayurveda Resort. There unfolded dreamy days of oily bliss which I prayed would never end. My aching body, stressed with days of riding and battered from an ill-advised day surfing with the big boys on a big swell at Cabalana was pummelled back to rude health, but the food was the revelation.
Ayurveda is an ancient healing system of Hindu traditional medicine native to the Indian subcontinent. One approach I particularly appreciated is treating food as medicine and medicine as food. This was exemplified at Barberyrn Beach Resort where we were. Every meal was tailored to our needs and each morsel a heavenly, healing treat. I immersed myself in the largely vegan delights of the buffet and relished the earthy nurturing as the medicine worked its magic.
[caption id="attachment_6370" align="alignleft" width="379"]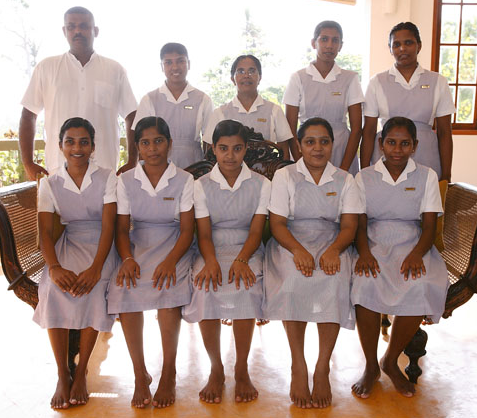 The healthcare team @ Barberyn[/caption]
There was something utterly endearing and anachronistic about the resort's health centre. It felt like a Victorian hospital crossed with a tropical Hogwarts. Pidgeon holes filled with glass medicine bottles, giant ledgers full of intricate script like a magician's tome, brown paper envelopes stuffed full of curious looking pills with complex coded instructions. The best thing of all are the hordes of smiley nurses dressed in immaculate, pre-war-style outfits always busy shifting us from one treatment to the next.
[caption id="attachment_6371" align="alignright" width="328"]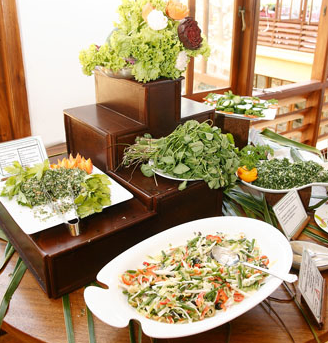 Part of the buffet @ Barberyn[/caption]
It was utterly indulgent having a full half hour scheduled with my matronly doctor. She was stern and got straight to business recording my vitals on papers in a brown folder. She sang some significant mantra as she took my pulse and then divined my type - Vata, Pitta or Kapha. She took my blood pressure and then I had an opportunity to tell my part. I started shyly but she egged me on. I told her about seemingly insignificant things like the spots on my back. I told her I am hot-headed and make rash decisions. We discussed my irritable bowel syndrome and general movement particulars. Just chatting about my various health concerns made them constrict in my mind to a manageable whole. Maybe I don't need to treat them all individually? Maybe I can eat my way to healthy glory!?
My first treatment was acupuncture. This was blissfully relaxing until I started fidgeting. First I knocked the needle in my arm so that it jabbed in at a painful angle. I couldn't get in back as it was without disrupting the others so I tried to include the pain in my general, ongoing zen practice. My calmness remained until i swept my hands through my hair. i yelped in pain as the needle in my head assumed an appalling angle which seemed to stimulate a key nerve in the centre on my brain. I closed my eyes and waited for the nurse's return.
[caption id="attachment_6383" align="alignleft" width="284"]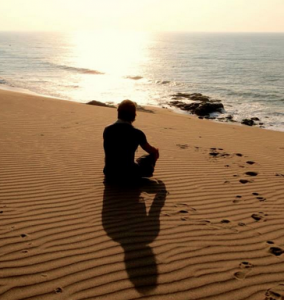 Credit - Lara Carew-Jones[/caption]
Next up was an oily pummelling. I wouldn't have thought I would enjoy being mauled by two swarthy Sri Lankans of immense strength, but having tried it I can report that I did. Resting afterwards in the herb garden with potions taped to my body I felt calm and happy. I reflected on how rushed healthcare is in the west - the focus always on money. Should healthcare be less about fixing us when we are unwell and more about maintaining a state of wellness? I relished the opportunity I had to work with a doctor to shift to wellness not just addressing separate symptoms.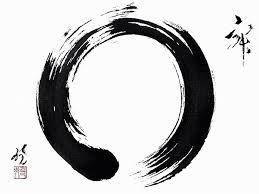 The three days passed and we rolled back out into "normal life" feeling so healthy and pure that suddenly I saw pollution and toxins everywhere. I may not sustain that level of healthy living but it has helped me to think about wellness in a new light. Overall, I learned that I don't need to go away to retreat. That is available to me every moment in every place. The ultimate retreat is an attitude to life. I will make mine right here and right now.
The Videos
http://youtu.be/xSjVZKoT2Js http://youtu.be/lbhDNWmHPFQ https://www.youtube.com/watch?v=o5MPbZZ4xJA http://youtu.be/X7e-PLsSvyg
Photos from the set of Bombay Velvet