Technology
Sincerity, greenwash and staying grounded
Why less flying is aviation's only sensible contribution to avoiding climate change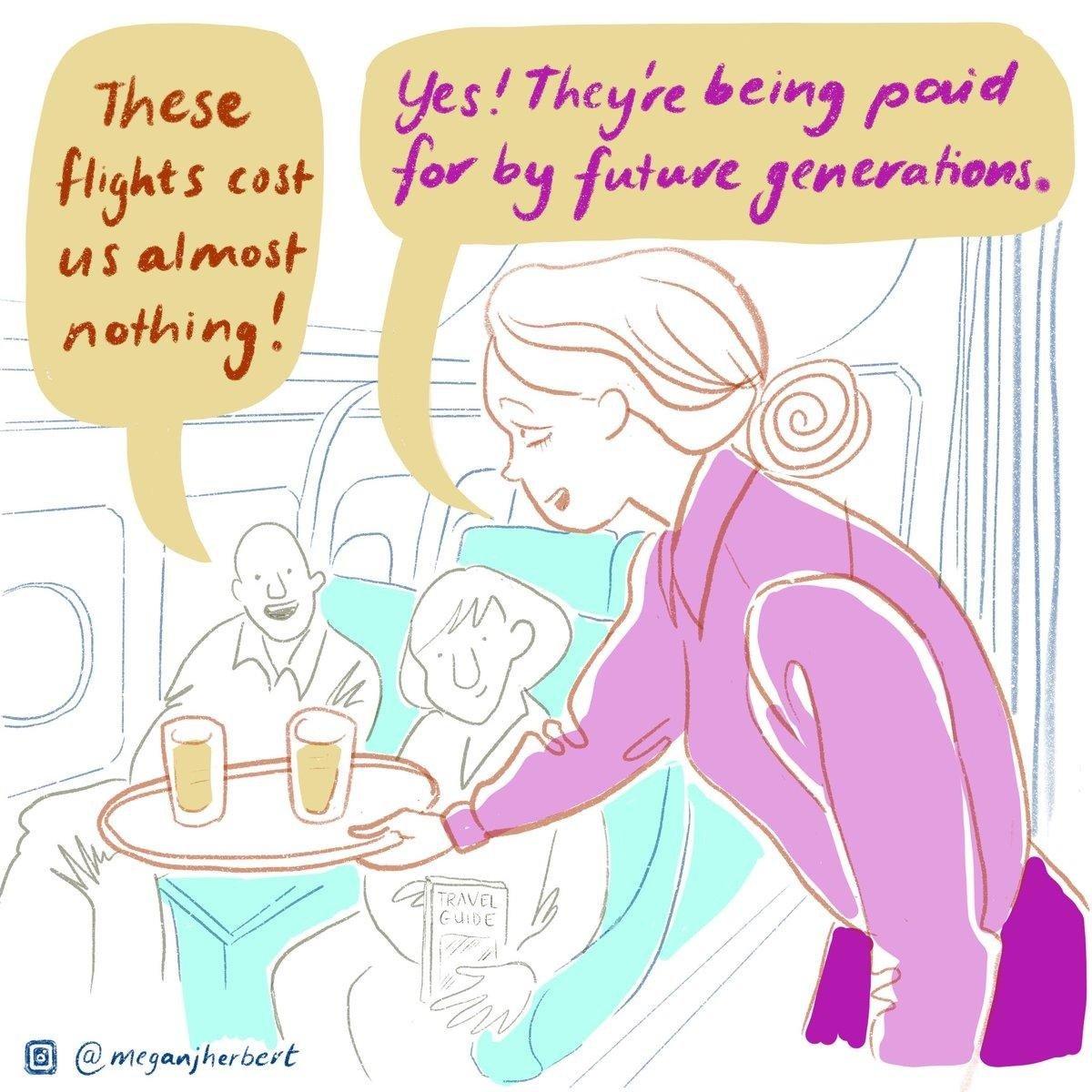 *Cartoon by *meganherbert.com
Article by Tahir Latif
Sincerity. Good intentions. Well‐meaning. Too often these characteristics prove more of an obstacle to social, economic and environmental justice than outright opposition. It's easier to struggle against your opponents than those who would claim to be on the same side (would the world have been any better off with Clinton than with Trump, for example?)
The aviation industry can furnish many examples where so‐called solutions to the environmental impact of flying are proposed by those with a sincerely held belief that they are doing good, while actually providing those in positions of power with reasons not to talk about the curb on flying that is actually needed.
Take Heathrow airport. Accompanying the third runway proposal are a range of activities that claim to ameliorate or compensate for the increase in air traffic that the runway will bring -prevent additional road traffic, extend night flight ban, monitor air quality, manage noise, develop 'green' habitats. These worthy schemes will have been designed by hard working staff, many of them 'keen environmentalists', who will be proud of what they have achieved. In the context of a ruthlessly profiteering industry like aviation that pride is probably justified. A lot of effort has been expended on these activities.
But to believe that all these initiatives will compensate for the emission of millions of tons of CO2 and other gases by an additional 260,000 flights a year in UK airspace is to believe in an illusion. Illusion is the right word, as in The illusion of Green Flying, the excellent founding publication of the Stay Grounded anti‐airport expansion movement.
That document comprehensively debunks the notion that carbon trading and emissions schemes are an adequate response to the challenge of climate change. It exposes the flaws in a mechanism driven by the need to ring fence environmental mitigations so that they don't interfere too much with the realisation of profits. And if they are not an adequate response, then the role of CORSIA can only be that of fig leaf, offering fake green credentials to an industry whose unchecked thirst for expansion has done nothing to deserve them.
If electric aircraft became a 'thing' tomorrow, a study called Electric Dreams published by Fellow Travellers has shown that they would eliminate no more than 20% of aviation's carbon emissions in a meaningful time frame. Other industry‐centred solutions include technical developments such as different fuel types, fuel efficient engines, larger aircraft and so on. Yes these are all to be welcomed, and should continue to be pursued as a matter of course, no questions asked. But, like our personal obligations to recycle and reduce plastic use, these are not solutions. Add together the benefits of these initiatives and one is not substantially nearer to 'solving' the climate impact of aviation.
The real point is that these types of proposal, emerging from within the system we currently have, carry a common‐sense appeal to the 'person on the street' comparable to that of recycling and reusable cups. They create the (that word again) _illusion _that the aviation industry is 'doing its bit'. And in the process, they resituate the more radical actions that are desperately needed to the margins where they can be too easily dismissed.
The plain fact is that to stand any chance of meeting even the Paris targets, let alone anything more ambitious, the growth plans of the aviation industry in Europe ('a three‐fold increase in capacity', with air traffic 50% above today's levels by 2035) simply cannot happen. With the Intergovernmental Panel on Climate Change setting a stark 11‐year time frame for catastrophe, that level of growth is coming to seem increasingly unrealistic, and the opportunity is there to flip this argument on its head and portray unchecked growth as the product of a real lunatic fringe.
At its next conference in July, titled Degrowth of Aviation, the Stay Grounded coalition will 'bring together social movements, NGOs and scientists in order to discuss concrete measures and strategies to reduce air traffic'. But to make those arguments stick in the minds of the general public, we need to identify and expose greenwash, be prepared to call out nice‐sounding actions that prevent us from taking the steps needed to achieve a just transport system, and win over those whose well‐meaning sincerity supports, intentionally or not, the greed of aviation's big corporations.
As in so many areas of activity, incremental change is not enough; in the words of the Stay Grounded sign‐off, 'please change the system'.