Surviving is good... thriving is better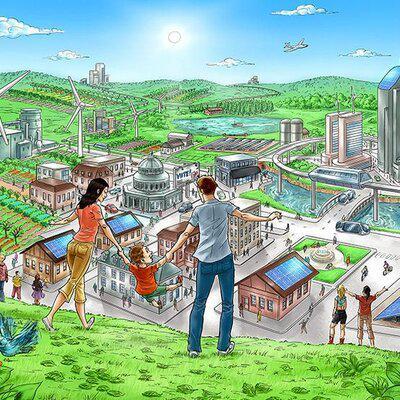 Welcome to the ten steps of Post-Carbon Living. This is the inspirational vision of life 30 years from now. An answer to decline: declining oil production - declining food production - spiralling debt - decline in climate stability. 97% of us understand that we are contributing to Climate Change but less than 2% of us have switched to a Renewable Electricity Tariff. 74% of people felt that "w_e are heading for disaster if we don't quickly change our habits_", yet 59% said that "they are doing nothing about it". What we need to stop doing is thinking of it as a problem that is too expensive to solve. This is a socioeconomic opportunity and there is no alternative to solving it. All we need is the wisdom and the roadmap.
This Post-Carbon Life is not environmentalism. It isn't "green". It isn't "eco" this or that. This isn't a "lifestyle" choice. It is just how life WILL be.
The Post-Carbon Life is an inspirational glimpse of the future... A vision that will be here quicker than you think.
By Mark Brown of: www.post-carbon-living.com
1. Organise - change your mind. Study the evidence, think about the future, decide to do something. Measure your Carbon Footprint. How dependent are you on oil? More here...
6. Generate - Become your own power station. Why be a slave to the grid & outdated energy infrastructure? Break free. Get independence. Get security. Generate from your rooftop. More here...
2. Powerdown - Switch things off. Kill your standby. Don't leave lights on. Learn some simple self-discipline. Imagine sky-high food and energy costs. More here...
7. Grow - Break free of the supermarket. Grow your own fruit and veg. Enjoy the exercise and peace in gardening. Reduce your food miles to zero. Eat healthier too. More here...
3. Recycle - Tackle consumption of stuff with re-use, repair, respect & recycling. Pride yourself on how little you dispose of. Have an empty bin. More here...
8. Invest - Get out of debt. It is a big threat to your security in a steady-state economy. When money doesn't grow its supply collapses. Invest in trees and carbon-neutrality. Morehere...
4. Substitute - Simply swap old fashioned things for new energy efficient things. Job done! No one will sit in the dark or go cold. Good riddance to bad rubbish. More here...
9. Make - Get a hobby. Work with your hands. Re-skill. Build & repair skills will improve your self-reliance for a future of expensive fossil fuels. It will also give you a new life. More here...
5. Stay - Having a carbon neutral home is easy. But it all goes wrong when you step foot out the front door. Why are we travel crazy? Try staying at home. More here...
10 Community - Join a Transition Town. Embrace your town, your neighbours, your island, your village. You will be more resilient as a team. The more help the better. More here...
Check these other illuminating web sites for a furtther glimpse of the future: