Preparing your kit for the post-climate-crunch-world? Check out the Vivo Barefoot - Finisterre Ultra Bloom
This summer I have been road testing a new shoe from Vivo Barefoot - the Finisterre Ultra Bloom. The Ultra Bloom is a lightweight and breathable closed-toe style, designed to be the ultimate adventure shoe for land and sea. The Ultra is the first ever shoe made using algae-based BLOOM foam – a sustainable alternative to petrochemical foams.
The shoe is super-lightweight with its beehive-like, hexagonal structure - which enables air to circulate - is perfect for the heatwave conditions. The shoe is somewhere between a sandal, flipflop, croc and climbing shoe. It is most likely unique, however, because, so long as the weather is good - this shoe can do everything.
The Vivo soles and sporty design mean that you can run in these shoes or play sport. You can also go into the sea, garden, climb or walk through a city.
Since I got the shoes at the beginning of the summer, I have basically not worn anything else. They are cool like a flip flop but without the flop - they offer the security of a shoe with the joy of being open-air. They are very comfortable and flexible and if you throw them in your weekend bag - you will not know they are there.
I am keen for the seasons to change because this might give some indication that dangerous runaway climate change is not going to happen this year. However, on the downside, I will have to go back to the bane of wearing normal shoes and maybe even socks.
When hardcore climate change really bites and we are reverting to full survival scenarios I personally will make sure that I have the Finisterre in my equipment set up. As I run through the river in the forest to get to my remote camp I will have no worries about drying my socks. The water splashes out of the shoe and I keep my grip firm and true.
In order to test the shoes under challenging conditions we took them to the local playground during a summer family reunion. The challenge was to clamber to the top of a rope climbing frame first from a standing start.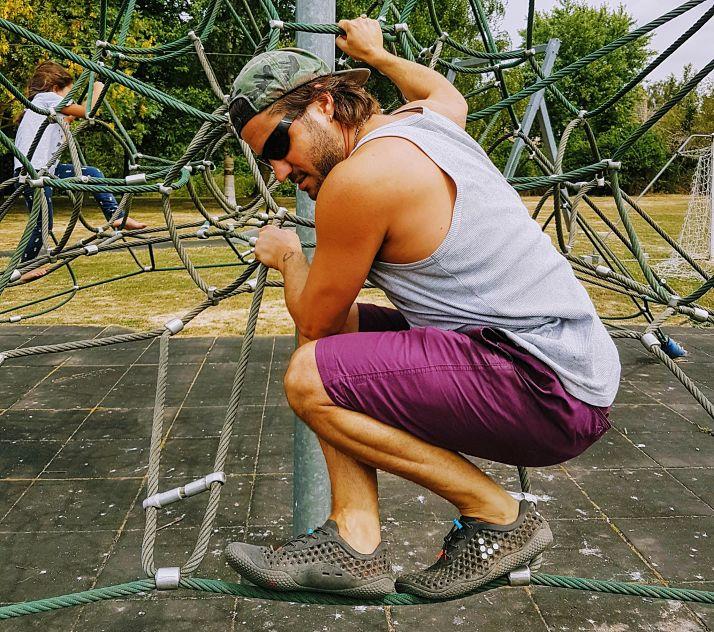 EcoHustler editor Matt Mellen wearing the Finisterre Ultra Bloom
First, I took on my brother in law - Rodion - head-to-head. He won. Interesting to note that he was, unprompted, wearing the same shoe.
Finally, it was time to battle my sister. It was a draw.