Nature
Bad farming belittles beautiful Bruton
Believe it or not… destructive farming practices from another century are still devastating precious English countryside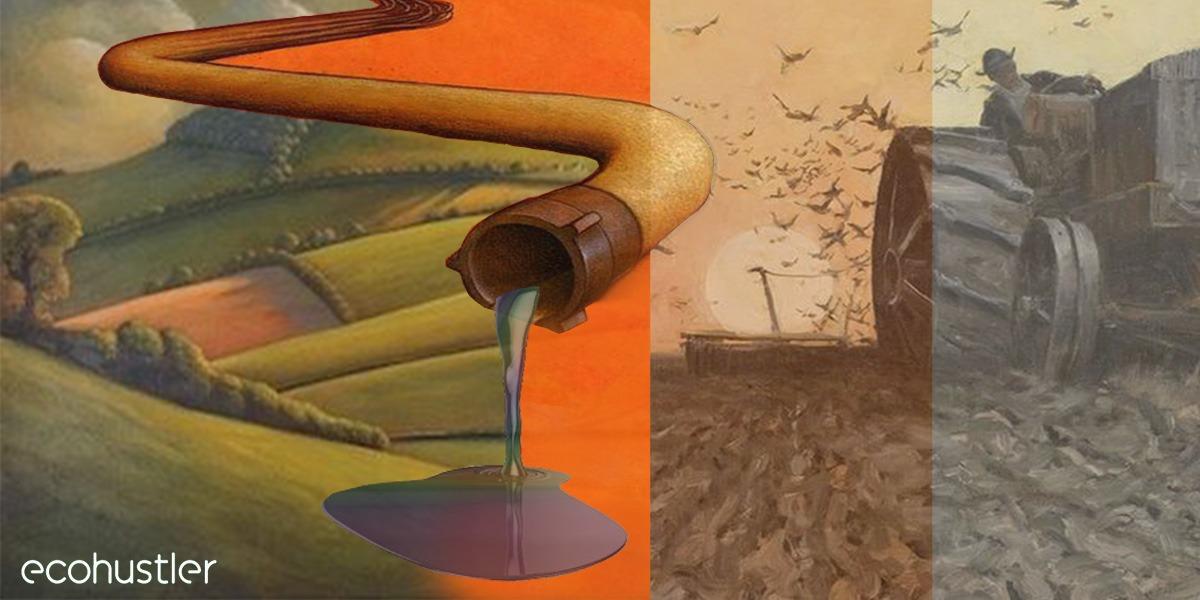 A dog walker rounds a corner on their favourite walk. They stop, stunned; horrified and terribly upset. What they see is hard to believe...
A Bruton business owner in the tourism sector visits the same spot and gasps. Shaking with anger and horror they choke back tears. This is right where guests take walks when they visit the area and their livelihoods are threatened.
Both sets of people are taking on board a yawning cavern of bleak emptiness where gorgeous wildlife once thrived. Many people are enraged and appalled by the brutalisation of a renowned beauty spot once rich in our shared natural heritage. The surprising thing that connects all these locals is their desperate need to remain anonymous. People are being threatened by the same unscrupulous farmers tearing up the landscape and they are genuinely scared.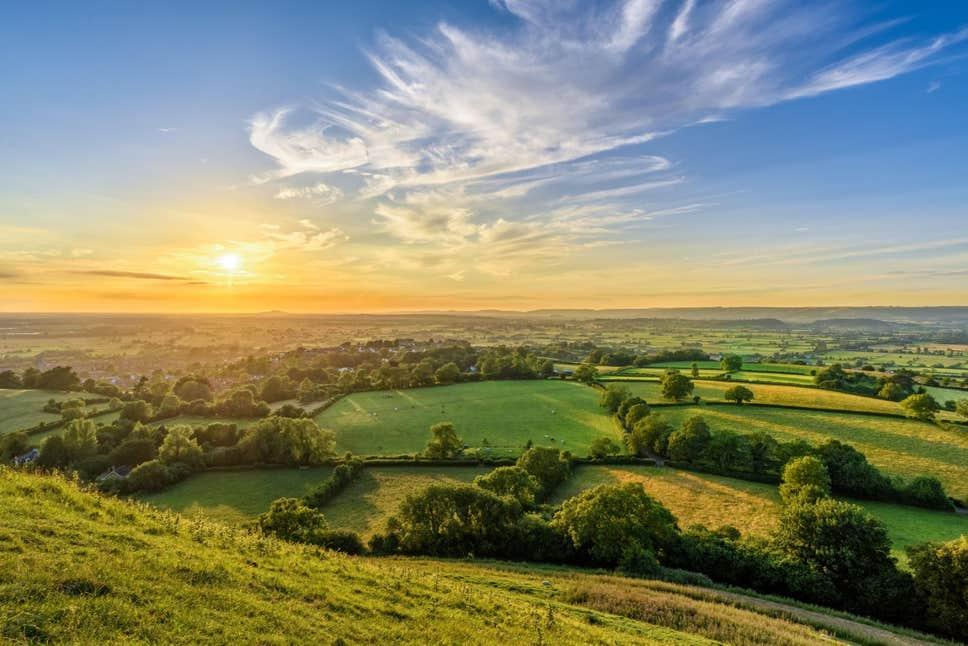 Bruton is an especially beautiful part of Britain that gets a lot of press - photo credit - Evening Standard
Members of the Walters family, third-generation owners of Creech Hill Farm Somerset, have become notorious locally, not just for epitomising the worst kinds of outdated, environmentally-ruinous farming practices, but also for the vicious way they enforce their grip on the land. Listening to stories that abound, these farmers sound like characters from a Roald Dahl story, as the violence they casually inflict on wildlife sits side-by-side with short tempers, threatening rudeness and a total disregard for the scant environmental protections that are enshrined in law. The years of trashing nature on this patch of South Somerset reads like the criminal records of a set of degenerate, sociopathic yobs.
Creech Hill is a well-loved, undulated landscape just outside of medieval Bruton in south east Somerset, England. The hill is notable at its highest point for a univallate Iron Age hill fort, Lamyatt Beacon, which is the site of a Romano-Celtic temple, in use from 250 AD to 375 AD.
Bruton is both home to a surprisingly long list of celebrities as well as regularly being voted one of the best places to live in the UK. Lamyatt is an impossibly quaint village (population 183) on the other side of the hill. An excerpt from a wonderful piece of recorded memories of families living here in days gone by includes Kathleen Blacker (nee Russ) lamenting the brutalisation of the land -
"I enjoyed my childhood at Lamyatt. Little things like sitting on Mrs Richards' shop steps with our few sweets or playing in the hayfields, walking to Milton pub to get my father a bottle of cider for his supper. In our school holiday, we would go up Creech Hill for picnics.
I don't think I can ever forgive the people who are responsible for what is done to the hill - it has always been one of my favourite places in the world.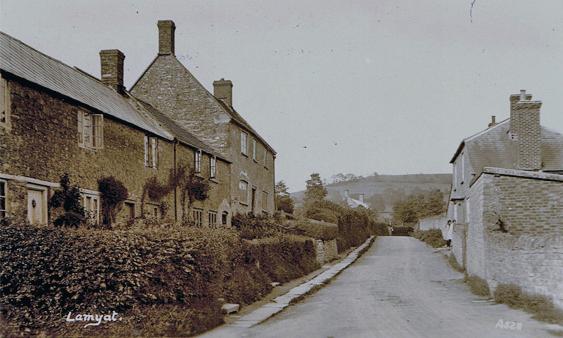 The village of Lamyat
The hillside was sold to George Walters in the 1980's. Before this its mantle of flower-rich permanent pasture had never been ploughed and was a joy to walk through along the public footpath that runs down to Lamyatt church. In the 1990s the Walters family tore up the intricate tapestry of ancient hedgerows that adorned this hillside. Hedgerows represent a uniquely British natural infrastructure, connecting those patches of native woodland which remain, and providing wildlife with corridors through which they can traverse the landscape. Local people can still see the trace lines where the hedges once grew.
During this time George Walters was in charge of the farm and was known for keeping his cattle herd in a constant state of neglect. Repeated complaints were filed by locals to the RSPCA who never took decisive action. Stories circulate of grim retaliations by the family, including a huge muck-spreader parked outside the cottage of the complaining villager for months on end as punishment and threats of slurry being sprayed on local houses.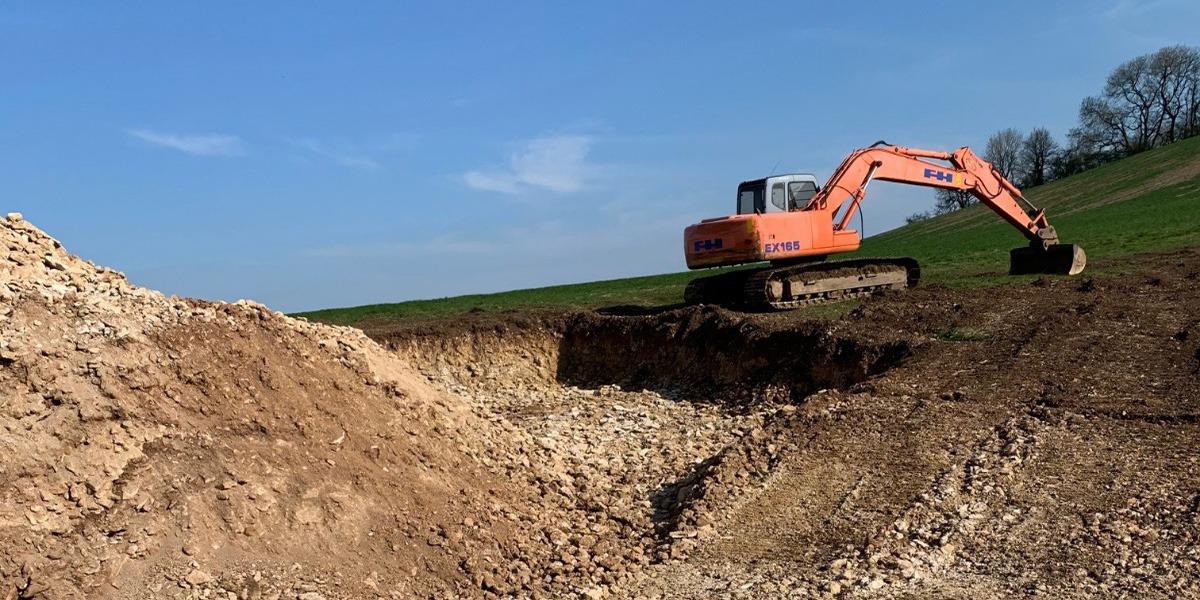 A digger widens a public bridle way to enable bigger machinery into fields on Creech Hill
In 2003 Creech Hill farm built a huge slurry lagoon on the pretty hill above Pitcombe. The Pitcombe Parish records document fevered local opposition, followed by misery when local springs were poisoned. Residents of the nearby village of Hadspen led the battle because they were particularly traumatized by the stench. Charles Brook who was key in leading and winning this battle comments:
"The key to success was finding the right person in the local branch of the Environment Agency because the District Council was no help. I had a stroke of good fortune when I discovered dockets in a box left by delivery lorries showing that Creech Hill farm was accepting abattoir washings, which, with discharges from a milk lorry I caught in the act, seemed to be the (unauthorised) cause of the problem."
Also in the 1990's records show how Creech Hill farm began accepting biological waste from Eden Vale Factory ( in Evercreech at the time) and spraying this over their land. The footpaths apparently looked and smelt like rotting cheese mingled with bleach.
During the 1990's the Walters Family encouraged quad bike racing on the hillside just above the village and on the other sides of the hill behind Bruton. The consequent erosion was sufficiently appalling for Somerset County Council to attempt to put a stop to this, without success, until a wealthy landowner nearby was able to bring a court case of sound pollution against Mervyn Walters and won.
A few years later Walters ploughed up the entire side of Creech Hill facing Lamyatt. A rainstorm washed all the topsoil into the stream below, causing the waterway to flood the houses downstream which devastated many households causing thousands of pounds worth of damage.
Today this hillside is used for an intense, commercial pheasant shoot. Every year the number of animals raised to be shot increases, causing havoc in Lamyatt village gardens and making it impossible to walk the public paths during the season when shoots are happening, which has become about 3 times a week.
Then Last Spring – Walters ploughed up half the hillside and planted maize, once again triggering flash flooding, soil erosion and a further impoverishment of this once magical slice of England.
The Walters family's knowledge of modern farming practices is limited. Their farm is regularly soaked in a toxic brew of chemical fertilizers, pesticides, herbicides and fertilizers, decimating local nature and in breach of DEFRA guidance.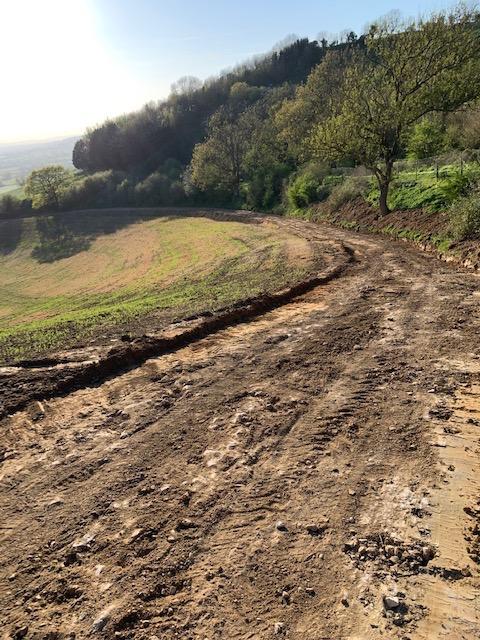 A public bridle way on Creech Hill widened for access of large machinery to access recently sprayed / drilled ex-permanent pasture
Natural England has applied a restraining order to put the land back to pasture. But the family has ignored the order and instead has drilled spring barley into the hillside, cleverly avoiding 'ploughing', whilst achieving the same end. A huge digger has been spotted in recent weeks beginning work to widen and develop the hillside track up the hill, also a public footpath, preparing the way for a combine harvester and big machinery.
Walk along any of the footpaths surrounding Bruton that cuts through Creech Hill farm (if the footpath is open – the Walters family is notorious for blocking public footpaths) and you will witness many examples of farming without any due care for the importance of maintaining natural habitats and diversity. Around the edges of fields all the scrub and hedgerows are removed and all the lower tree boughs hacked off hanging over the edge of the fields to make way for harvesting with large combine harvesters.
Beautiful diverse fields surrounding the Roman temple have been ploughed up and re-grassed with a monoculture grass, often described by nature lovers as 'green concrete'. Below the site of the Roman temple in a field commonly referred to as 'the toilet' a huge slurry pipe regularly lets loose a river of foul smelling sludge and runners and walkers alike have had to pick their way across the footpath to avoid the effluent that flows over the footpath and into the hedgerows.
The communities of Bruton, Lamyatt and the surrounding villages are hoping against hope that a new intervention by Natural England might finally remedy this terrible situation. Whilst this particular farming family may be an extremely bad case, destructive farming happens up and down the country and the result is a catastrophically impoverished countryside, which negatively impacts the lives of everyone who lives in it. The issue embodies a dichotomy between rights and responsibilities - "I have the right to do what I like because it is my land" versus " I have a responsibility to preserve and nurture the part of the landscape of which I am a custodian for the good of present and future generations."
The key question is - where do we go from here? At this point in history, when we face unprecedented climate and ecological crises, how can it be allowed that by dint of wealth and land ownership, a single landowner can do what he likes no matter what devastation is wreaked upon the land and ecosystems we all share? And the worst part – taxpayers like you, me, the residents of this part of Somerset have to stomach what is happening to landscapes that define who we are, while the perpetrators are handed oodles of our money each year in farming subsidies.
We must hope that Michael Gove's Agriculture Bill passes this month, replacing unconditional subsidies with a new system that rewards only those farmers who are working to restore nature on their land. Unscrupulous, backward, destructive farmers like the Walters have no future under such a system. We need in this country a new agricultural revolution that brings fresh, energetic, modern young entrepreneurs into a revitalised farming, that protects our landscapes, that restores our terrible depleted nature and that feeds us with healthy, chemical-free food.