Nature
Extinction Rebellion blockades London
Marble Arch, Oxford Circus, Waterloo Bridge & Parliament Sq blocked around the clock from April 15th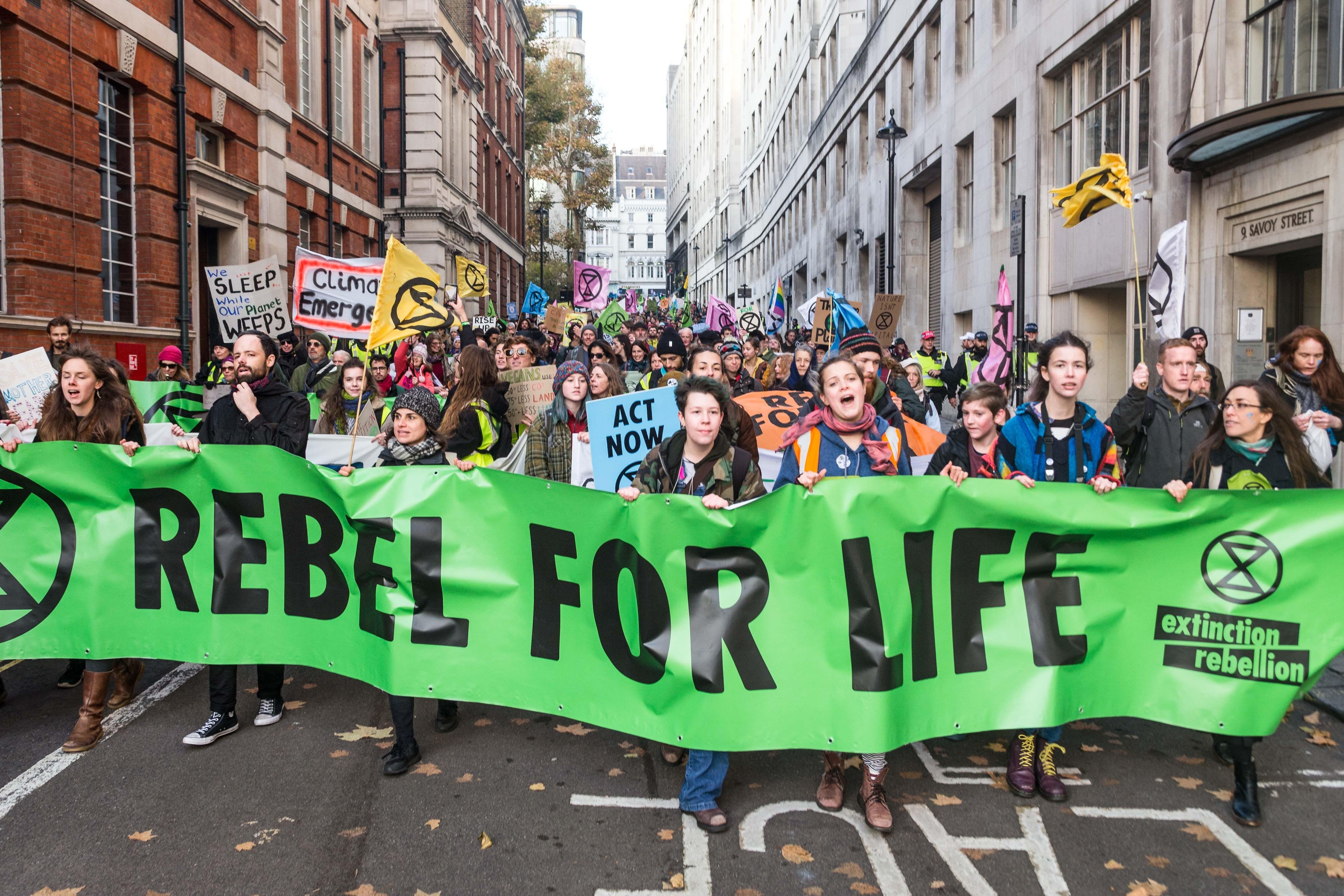 From Monday 15 April: A rapidly growing movement known as 'Extinction Rebellion' is calling on all of us who care deeply about the Earth and her inhabitants, to take a stand, now, before it is too late. We are being asked to come to London from Monday onwards to help block Marble Arch, Oxford Circus, Waterloo Bridge & Parliament Sq around the clock until the Government acts on the Climate Emergency.
It is an ongoing, creative, street festival style action with theatres, famous actors, bands, musicians, artists from across the country getting involved in this non-violent civil disobedience movement - the biggest this country has ever seen.
Spokesperson Actor and writer Dame Emma Thompson said: "It is time to stand up and Save Our Home. On Monday 15 April of this year, the International Rebellion will begin … It's gonna be a lot of fun, but be prepared to stay. Because now's the time to save the planet, as we all know there is no planet B. Be there." 
Scientists are now telling us we have 12 years to radically turn things around before it is too late. 12 years... We know there are always a million causes for us to support and stand up for, but this is surely THE ONE of our lifetime. We don't want to hear our children and grandchildren asking us why we didn't do anything when we still had a chance.
The numbers of people who turn up to join on the streets is critical to help make this happen and to force the Government to take climate change, ongoing destruction of the natural world and species extinction seriously. Please come along with friends and family - and share this invitation with everyone you know. If there was ever a time to reach out to your contact list, it is now.
The plan is powerful, creative, and deeply moving..
There will be areas that are particularly suitable for families with children.
Famous supporters so far include Dame Emma Thompson, musicians from Radiohead, Massive Attack, Lily Cole, Stephen Fry, Naomi Klein, Dr Rowan Williams the former Archbishop of Canterbury, and hundreds of scientists, academics, MPs, journalists etc (see longer list below)
The London actions are part of the wider rebellion taking place across the UK and around the world, with Extinction Rebellion currently having 331 groups in 49 different countries.
We will be joining the throng all of this week, starting from 7pm this Sunday 14 April, when Dr Rowan Williams, former Archbishop of Canterbury will join people of all faiths and beliefs and none at St Paul's Cathedral to honour those about to take part in the International Rebellion in London and beyond. All are invited.
Expressions of support for the international call to do whatever is necessary non-violently, to persuade politicians and business leaders to relinquish their complacency and denial, have come from many hundreds of notables from all spheres. They include:
Greta Thunberg
Dame Emma Thompson (Actor, Writer, and Activist)
Radiohead (Musicians)
Stephen Fry (Comedian, Writer, Actor)
Rowan Williams (Former Archbishop of Canterbury)
Ellie Goulding (Comedian, Writer, Film-maker)
Lily Cole (Model, Actor, Entrepreneur)
George Monbiot (Journalist)
Noam Chomsky (Linguist, Philosopher, Academic)
Sir Jonathon Porritt (Writer & Environmentalist)
Naomi Klein (Author)
Gavin Turk (Artist)
Nan Goldin (Artist)
Joe Corre (Activist and Businessman)
John Aitchison (Bafta and Emmy Winning Wildlife Cameraman)
Simon McBurney (Actor, Writer, and Director)
Sir Tim Smit (Co-founder Eden Project)
Ed Harcourt (Singer-songwriter)
Fraser Anderson (Singer-songwriter)
Livia Firth (Co-founder of Eco Age)
David Humphreys (Professor of Environmental Policy, Open University)
Bill McGuire (Emeritus Professor, University College London)
Enter Shikari (Band)
Pete Kennard (Artist)
Valentine Warner (Chef)
Michaela Coel (Actor)
Anohni (Singer)
Nick Mulvey Siobhan Fahey (Singer, songwriter, actress and producer, from Shakespeare's Sister)
Jack and Finn Harries (Activists and Filmmakers)
Tom Robinson (Songwriter and BBC Radio 6 DJ)
Nick Mulvey (Musician)
Robert Del Naja (Artist and a Founding Member of Massive Attack)
Caroline Lucas MP (co-leader of the Green Party)
Clive Lewis MP
The Lords Of Thyme (Band)
Magero (Poet)
Kate Raworth (Author & Environmental Change Institute, Oxford University, Bellatrix (Singer)
Beth Orton (Singer-songwriter)
Yannis Philippakis of Foals (Musician)
Sir Philip Pullman (Novelist)
Dr Susie Orbach (Psychoanalyst, The Balint Consultancy, UK)
Chris Packham (Naturalist and TV presenter)
Vandana Shiva (Scholar)
AC Grayling (Master of New College of the Humanities, London)
Bill McKibben (Founder, 350.org)
Hugh Fearnley Whittingstall (Celebrity Chef)
Cerys Matthews MBE (Musician and BBC Radio 6 Presenter)
Prof. Joy Carter, CBE (Vice Chancellor, University of Winchester)
Dr Erik Buitenhuis (Tyndall Centre for Climate Change Research, University of East Anglia)
Professor Danny Dorling (Halford Mackinder professor of geography, University of Oxford)
Professor Diane Reay (University of Cambridge)
Dr Nicholas James (FASS, Open University)
Dr Meg-John Barker (senior lecturer in psychology, Open University)
Professor Jem Bendell (Professor of Sustainability Leadership and Founding Director of the Institute for Leadership and Sustainability [IFLAS] at the University of Cumbria)
Dr Simon Boxley (Centre for Climate Change Education & Communication, University of Winchester)
Professor Peter Belton (Professor emeritus of chemistry, University of East Anglia)
Dr Onel Brooks (Senior lecturer in psychotherapy, counselling and counselling psychology)
Dr Teresa Belton (author of Happier People, Healthier Planet)
Dr Christopher D. Coath (University of Bristol)
Professor Andrew Cooper (Tavistock & Portman NHS Foundation Trust; University of East London)
Dr Mick Cooper (Chartered psychologist, Roehampton),Dr Richard Eke Ph.D. (Associate lecturer, UWE, Bristol)
Suman Fernando (Honorary Professor, London Metropolitan University)
Professor Ian Gibson (Former Chair, House of Commons Science and Technology Select Committee)
Professor Harvey Goldstein(Professor of social statistics, University of Bristol)
Dr Jason Hickel (Department of Anthropology, Goldsmiths, University of London)
Professor Paul Hoggett (Emeritus professor of social policy, UWE, Bristol)
Dr Wendy Hollway (Emeritus professor of psychology, Open University)
Dr Richard House (PhD [Env sci] Chartered psychologist, Stroud)
Professor Adrian Kendry (Visiting Chair in economics and security, University of Winchester)
Peter Lipman (Fellow, Cabot Institute for the Environment, Bristol University)
Professor Del Loewenthal (Emeritus professor in psychotherapy, University of Roehampton)
Ed Lord Ph.D. (RMN, RCBC Wales, Fellow, Swansea University)
Dr Rachel Lunnon (PhD mathematical logic, software engineer)
Dr Kate McMillan (Kings College, London)
Professor Martin Milton (Professor of counselling psychology, Regents University London)
Dr Gerry Mooney (Open University in Scotland)
Dr Calum Neill (Associate professor of psychoanalysis & cultural theory, Edinburgh Napier University)
Professor Dany Nobus (Brunel University London)
Eva Novotny, PhD (retired, University of Cambridge)
Professor Jayne Osgood (Middlesex University, mother, feminist, activist)
Dr Christine Parkinson (Retired biologist, Scientists for Global Responsibility)
Dr Volker Patent (CPsychol, lecturer and coach)
Professor Ann Phoenix (University of London)
Dr Gillian Proctor CPsychol (Programme leader, MA in counselling and psychotherapy, University of Leeds)
Dr Rupert Read (Reader in philosophy, University of East Anglia)
Dr Peter Reason (Professor emeritus, University of Bath)
Professor Lynne Segal (Anniversary Professor of psychosocial studies, Birkbeck, University of London)
Professor Farzana Shain (Professor of sociology of Education, Keele University)
Professor Prem Sikka (Professor of accounting and finance, University of Essex)
Andrew Simms (Centre for Global Political Economy, University of Sussex; NEF)
Dr Guy Standing (Professorial research associate, SOAS, University of London)
Professor Arran Stibbe (Professor of ecological linguistics, University of Gloucestershire)
Brian Thorne (Emeritus professor [counselling], University of East Anglia)
Professor Frederick Toates, UK (Emeritus professor of biological psychology, Open University)
Professor Steve Tombs (Professor of criminology, Open University)
Dr David Whitebread (Retired senior member, Homerton College, Cambridge)
Michael J Wright Ph.D. (Emeritus professor in cognitive neuroscience, London)
Professor Mark Maslin (FRGS, FRSA University College London)
Dr Alison Green (Formerly Pro Vice-Chancellor [academic], Arden University, National Director [UK] Scientists Warning)
David Drew MP (Shadow minister, environment, food and rural affairs)
Professor Molly Scott Cato MEPShahrar Ali PhD (Green Party home affairs spokesperson)
Ronald Barnett (Emeritus professor of higher education, University College London Institute of Education)
Michael Bassey (Emeritus Professor, Nottingham Trent University)
Professor Woody Caan (Editor, Journal of Public Mental Health)
Claire Callender (Professor of higher education, Birkbeck and UCL Institute of Education)
Simon Capewell (MD DSc, Professor of clinical epidemiology, University of Liverpool)
Tricia David (Emeritus Professor, Canterbury Christ Church College)
Windy Dryden (Emeritus professor of psychotherapeutic studies, Goldsmiths University of London)
Professor Mark Ford (University College London)
Professor Gary Francione (American scholar)
Jonathan Gosling (Emeritus professor of leadership studies, University of Exeter)
Professor John Hughes
Professor Simon Kelley (University of Edinburgh)
Karin Lesnik-Oberstein (Professor of critical theory, University of Reading)
Richard Pring (Emeritus professor, University of Oxford)
Professor Ernesto Spinelli (ES Associates, London)
Tony Watts OBE (Emeritus professor of career development, University of Derby)
Dr Ruth Adams (Senior lecturer in cultural & creative industries)
Robert Basto Ph.D. (software consultant, scientist, activist)
Dr Gail Bradbrook (mother, NGO consultant)
Dr Dominique Chadwick (independent researcher and film-maker, Cambridge)
Dr Anne Chapman (Academic Development Tutor)
Dr Red Chidgey (Lecturer in gender and media, King's College London)
John Christensen (Director and Chair of the Board Tax Justice Network)
Dr Virginia Crisp (Lecturer in culture, media & creative industries, King's College, London)
Jonathan Dawson (Coordinator of economics, Schumacher College)
Dr Peter Elfer(Principal lecturer, Early Childhood Research Centre)
Dr Jonathan Gross(Kings College London)
Andy Halewood (Senior lecturer in counselling psychology, UWE, Bristol)
Dr Wiebina Heesterman Ph.D. (Law [human rights], activist)
Dr Abby Innes (London School of Economics)
Dr Michael McEachrane (University College London; visiting researcher)
Raoul Wallenberg (Institute of Human Rights and Humanitarian Law)
Dr Gerald Power PhD (management consultant)
Dr Jay Watts (Consultant clinical psychologist)