Culture
Boris can take the train to COP!
Extinction Rebellion blockades UK's largest private airport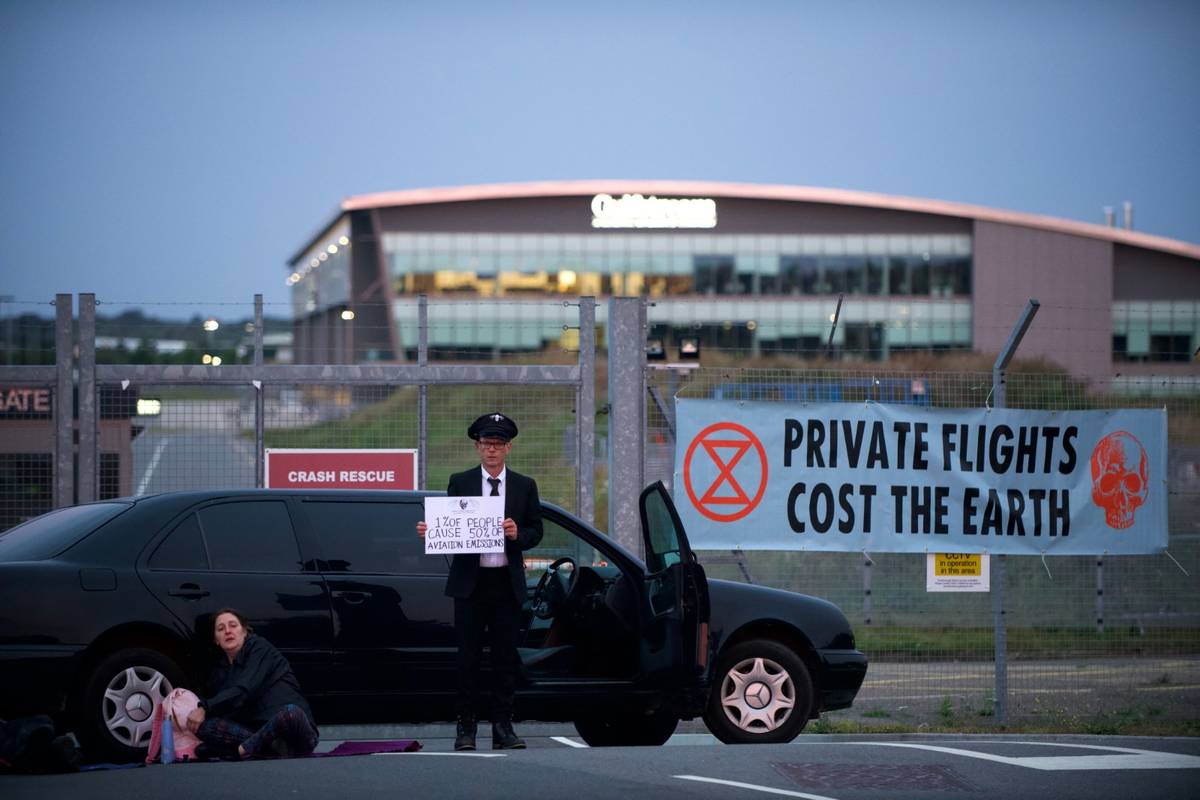 Farnborough airport has been barricaded this morning by Extinction Rebellion who are locked to a stretch limousine, fuel barrels and a giant steel tripod in call for polluter elite to cut their emissions.
All major entrances to Farnborough Airport in Hampshire are currently blocked to draw attention to the shockingly high levels of CO2 that private flights emit per passenger.
As world leaders gather for the COP26 climate summit in Glasgow this month, most of whom will be travelling by private flight to attend, protestors are calling on the world's super-rich elite of celebrities, oligarchs and business leaders to ditch private flights. These private flyers, just 1% of the world's population, cause half of aviation's global emissions.
The 30,000 private flights to and from Farnborough Airport each year carry an average of just 2.3 passengers, with each passenger responsible for the emission of nine times as much carbon as an economy flight to the US and 20 times that to Spain. The airport has permission to increase flight movements to 50,000 a year.
In protest at this wanton level of pollution by the super-rich, Extinction Rebellion has today blockaded three key airport entrances with activists locked on top of a 3 metre high steel tripod at one gateway and to fuel barrels at a second. The third entrance is barricaded by a stretch limousine, with the driver locked onto the steering wheel and a protestor dressed as a media mogul glued to the roof. Other demonstrators from across the South East, including a former airline pilot, are also protesting at the gates of the airport with banners exclaiming 'Private Flights Cost The Earth'; 'Stop Private Flights Now'; 'Private Jets = Public Deaths.'
The airport's recent move to offer "Sustainable" Aviation Fuels (SAF) to aircraft is condemned as 'greenwash', since the sheer amount of SAF needed to fuel the aviation industry would result in the mass destruction of forests and biodiversity.
Activist Marion Malcher, 66, a project manager from Woking, said:
"It's madness that a tiny number of very rich people, just 1%, are creating half of aviation's carbon emissions, whilst the poorest people suffer and die because of climate breakdown. They're inflicting massive damage to all life on our beautiful planet. Luxury private flights must stop, they are literally costing us the earth."
Protestor Todd Smith, 32, a former airline pilot from Reading, criticised Farnborough Airport's move to offer SAF as a so-called alternative fuel. He said:
"The term 'Sustainable Aviation Fuel' was coined by the aviation and fossil fuel industry to deceive the public and greenwash the utterly destructive nature of biofuels.
"Biofuels result in land grabs, deforestation, biodiversity loss, water scarcity, rising food prices and land-use emissions which can be worse than the fossil fuel they are replacing. The most optimistic forecasts say there are only sufficient global resources to support approximately 5.5% of projected EU jet fuel demand in 2030. The alternative fuel that SAF producer Neste plans to supply to Farnborough would be used much more efficiently in ships and trucks and given there's only small quantities available, should be prioritized to decarbonise more essential activities than private jet use."
Mike Grant, 61, a former serviceman, from Rosewell near Edinburgh said:
"Private jets are an environmental disaster. Those who use private jets have the wealth and power to know and do so much better. They boast about being leaders of society and drivers of the economy. They are also drivers of the climate crisis. We call upon them to show real leadership, to take responsibility for their actions, to tell the truth about the impact of private jets on the environment and to do the right thing….park them."
One of the key recommendations made to the government by the Climate Assembly UK in its report The Path to Net Zero is to ban polluting private jets and helicopters, moving to electric when possible. They also called for frequent fliers and those that fly further to be made to pay more. The government has shown no sign of acting on either demand.
Research by think tank Transport and Environment, revealed that CO2 emissions from private jets in Europe rose by nearly a third between 2005 and 2019 – outstripping scheduled flights. It found that the biggest source of pollution was from jets departing from the UK and France – accounting for 36% of all private flight emissions in Europe.
Climate charity Possible recently described the private jet as representing the most extreme end of the climate injustice that characterises air travel. It is calling for the banning of fossil-fuelled private jets at UK airports within the next five years.
The protest comes days before the Farnborough International Exhibition Centre, based at the airport, hosts the "Arms Fair", the DPRTE Defence Procurement and Supply Chain event on 5th October.