Culture
London artist burns painting in Icelandic volcano to create NFT
Max Denison-Pender's "nifty" journey to the fiery centre of the earth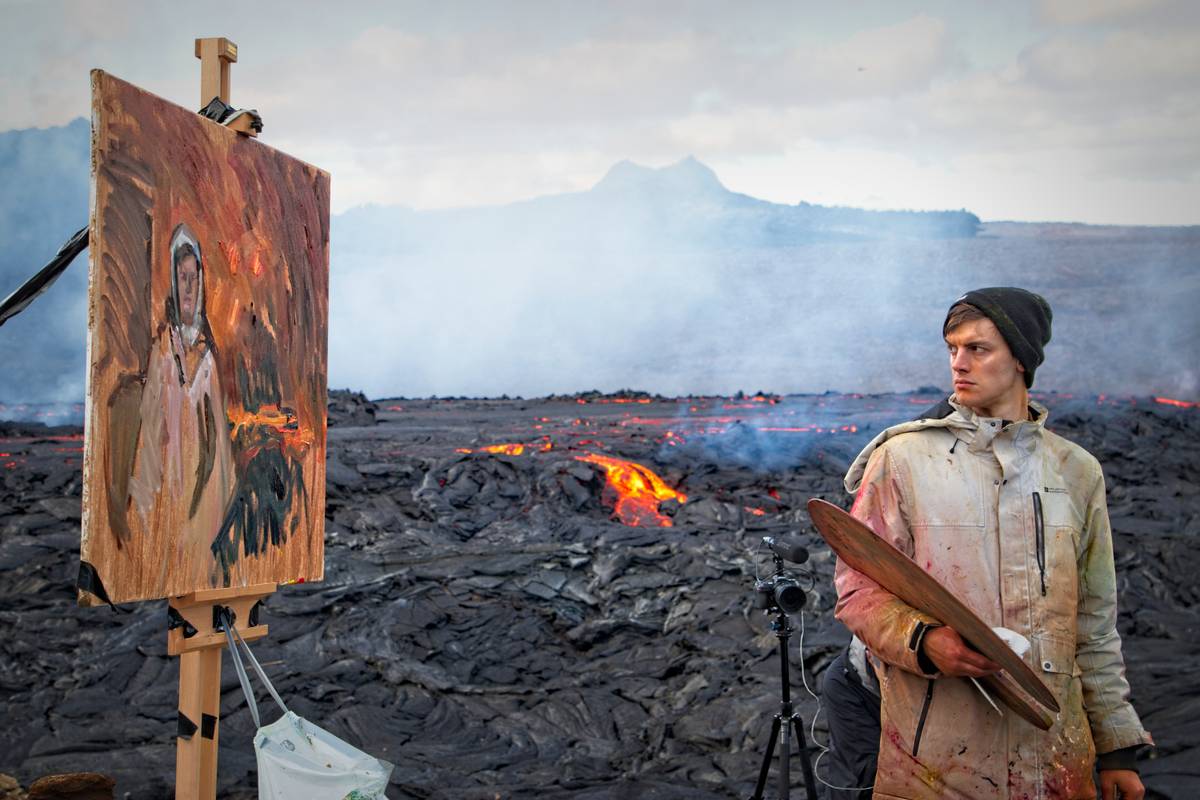 London based artist; Max Denison-Pender, 23, was appointed Team GB's artist in residence for the 2020 Olympics. Then early 2020 everything changed. Unable to visit Tokyo with the team and paint the Tokyo Olympic Flame, he set his sight on bigger flames to paint. Much bigger.
Used to changing plans and a shameless optimist, Max fell upon the idea of painting volcanoes and rivers in Iceland and whilst there, turning one of his pieces into a Non-Fungible Token (NFT)or "nifty. This is where an asset, in this case a painting, is destroyed and replaced with a unique digital code which can be bought and sold on a dedicated market platform. However, rather than simply shredding the canvas in his London studio, Max had bigger ideas and turned the destruction of the work into a piece of performance art.
In his own words Max explains what happened next,
For me, the mission was simple: go to Iceland and climb the volcano with easel, canvas and paints. Paint the volcano – don't get gassed… Get in a helicopter and fly as close to the volcano as you can. Find a drone man crazy enough to fly your painting into the mouth of the erupting volcano – do not forget to take a picture of the painting as it disappears into the flame– it's going to be an NFT, remember? Fly the painting into the centre of the volcano and see it burst into flames and get on Icelandic news. Painting is now tokenized. You have your NFT.
Needless to mention, Max's exploits took the Icelandic media by storm, leading the national evening TV news.
Max adds,
Painting erupting volcanos is not for the fainthearted. It was stressful heaving all my equipment up the mountain and into place whilst trying not to be simultaneously gassed and cooked. The wind was ringing in my ears, whilst it sporadically lashed with rain.
"However, once in place and painting; it was an extraordinary experience. I have never mixed so many fiery colours on my palette.
"After I saw the drone and my painting disappearing into the fiery 1,250 degrees Celsius crater of the Fagradalsfjall volcano near Reykjavik, a very strange feeling came over me I asked myself, "What have I just done?"
The digital DNA of the painting, the NFT token, has since been put up for bids on the Opensea marketplace which specialises in NFTs. Max's paintings normally sell for around £15,000, on day one a binding $125,000 bid was placed. Bidding remains open until 12th June.
Pressed whether he would consider undertaking another NFT, Max says he would prefer his paintings hung on people's walls rather than in the cloud. He concluded "As a young artist it is important to understand and experience all the ways we can market our work to a wider audience."
This NFT baptism by fire is one experience the young artist is unlikely to forget.
The current price for the NFT is $125K Max's paintings normally go for £15k. See: https://opensea.io/assets/
The Ethereum currency fluctuates erratically.