Culture
National network steps up to address damaging advertising
New report presents compelling case for making manipulative advertising 'opt-in'
A new report, published today by Green House think tank, argues that manipulative advertising should be restricted, enabling citizens to opt-in rather than having to opt-out of subliminal commercial messaging.
The report outlines for discussion a comprehensive proposal for changing the way advertising is regulated and explores the consequences. The proposal would mean that most of the advertising to which the public is exposed becomes primarily informative. Exposure to subconscious marketing would become the exception people opt into, rather than the norm that is difficult, if not impossible, to opt out of.
Zoe Wide, one of the report's contributors, said:
Restricting manipulative advertising is justified on the grounds of public health and wellbeing – providing society chooses to value long-term benefits over short term gain, and the quality of life of its citizens over economic output.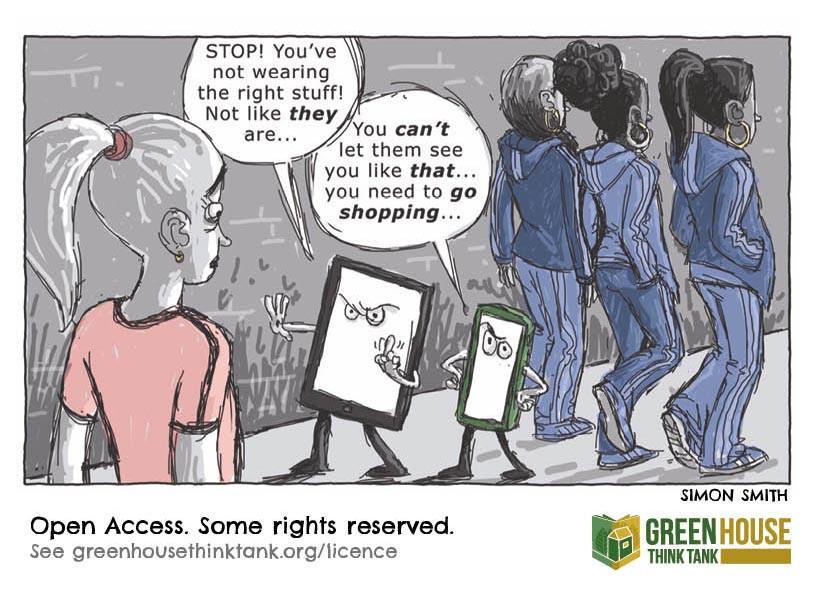 Kim Moodley, one of the report's contributors, commented:
"Advertising, particularly persuasive advertising, is inextricably linked with consumption. Current levels of material consumption, particularly in the developed world cannot continue if we are to successfully address climate change and prosper within planetary boundaries."
By outlining a comprehensive proposal for change, the report moves the debate on from asking whether a change is needed, to discussing what that change should be. The report calls on the government, political parties, and other think tanks to lay out their own proposals for a step change in advertisement regulation.
Peter Sims, one of the report's authors, adds,
"The increasing presence of advertising, both in physical and digital spaces, combined with its ever more subversive and manipulative nature, mean that advertising is now a potential threat to citizens' fundamental rights as set out by the UN's Universal Declaration of Human Rights, namely the right to freedom of thought, opinion and expression.
If citizens have a right to freedom of thought, they should have the right to choose not to expose themselves to subconscious manipulation, particularly by commercial entities that often do not have citizens' best interests at heart. This report challenges the 'it's all too complicated' cop-out by laying out a possible change to the law. We hope it will spark a fruitful public debate.
Carla Denyer, Policy Coordinator at Adfree Cities, a national network of groups campaigning against outdoor advertising, commented,
"This report is a valuable contribution to the public debate around advertising, and shows why we need restrictions on advertising in public spaces.
"There are multiple problems with commercial advertising, and many groups in the UK campaign on different aspects of it (outdoor, online, tv), for different reasons (environment, health, privacy), and using different tactics (political campaigns, lobbying and 'subvertising'). If these campaigns can unite around a shared vision, we are more likely to achieve the step-change in regulation that is clearly needed."