Transformational retreat in nature for young people to become change makers for the future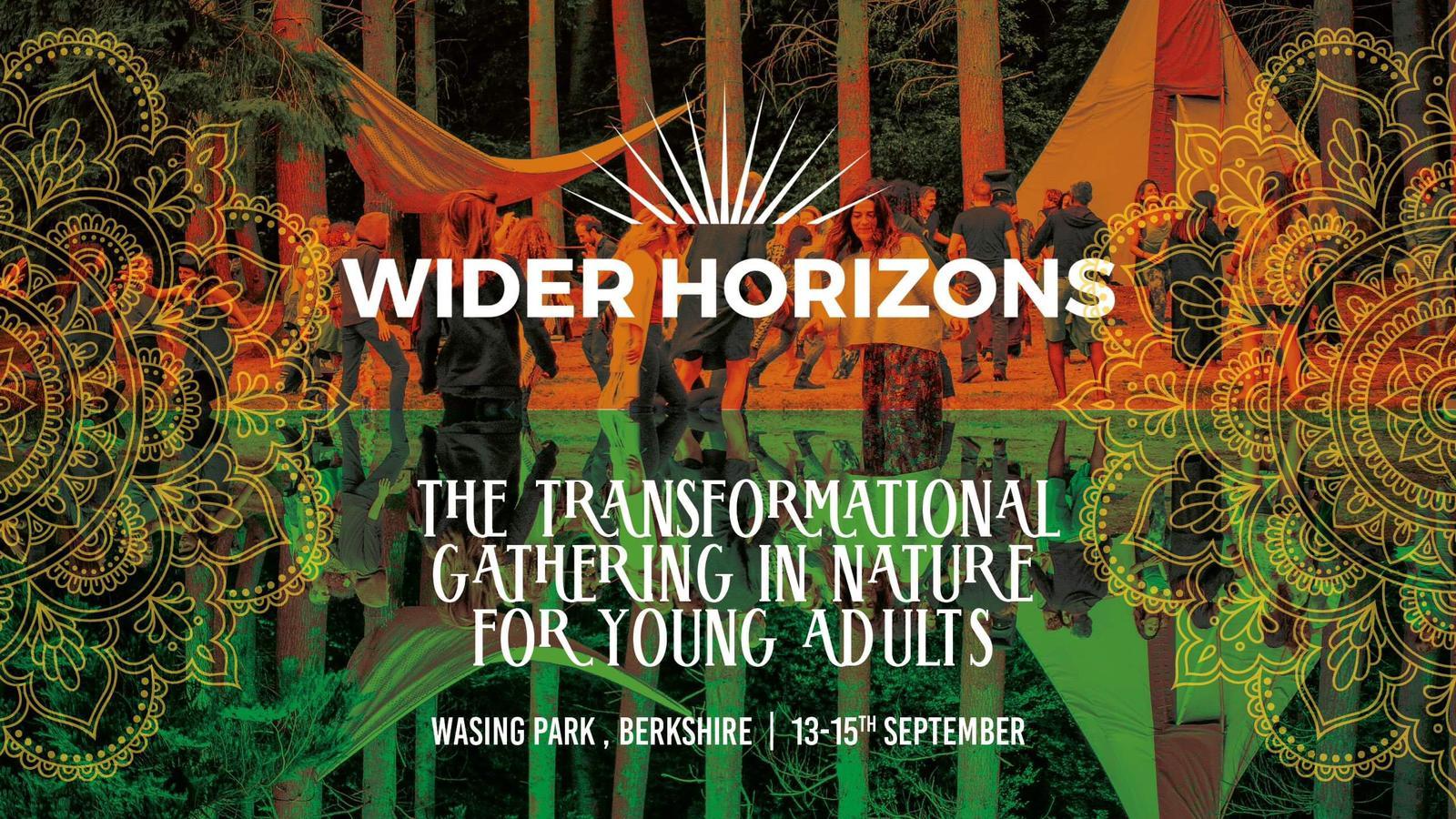 Wider Horizons is a transformational gathering in nature that brings learning tools and wisdom to young people aged 18 – 30. The retreat allows young people to deeply explore how to become effective and evolved change makers to create a brighter future and be the change they want to see in the world.
Explorers, Artists, Professors, Sages, Shamans, Musicians and legendary environmental elders include:
Nick Mulvey, Kurikindi, Bruce Parry, Mac Macartney, Professor Marilyn Monk, Charlie Morley, Gabriella Rutherford (Survival International), Danny Gross (Friends of the Earth), Dr Olly Robinsin PhD, Cleo Broda MFA PGCert and Rita Hraiz.
Taking place over three days 13th - 15th September in the beautiful, sacred woodland at Wasing Park, Berkshire, Wider Horizons seeks to inspire young people with the knowledge, energy and self-belief to step into the truth of who they are and embrace life with optimism and belief in the unbridled magic that we all possess.
The weekend will be curated with workshops including Cacao Ceremonies, Self-Mastery, Yoga, Drumming, Wild Swimming, Vision Quests, Sweat Lodge, Lucid Dreaming along with films, art, craft and music.
It is clear from the ecological and economic crisis around us that now is the time for us to heal our planet, our society and ourselves. The event hopes to inspire young people to feel at one with nature and each other. The fires that are burning need to be quenched, like anger and competition need to be quenched by grief and cooperation. Young people are stepping into a future that seems daunting socially, economically and ecologically. At Wider Horizons we are creating a culture where people care for and help each other. Connecting with nature, cooking, eating, singing and making music together, living together around the fire helps people to connect with each other, and with themselves. Consciousness raising workshops will enable participants to develop strategies to address the challenges of our time. Young adults are the change-makers of this time and the contributors have come to share their wisdom and self-care techniques to help maintain inspiration and hope in the ability to act to improve oneself and one's world.
More and more young adults are starting to choose to be as healthy and vitalised as they can be. This is an opportunity for people to get together and have a wild joyous celebration around the fire under the full moon without alcohol and drugs and have a genuinely transformative experience over a weekend immersed in wisdom, peace, lakes and beautiful ancient woodland.
"I am inspired to create this event because we need to help create balance and unity in order to help ourselves and our world. Young adults are the changemakers of today, and we are here to do everything we can to support and inspire them to widen their horizons, feel supported by this community and embody the knowledge and courage to act for the future of our world. Now is the time for spiritual people to get political and for political people to get spiritual.
It's team up time, people!" Ben Gross
Ben Gross MBACP(Accred) MSc PGCE MBSR BSc(Hons) is the producer and curator of Wider Horizons. He is an events produce, transpersonal psychotherapist, university lecturer, meditation teacher and musician. He has been organising retreats in nature for 30 years.
Olly Robinson, Rina Golan, Zak Avery and Omni Thiessen (young adult Wider Horizons consultant) form the Production Team and all the contributors and a group of young adults are involved in the design and curation of Wider Horizons.
*Check out the website for further details - *