Nature
The race to rewild
Urgent new front in environmentalism emerges from grassroots groups, backed by radical political demands to redefine who rules the land
A surge in rewilding enthusiasm looks set to see thousands of acres of Britain earmarked for creating a wildlife-richer future, led by swelling numbers of grass roots groups, urban communities, big land owners and disillusioned farmers. Alex Morss spoke to leading figures in the movement with projects underway, and some who are also making radical political demands...
The charity Rewilding Britain says in the last six months it has seen a huge rush of interest from people wishing to rewild areas of land, ranging from small urban pockets up to big estates.
The organisation is about to launch an online information hub, to meet 'overwhelming interest.' Spokesperson Susan Wright said many people have been in touch inspired by the work of 'Wilding' book author Isabella Tree, and her husband Charlie Burrell, who transformed their 3,500 acre West Sussex estate from an unprofitable cattle farm into a wildlife reserve and wild camping retreat.
Others say they are motivated by the urgency of Britain's wildlife crisis, with our country now recognised as one of the most nature-depleted on the planet.
Susan said:
We are getting inundated by enquiries from enthusiastic people all over the country wanting advice and wanting to fundraise and buy land to rewild
- for example an upland farmer in the Lake District, clusters of land owners in Cornwall, Northumberland, Norfolk, lowland farmers and community groups, from small scale, tens of acres, up to thousands of acres.
"Knepp has been a massive source of inspiration, also a lot is driven by growing awareness of the twin threats of climate change and ecological collapse, plus farming margins are tight. Some landowners want to embrace something radical instead."
The charity's imminent online hub will connect networks of people and share ideas, knowledge and experiences. They are also calling for rewilding subsidies to be considered as part of the new Agricultural Bill. They say this is justified, for the benefits rewilding brings. Besides restoring lost wildlife, healthier and wilder natural ecosystems help prevent floods, store carbon, give us clean air, water and food, whilst research has shown that time in nature improves our health, as well as providing learning and pleasure.
Among those leading the charge is a new charity, Heal, busy raising millions of pounds to rewild 500 acres of farmland in southern England, to create a community and educational wild space.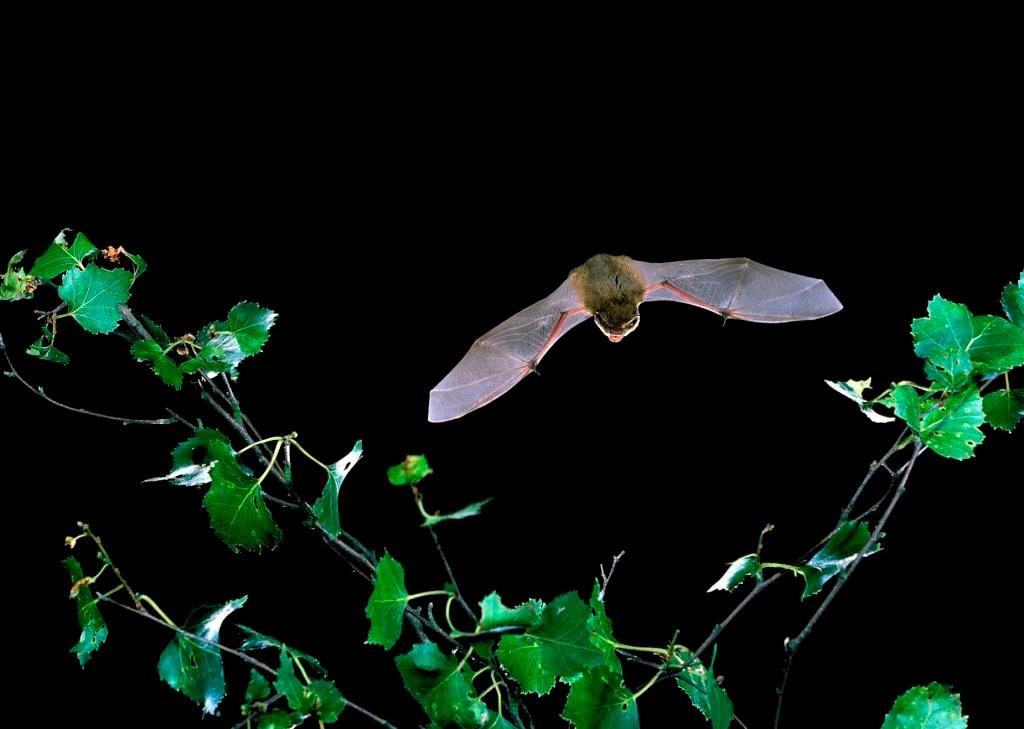 _Rewilding could help all 18 of Britain's bat species (c) Hugh Clark / _www.bats.org.uk
Another new charity, Avon Needs Trees, has just raised £300,000 in only seven months to buy and wild up Hazeland, a 34 acre remnant of an ancient noble's hunting forest at Calne near Chippenham in Wiltshire. It has an abandoned coppiced woodland, ungrazed pasture, riverside wet meadows, ponds and a dry derelict canal. Foraging near meadows, oaks, willows, elms, buckthorns and small leaved limes woven with wild honeysuckle, are at least 8 bat species and 15 butterfly species including silver washed fritillaries and purple hairstreaks.
Project founder, Nikki Jones, speaks compellingly about the impacts that climate change will have in this region, on why we need to develop resilience such as flooding defences and how rewilding is crucial. What stands out on the River Avon catchment map, where her riverine haven will soak up flood waters, are the blue fluid fingers stretching right across the Bristol region, gripping and often drowning parts of the urban sprawl within their grasp. When waters rise, with a warmer wetter south-west climate, the floods are barely hindered in a modern landscape of concrete channels and tree-stripped hills.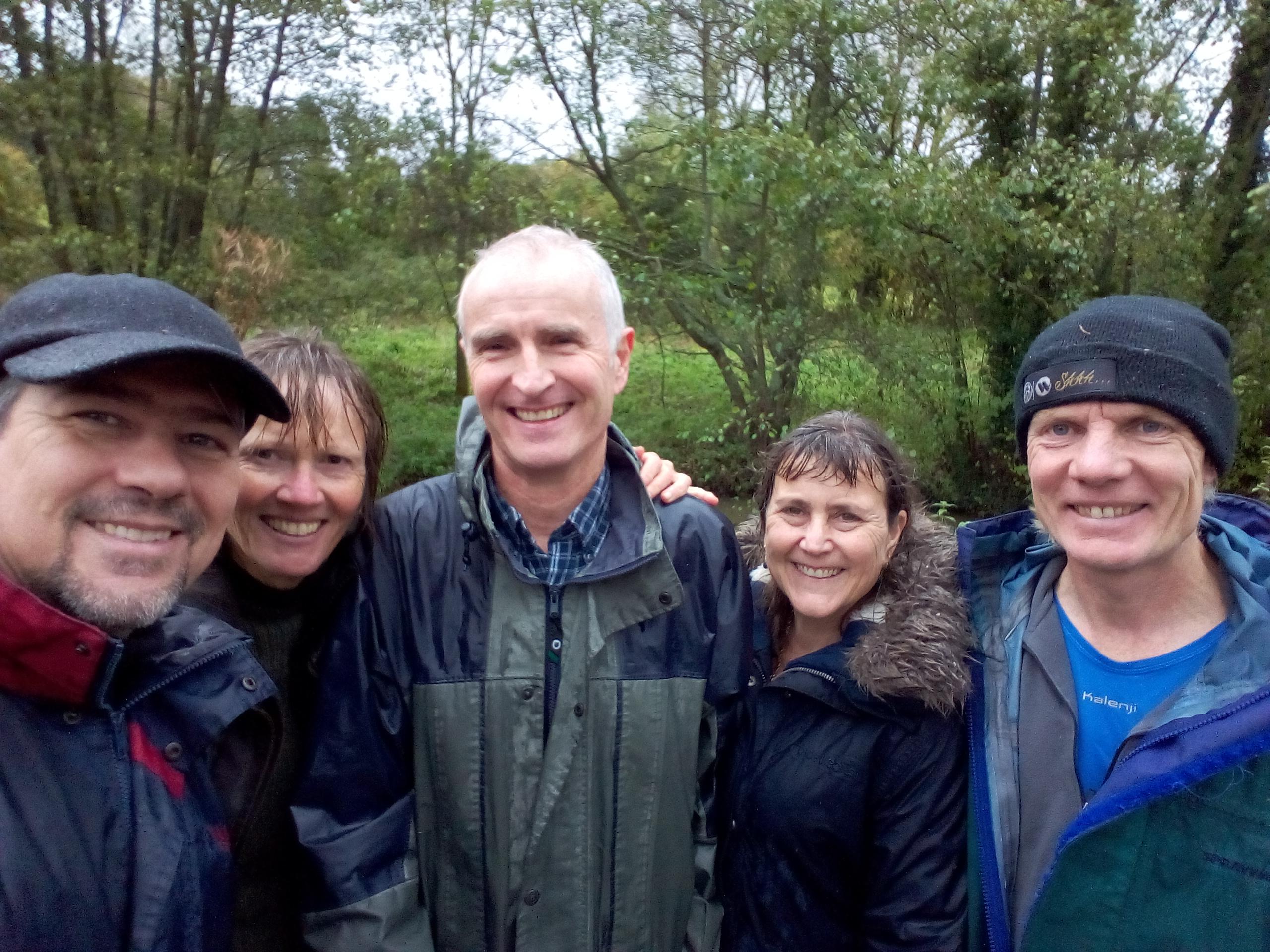 Avon Needs Trees founder Nikki Jones, second left, and supporters at Hazeland
More than a million people dwell on this catchment, from the Cotswolds in the north, Wiltshire in the East and North Somerset in the south. It floods most years, the swell from its countless unrelenting streams unable to drain as they gush down towards the mighty tidal surges of the River Severn near Bristol.
Nikki said:
More trees will sequester carbon from the air, enhance biodiversity and give us natural flood management,
as well as better water and air quality, and more public space. Almost all of Avon's woodland has disappeared over the last few centuries. This is disastrous for many reasons but perhaps most pressingly because trees are essential for tackling climate change.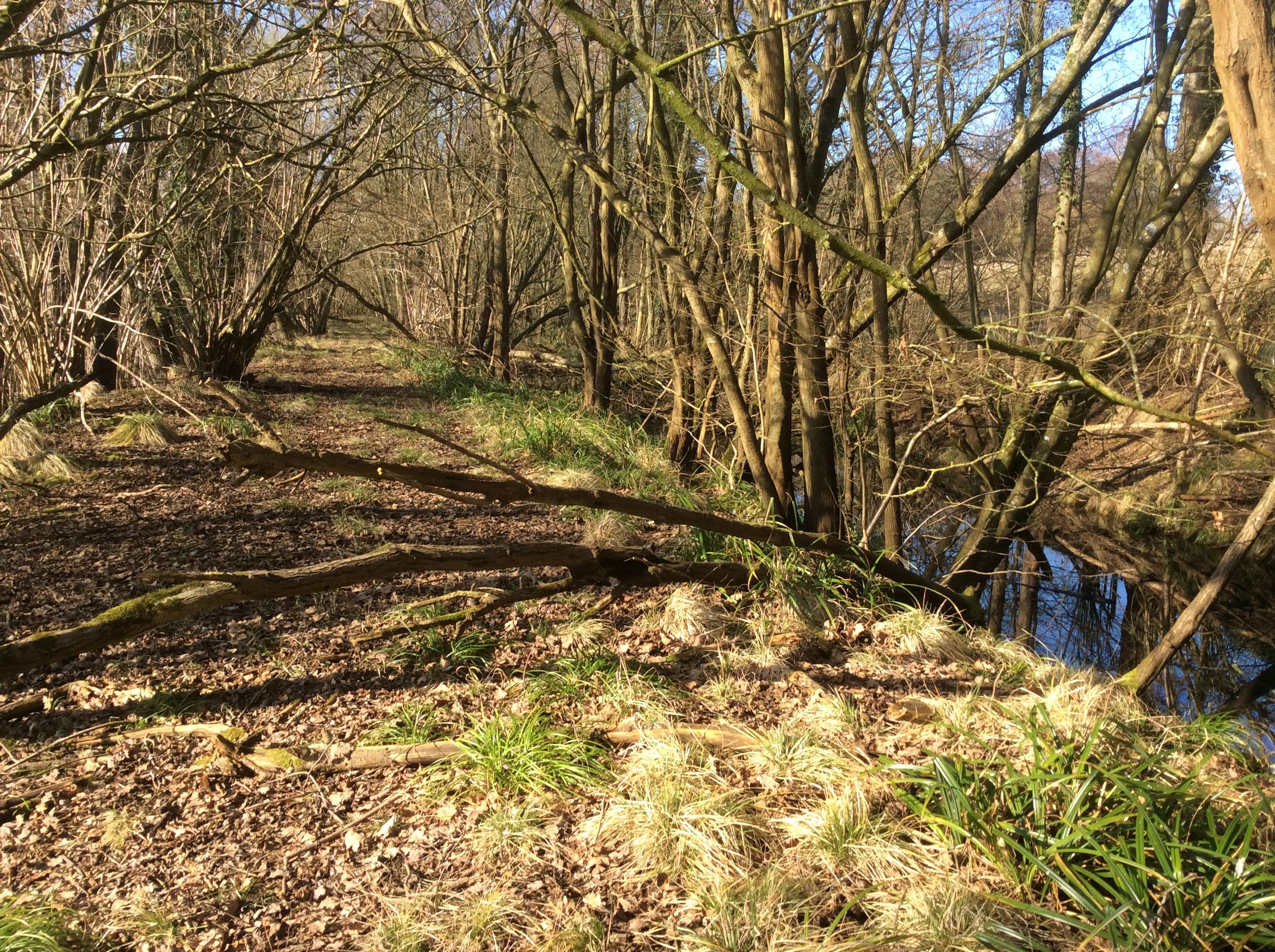 _Hazeland coppice for flood management _
"Reforesting Avon has multiple other benefits. It will provide natural flood management which is much more cost-effective than engineered flood defences. All of the towns and cities in the area, including Chippenham, Bath, Bradford-on-Avon and Bristol are greatly at risk of flooding, particularly as climate change advances."
Nikki says the project has been a huge challenge but has received massive public support: "It still keeps me awake at night! But I'm very glad we're doing it and I think the benefits will be enormous. We believe buying the land is a much better way to get things done. Asking landowners to voluntarily make these changes does not provide long term, guaranteed results.
"We will always need to prioritise the needs of the land, but we do hope to encourage people on site with butterfly counts, fungus days, bee walks, spring watch events etc, we want a place of learning and recreation."
There is no rewilding high command - it's just all of us, trying to work out what to do.
Alasdair Cameron has just launched a Rewild Bristol group. He said: "I am setting up a charity to build a war chest to buy land when small unfashionable bits become available. There is no rewilding high command - it's just all of us, trying to work out what to do. We are activists and small landowners coming together to talk about how we can catalyse rewilding in Bristol. I am aware of half a dozen other small landowners doing their own projects too."
Ian Barrett, CEO of Avon Wildlife Trust who led Bristol in being the first big city to declare an ecological emergency in February, said: "Interest in rewilding is growing and we are already talking to groups of landowners in the area who want to do it. We're always interested in taking on land, or working with landowners and community ownership.
_Mark Avery, Guy Shrubsole and Alasdair Cameron at Rewild Bristol's launch event _
"Big areas offer more room for natural processes and less intense management. But little urban pockets of land can work well, to supplement gardens and green spaces, although smaller pockets are 'rewilding' in its broadest sense - it's a continuum from a totally managed space to a more natural one."
Speaking at Rewild Bristol's launch event, Guy Shrubsole, author of 'Who Owns England?' highlighted the need to confront and increase pressure on big landowners and described rewilding as 'the new front in environmentalism - whether they are large country estates, grouse moors, smaller pockets of industrial or farmed land, or green belt.'
Guy added:
To rewild at a bigger scale, we need to contend with land ownership patterns. Who owns the land has a big impact on how we use land, but less than 1% of the population owns half of all England,
just 30 landowners own nearly half the county of Berkshire. About 150 estates own an area the size of greater London, with England's uplands converted into intensive driven grouse shoots - wildlife deserts in some respects. About 3 billion tonnes of carbon are locked up in those peat soils and some landowners are burning it!
"Maybe the earls, viscounts and rich landowners could use all that land they own for better things - like rewilding? We could also rewild green belts around our cities, so more people can easily enjoy nature on our doorstep. I hope we can increase scrutiny of land owners and encourage more rewilding, with policy changes and radical land reform."
And Guy suggested maybe we should go further still: "If large estate owners will not do so voluntarily, perhaps we should take back land into public ownership? Why not introduce a community right to buy or a compulsory purchase for rewilding, in England and Wales, similar to what they have in Scotland?"
Campaigner and author Mark Avery agreed: "We have some completely degraded land use that harms a load of wildlife, increases flood risk and carbon emissions for everybody who pays for water in the north of England. And look at all the land that is owned by the water companies in large areas of the uplands that used to be publicly owned. All sorts of advantages would accrue if we re-nationalised some of that land. We could deliver public goods, including rewilding."
Amid wildlife numbers falling, floods rising and temperature records breaking, we are now in a race, it seems, between the public will, the power of the biggest landowners, politics and the forces of nature. But this emerging grassroots movement looks set to redefine at least some chunks of the map of who rules the land, to restore and expand more resilient future landscapes, for both wildlife and people.