Technology
Campaigners Demand UN IMO Tackle Dangerous Shipping Emissions Now
Scientists, activists, community groups and concerned citizens launch campaign to clean up shipping at the IMO HQ in London
Concerned citizens, children and campaigners welcomed UN IMO shipping delegates at the start of their conference with a performance urging radical action to reduce emissions now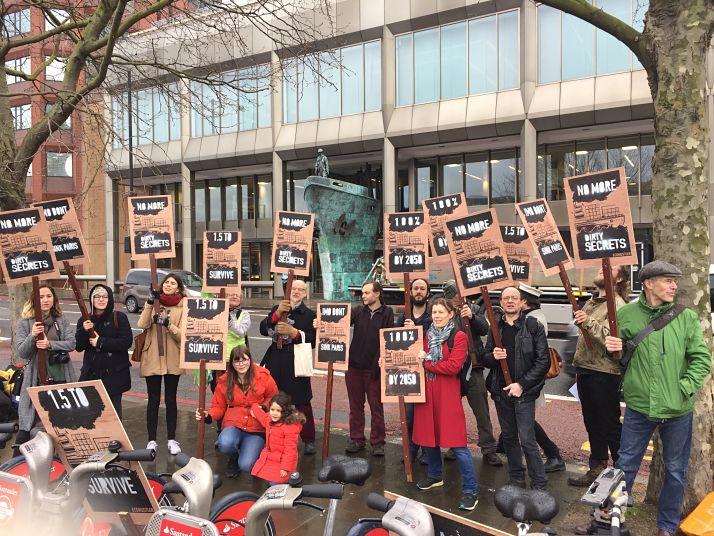 Campaigners outside the UN IMO HQ, London, 3rd April 2018 
April 3rd, 2018,an unexpected crowd of concerned and informed citizens welcomed delegates as they arrived for the UN International Maritime Organisation's (IMO) major conference - www.mepc72.com. Country representatives from around the world are gathering to strike a deal to cut greenhouse gas emissions from shipping. Activists, members of the general public and children were there demanding radical action now. They presented information to delegates as they arrived in the form of boarding cards for the 'ship of the future' with reminders about what's at stake. If emissions are not brought down we will suffer increasingly severe effects from climate change including - wildfires, ocean acidification, rising sea levels, more extreme weather events, widespread climate migration, failing agriculture and ultimately the collapse of civilisation. Amelia Womack, Deputy Leader of the Green Party of England and Wales was at the demonstration and said: "It is imperative the UN IMO steps up and takes action immediately on climate change. The levels of pollution are staggering. All other sectors of the economy have targets in place to reduce emissions and there is no reason for shipping to be exempt. People are demanding radical action now and for very good reasons." Campaigners presented delegates with boarding cards calling for actions that will keep shipping emissions with limits identified as safe by the UNFCCC scientists. To be true to the goals of the Paris Agreement, campaigners are calling for the IMO's initial GHG Strategy to commit international shipping to:
Full decarbonisation by 2050
Substantial immediate short-term emission reductions
Investment in zero-carbon fuels and propulsion
The rapid roll-out of zero emission vessels
Claire James, a campaigner at the Campaign against Climate Change said: "These crucial talks will affect the future of all nations, so it's vital that they are not hijacked by corporate interests. The impacts of climate change we are already seeing demand urgent action to avoid completely destabilising our climate. And in the face of this existential threat, no one gets a free ride. The shipping industry must do its fair share, not sink the Paris climate agreement."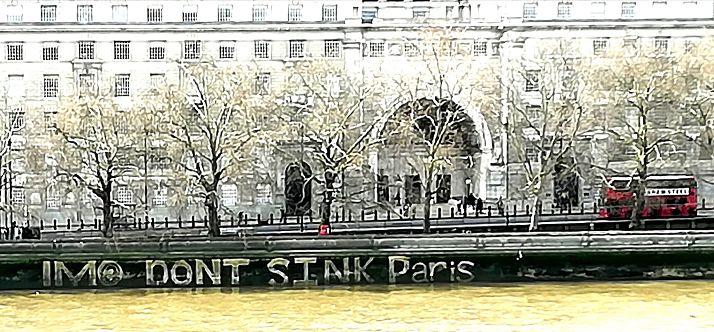 Giant message written on the bank of the Thames outside the IMO HQ, London 
Representatives were present from The Green Party, The Campaign Against Climate Change and other environmental NGOs as well as a diverse delegation of concerned citizens representing UK communities as well as street performers and artists. On the far bank of the river activists had used a power hose to "clean graffiti" enormous writing onto the bank of the river Thames reading - "IMO Don't Sink Paris." Matt Mellen, the founder and editor of EcoHustler Online Magazine and one of the campaign organizers said: "For too long these rich and powerful corporations have been treating the atmosphere like a sewer where they dump their pollution with no concern for the harm they are causing. People are finally waking up to the scale of the challenge and the response has been amazing. We are forming an alliance of campaigning organisations - the IMO Action Alliance. We will not stop until shipping cleans up its act. This is just the beginning." To get involved in the campaign - email Matt - and please share this article. Find out more about the event here – www.mepc72.com
Background: Shipping – the world's dirty secret
Ocean-going ships run on heavy fuel oil, the residual dregs of the refining process, which is sold at a discount to the crude oil used to produce it. This has 3,500 times more sulphur content than the diesel fuel used by road vehicles in Europe and is more carbon intensive. Air pollution from ships is linked to approximately 400,000 premature deaths from lung cancer and cardiovascular disease alone and around 14 million childhood asthma cases annually, according to the latest research. Shipping is not currently on track to reach a 2°C climate scenario according to the IEA. Further, the IMO predicts that industry emissions could grow by up to 250% by 2050. A 2015 European Parliament report estimated that shipping could be responsible for 17% of global greenhouse gas emissions by 2050 if left unregulated, potentially jeopardizing global ambitions set out under the Paris Agreement.
Further Reading