Technology
Mowi - trashing seas, salmon and coastal communities for profit
The world's biggest salmon factory farming company has changed its name but not its destructive ways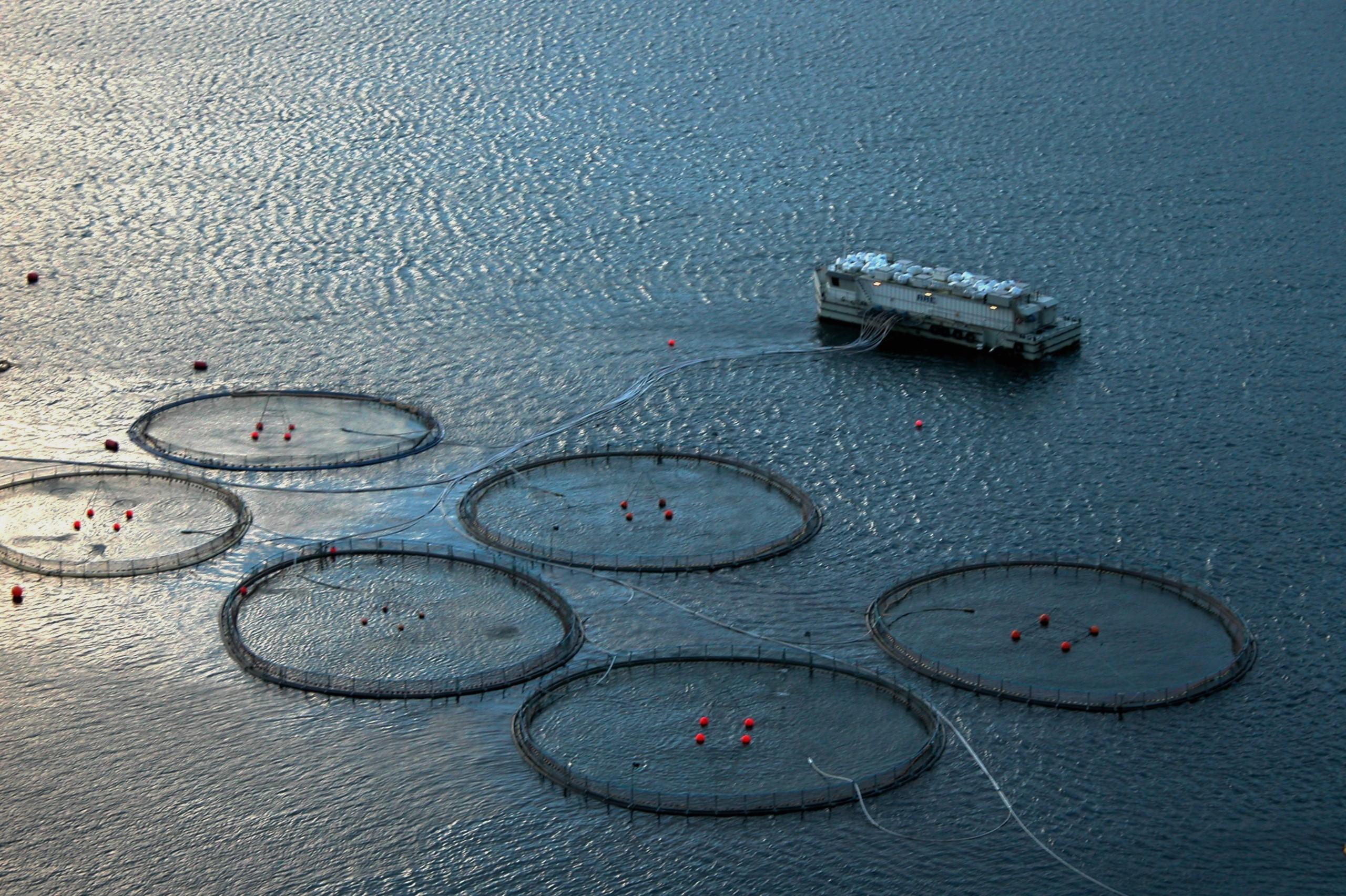 Modern salmon farms are major industrial operations with multiple impacts. Photo credit: Erik Christensen
Millions of fish have died horribly on Mowi's factory farms, yet governments are still supporting its plans to expand. The company's past and ongoing animal welfare violations should make them think again
This article was amended on 04/12/19 in the following ways -
Mowi has told us that ISA has not been detected in British Columbia. But it has been detected in other parts of Canada, including Newfoundland, where Mowi has farms.
Mowi denies the assertion that the 737,000 salmon that died in Scotland this summer were killed by sea lice. The company states that they were killed by warm water and unspecified 'health challenges'.
Mowi denies that they are under investigation for overuse of hydrogen peroxide, as the original article stated.
Over the summer, millions of salmon died at fish farms off the coasts of Scotland and Canada. What connects the two sites? The answer is Mowi – known as Marine Harvest until the beginning of this year – the world's biggest salmon farming company. Earlier this month, Mowi was slapped on the wrist by UK authorities for its failures to protect fish from disease, while in Canada it promised to make improvements to its farms, which had their licenses suspended following the mass deaths.
Amid these scandals, Mowi are pushing ahead with plans to expand next year – with governmental support no less. Despite this year's loss of more than 700,000 fish at its Scottish farms by algal blooms, diseases and poor health, Scotland's environment secretary Roseanna Cunningham proclaimed "there is insufficient evidence to support a moratorium on the [fish farm] industry's expansion." Meanwhile, in Canada, authorities have exempted Mowi's planned expansion of its salmon hatchery in Newfoundland from environmental assessment.
But this summer's deaths are far from the first time Mowi has been responsible for animal welfare or environmental violations. This history of failures cannot be obscured by the company's rebrand and cute new logo, and should set alarm bells ringing for authorities considering granting new licenses to the company to grow.
A mass grave of salmon photographed in Scotland by Corin Smith
Diseased salmon
In 2008, Mowi suffered catastrophic losses due to outbreaks of infectious salmon anaemia (ISA) at its farms in Chile. ISA is a viral infection that causes severe anaemia in affected fish, though sometimes it has no symptoms before sudden death.
According to the Scottish government, ISA has also been detected in the USA, the Faroe Islands, Ireland, Scotland and parts of Canada – all countries where Mowi has farms. According to the Scottish government, the disease was first reported in the 1980s in Norway – Mowi's home country – and the vast majority of cases of ISA occur in fish farmed in sea water. According to one expert quoted in a 2008 New York Times article on the ISA outbreaks in Chile, "Parasitic infections, viral infections, fungal infections are all disseminated when the fish are stressed and the centers [cages] are too close together." A spokesperson for Mowi at the time admitted that this was indeed the case in Chile, along with excessive use of antibiotics.
After closing more than a dozen of its farms in Chile due to the ISA outbreaks, Mowi began moving its operations further south, leaving behind contaminated water and decimated wild fish populations.
Salmon are not the only fish affected by disease at Mowi's farms. This summer's death of 737,000 salmon at its Bagh Dail nan Ceann farms in Loch Shuna, Scotland – which Mowi attributed to warm sea temperatures that 'exacerbated health challenges common to salmon' – followed the deaths and suffering of lumpfish Mowi uses to control sea lice. The Animal and Plant Health Agency (APHA) found that the lumpfish had been killed or were suffering from heat stress and fungal infections. "Not taking effective decision at earlier date has prolonged the period while the lumpfish still at the site have been in need to be protected from suffering and disease," APHA said.
Sea lice (little parasites that feed on the skin and blood of salmon) are also a common problem at fish farms. The BBC has reported on the ongoing problem of sea lice in Mowi's Scottish farms, with nearly half of its sites affected in 2015, and substantial salmon deaths in late 2016 due to lice infestation. 95,000 of those deaths were the accidental result of an attempt to rid the fish of lice by bathing them in warm water.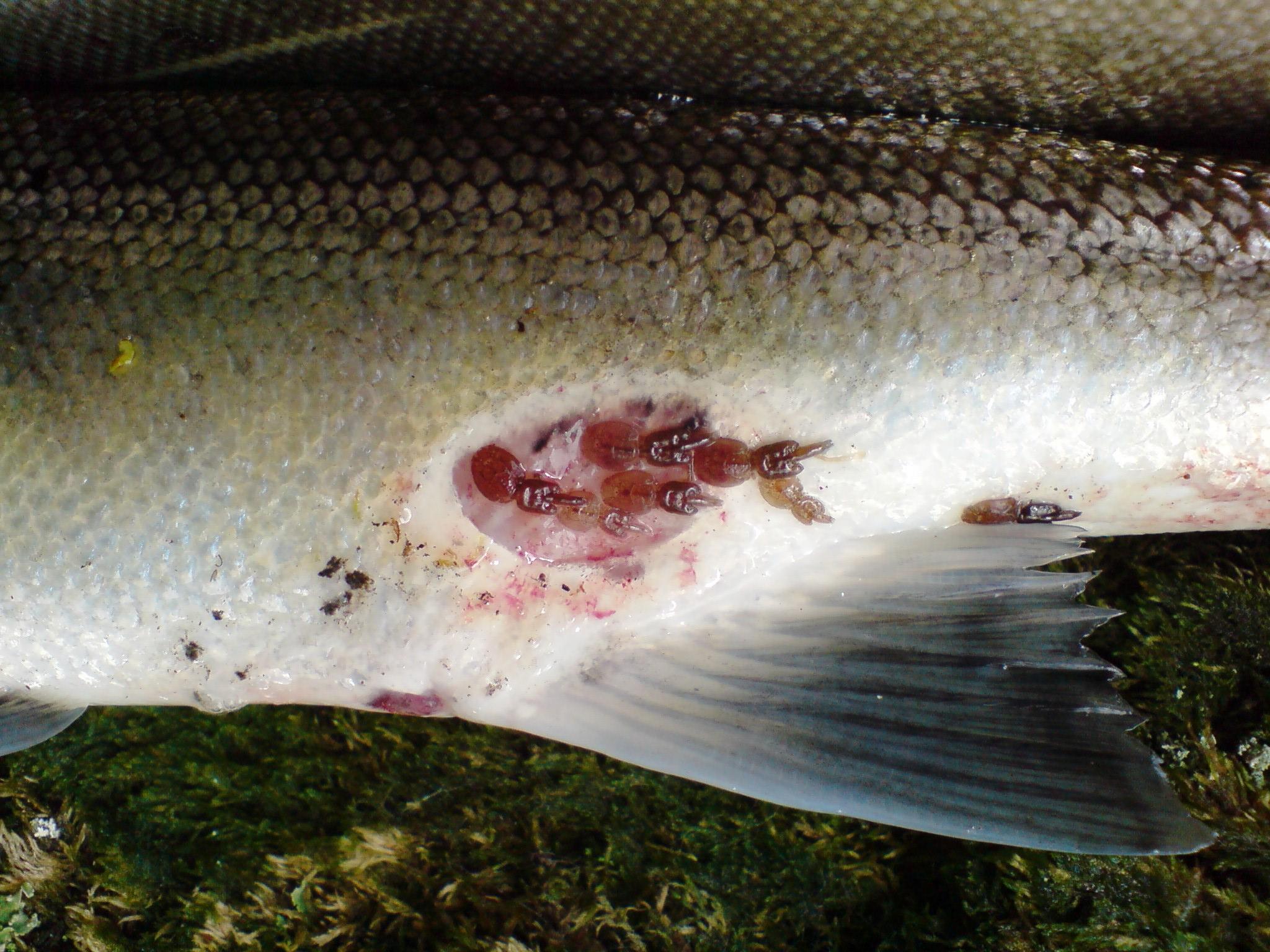 Sea lice, L. salmonis, on farmed Atlantic salmon
Polluting the seas
Other methods of controlling sea lice come with their own problems. In 2013, Mowi came under investigation by the Scottish Environmental Protection Agency (Sepa) for contaminating Loch Shell in the Outer Hebrides with residues from pesticides used to treat sea lice. The pesticides, which are toxic to crustaceans including prawns and lobsters as well as to birds, mammals and other fish species, were found in concentrations 450 times above recommended levels as reported by the Guardian.
The pesticides didn't even successfully combat the sea lice problem: Mowi admitted it had to harvest fish early and close its site at Loch Shell for nine months.
Earlier this year, before the mass salmon deaths, the BBC reported that Mowi was again under investigation by Sepa for potentially misreporting its use of medications to deal with issues including disease and sea lice at its Scottish farms. Mowi said it was 'confident' it had reported its usage accurately.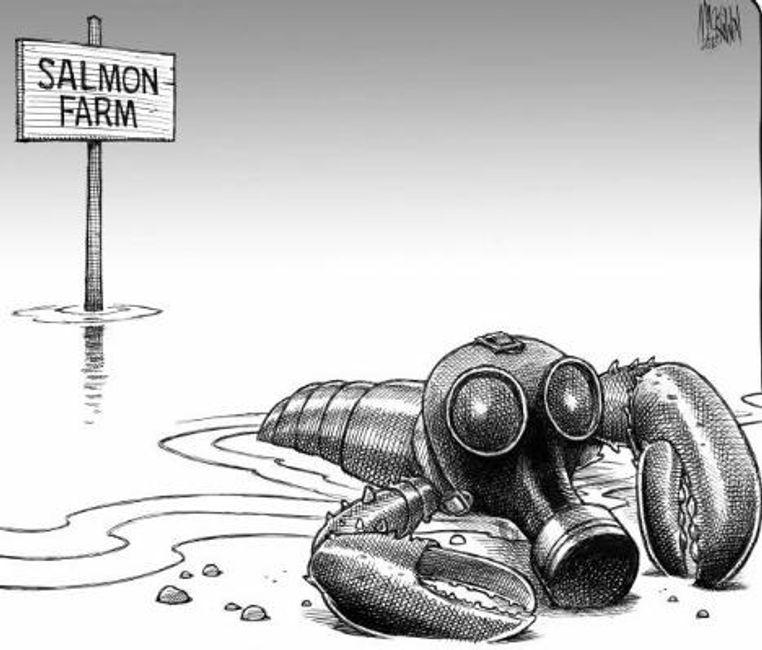 Overcrowded farms
Overstocking of fish in 2016 at Mowi's Co Kerry farm in Ireland this year, finally, resulted in its license being revoked by the Irish Minister for Agriculture, Food, and the Marine. 'Overstocking' is another way of saying that Mowi crammed many more salmon into its farms than it was allowed according to the terms of its license. It was therefore able to harvest 121% more fish (by weight) than it was permitted to do.
The problem with overcrowding is that it makes worse many of the problems that plague fish farms: from the spread of disease including sea lice, to reducing the amount of oxygen available to the fish.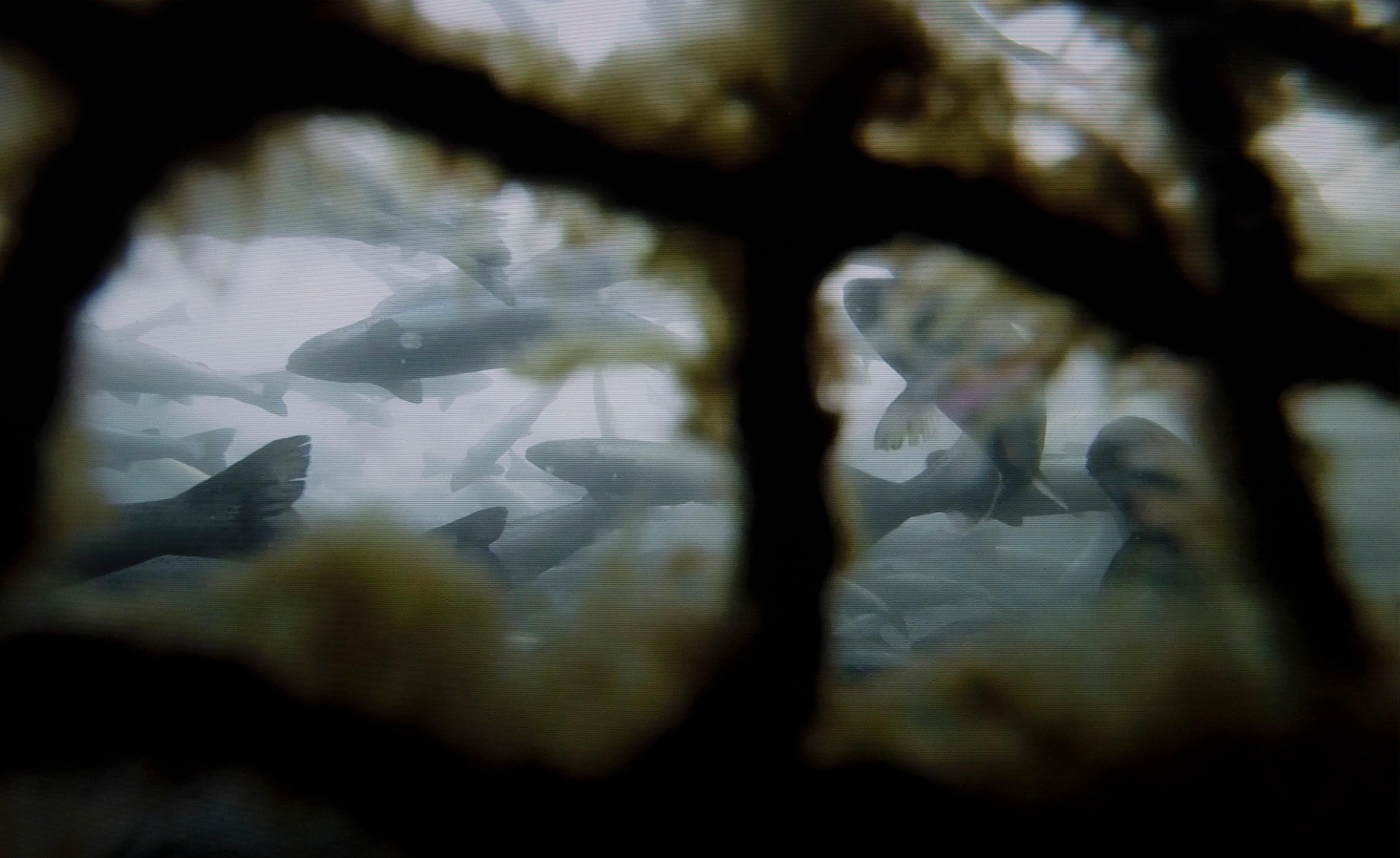 Jailed salmon by Corin Smith
And the one thing making it all worse…climate change
Even when disease wasn't rife or Mowi wasn't dumping toxic chemicals into the water, increasing ocean temperatures have taken a toll on the farmed salmon. According to Mowi, unusually warm temperatures caused 'harmful algal blooms' at its Scottish farms this summer, reducing water oxygen levels, while rising sea temperatures might be helping sea lice to thrive.
At the farms in Newfoundland and Labrador, Canada, bought by Mowi in 2017, the deaths of 2.6 million salmon in the summer have been pinned on warm ocean temperatures lasting nearly two weeks. The salmon would have attempted to escape the underwater heatwave by swimming down towards cooler water, according to the chief aquaculture veterinarian of Newfoundland, Daryl Whelan. But the cool water couldn't be reached due to the shallowness of the cages. This caused 'bunching up' at the bottom of the cages which, along with the heat, starved them of oxygen.
Ocean heatwaves are no longer isolated incidents. They are increasing in frequency and intensity, raising the question as to whether Mowi's plans to increase the depth of its cages in Canada to 25 metres and equip them with aeration systems will be sufficient to protect the salmon from inevitable future heatwaves.
Salmon farming is a polluting industry
Challenging Mowi's expansion
Within the next year, Mowi plans to increase its global production of salmon to 450,000 tonnes, up 20,000 tonnes from this year. In Canada, it aims to increase the number of young salmon (known as smolt) reared in its Indian Head hatchery in Newfoundland from 4.5 million to 6.7 million.
Campaigners are already raising objections to this growth. The Atlantic Salmon Federation (ASF) and environmental law charity Ecojustice are challenging the exemption of Mowi's Indian Head expansion from environmental assessment. 'Mowi's 2.2 million smolt expansion in NL will put more fish in the same cages where millions just died,' ASF tweeted in October. Meanwhile, an MP with the Scottish Green Party was behind the call for a moratorium on the expansion of farms in Scotland that was rejected by the environment secretary. A campaign is also running via 38 Degrees to get the Highland Council to reject Mowi's plans to build a vast new fish farm off the coast of Canna, a Hebridean island.
It's clear that even with the current size of its farms, Mowi struggles to ensure the health of its fish and the protection of the environments in which it operates. Allowing the company to grow even bigger is courting disaster for the marine environment and for the salmon.
---
More information -