Technology
Scottish Salmon Farming Horror - Mass Graves Uncovered
Gruesome undercover video footage exposes the UK's biggest animal welfare catastrophe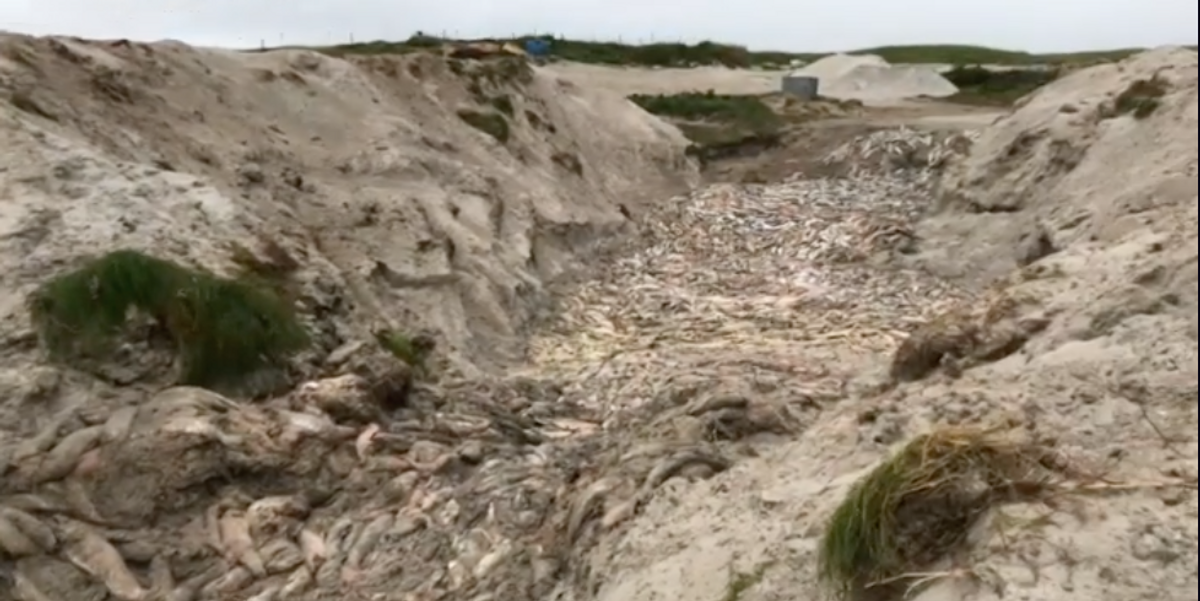 BBC One Show broadcast on 10 September 2018 featuring gruesome video footage of lice-infested Scottish salmon and an uncovered mass grave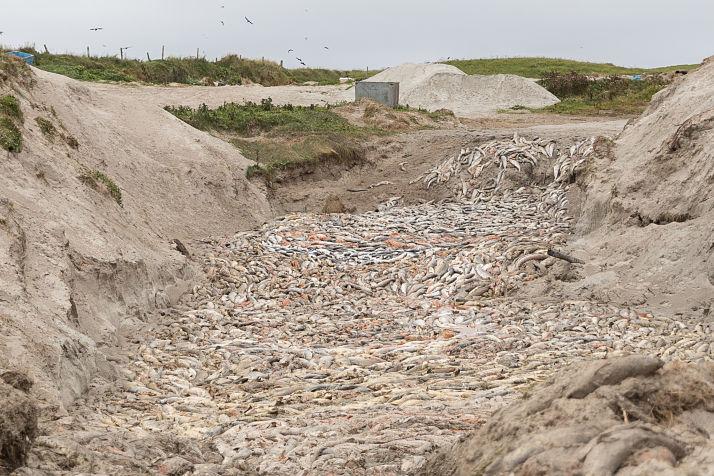 VACASAY SALMON FARM FOOTAGE OVERVIEW
Background to footage
The footage and photographs depicting farmed salmon suffering severe damage from sea lice at Vacasay salmon farm were produced by Corin Smith
"I first encountered Vacasay salmon farm while filming in the local area with a drone on 22 Aug 2018. I was aware of fish appearing to be in state of high distress and mortalities (dead salmon) were present on the surface. I was told that the Fish Health Inspectorate were aware of problems on the farm. I monitored the activity of the farm and I am sure that as of 1 Sept 2018 no other treatment or animal husbandry has taken place for the specific pen I filmed.On 27 Aug 2018, deeply concerned for the welfare of the stock on the site, in the absence of any care being given or any action being taken by authorities, I approached the farm to get a detailed view of the health of the stock and made a series of underwater recordings of approx 20 mins in length."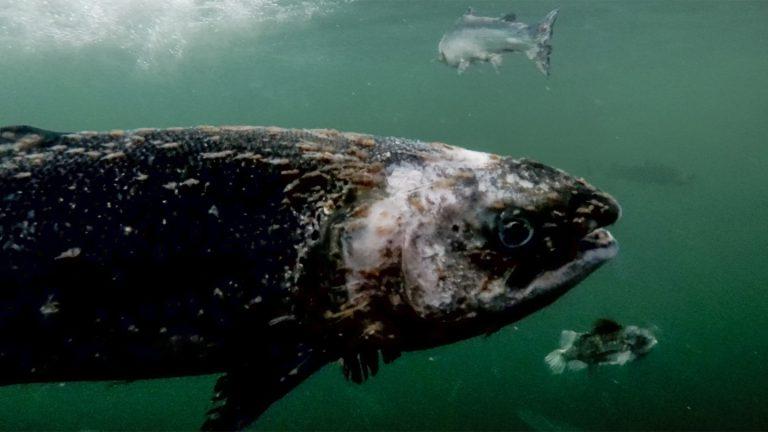 Damaged salmon in Loch Roag - photo credit -Corin Smith
Commentary
The situation on this farm is not unusual. The footage was representative of the state of health of the general stock in this specific pen. In the interests of bio-security I did not use my equipment to film in any other pens. However, it has been verified with drone footage that the same state and extent of poor health was common throughout the farm. It is estimated that the site of 12 pens may hold around 400,000 salmon. Data shows that nearly 500 tonnes of farmed salmon have died in Loch Roag this year. I can testify that perhaps as many as 80% of the salmon I saw on the farm were suffering from severe sea lice damage. Perhaps as many as 50% with the mortal levels of damage shown in the images. If this were sheep or cattle in this state, with obviously no hope of remedial treatment I am in no doubt that a vet would recommend they be euthanised immediately. Not to do so would prolong unnecessary suffering.
The stock in question has been verifiably in this state for at least eight days, but probably much longer. I was utterly shocked at the health of the stock and the very high proportion of fish in poor health with mortal sea lice infestation. For fish to have reached this state of heath as a result of sea lice parasites eating their flesh, this situation would have had to occur over a matter of weeks. I am forty years old, twenty years born and raised on a working hill sheep farm. I am still an active member of the agricultural community. I am not squeamish or hysterical about the rearing of animals for food. But I have never in my life witnessed such extensive animal suffering, and over such a long period. At least 40% of stock need euthanised immediately on the grounds of compassion. Any responsible farmer would do that. I am sure the workers on the farm feel the same themselves, but policies and procedures seem to be preventing them from doing anything. Quite how this level of suffering and cruelty can be permitted is beyond me.
Corin Smith Info
I was born and raised on a tenant hill sheep farm of 2000 ewes near Blair Atholl. For the last five years, in my spare time, I have found myself accidentally researching and studying the operations and impacts of the 200 or so open-cage salmon farms throughout Scotland's Highlands and Islands. I've tried to achieve a detailed, balanced and honest understanding of the environmental and economic impacts of the farms; as well as insight into the nature of the relationships between the multinational companies (that own the industry) and the Scottish Government and its agencies responsible for monitoring farm activities. I currently run two small businesses, The Wild Rise Company and Corin Smith Commercial Photography, as well as raising my beautiful young daughter and looking after my dog, Monty. Before that I worked as fly fishing guide around Africa and before that I worked for Betfair.com.
More information:
Shocking images show parasite infested salmon as row over farming continues, The Herald Scotland, 3 September 2018
Sick salmon at Scottish fish farm revealed on film, The Ferret, 3 September 2018
Secret filming inside Scottish salmon farms - diseased & deformed farmed salmon, Scottish Salmon Watch, 4 September 2018