Culture
Protest zones - how dissent will be accommodated at COP26
Glasgow could be the next flash point as the world struggles to step up to the raging climate emergency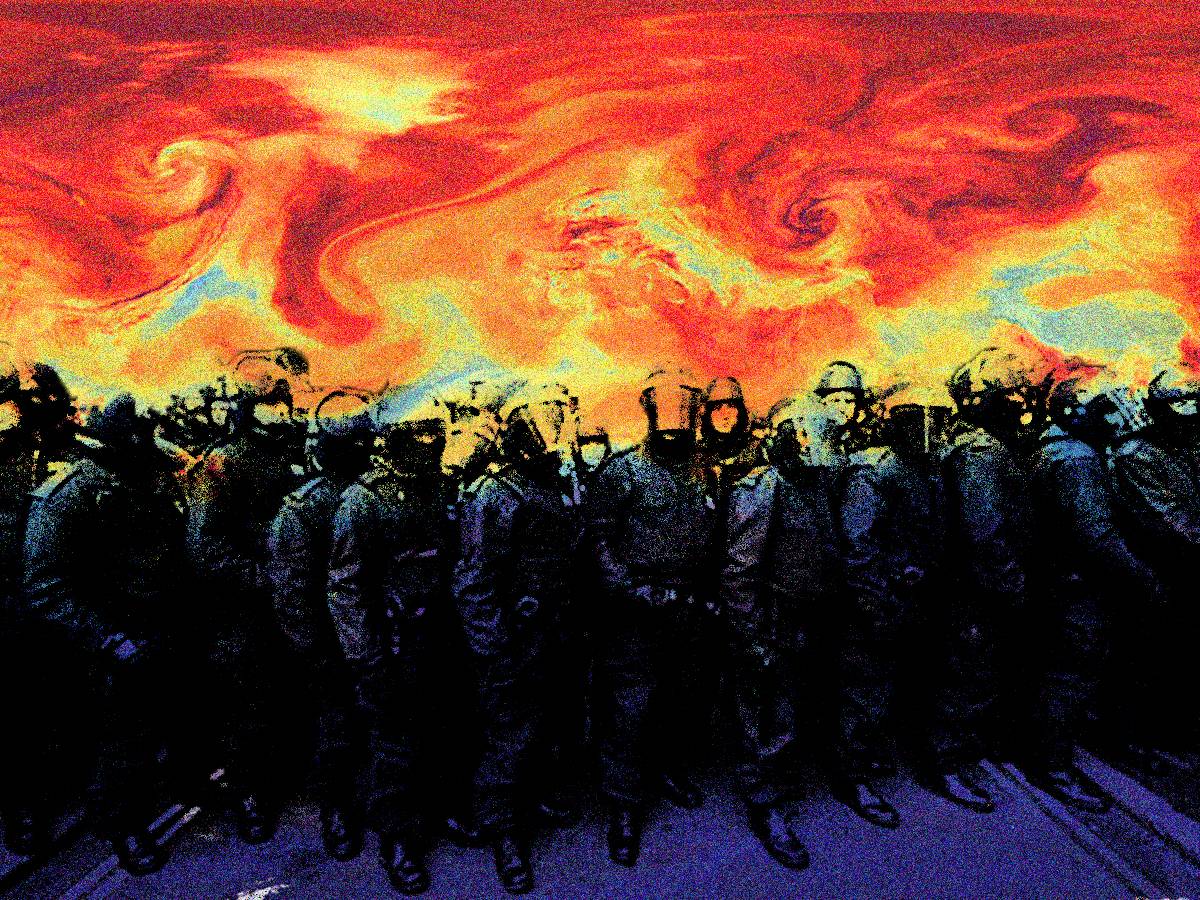 COP24 - Poland
When Sam Knights arrived at COP24 in Poland in December 2018, the 24-year-old climate activist was surprised, and frightened, to walk past lines of police with bullets down to their shoes.
The policing of the UN Framework Convention on Climate Change (UNFCCC)'s annual summits is a national matter, but the way protest is accommodated is something with which every conference must grapple. In November, when 197 national officials, plus climate scientists, negotiators, lawyers, and activists descend on Glasgow, space will do strange things, be redrawn, fragmented and marshalled.
For two weeks, as delegates seek to smooth contentious parts of the Paris Agreement – and so secure a unified approach to tackling the climate crisis – the overarching issue of equitable access to atmospheric space will bear down on the Scottish Event Campus, an organisational feat that is invariably also a failure, and hard to visualise or imagine in its intensity.
In Krakowice, Knights said, there was only one main protest held outside the conference centre - the presence of such heavily armed officers effectively suppressing dissent. "The weird thing about COP," he said, "is that you still have to apply for permits to protest, and there are official protest zones, which sounds like some kind of dystopian liberal nightmare."
These legal protests, or 'actions', are facilitated and encouraged by the UNFCCC. They give climate campaigners the chance to get their message heard, even if only in passing. And while this is a limited way of thinking about protest, forfeiting that chance is not something that any accredited party with a serious stake in the COP process would do lightly. It hangs in the balance of negotiations.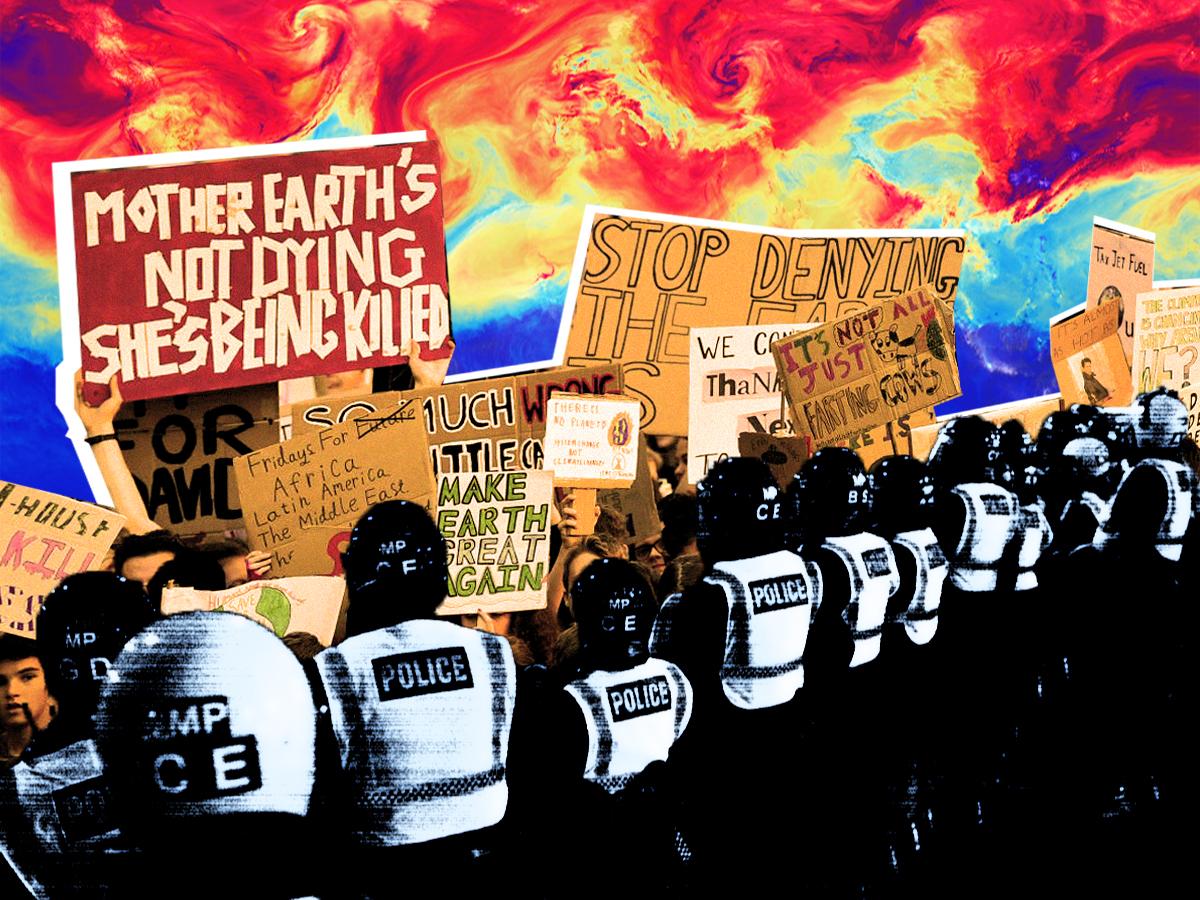 COP25 - Madrid
At COP25 in Madrid, which failed to finalise the Paris "rulebook", around 200 campaigners and indigenous rights activists were ejected from the main venue after a spontaneous protest. For Kera Sherwood O'Regan, a disabled, indigenous and queer activist from Aotearoa New Zealand, the Blue Zone was a less than hospitable place. She went viral with a Twitter thread from the Spanish centre, contrasting the rapturous reception given to Greta Thunberg and the rough-handling of indigenous women, who also had pins and t-shirts confiscated for being "too political".
COP interiors are not just divided spaces, but ones with warped priorities. Where fossil fuel executives mingle and platters of beef circulate. At COP24 Knights recalls seeing Hindou Oumarou Ibrahim, an indigenous activist from Chad, break into tears while delegates in the main hall voted on whether they were even going to recognise the IPCC special report into 1.5C which they had commissioned; a report that said her people would die without fast action. Negotiations are run in an obscure way that does not necessarily prioritise human beings, or climate justice, he says.
In the run up to COP26, you'll hear a lot of world-beating rhetoric from the UK government. But the dynamic at the core of COP is really, grindingly tragic: it is "a long process of richer countries trying to protect their interests and poorer countries trying to defend their people against profit-seeking global north countries," in the words of COP26 Coalition coordinator Quan Nguyen.
As a COP sceptic, he is perfectly placed to help unite the civil society alliance; to ensure good communication between those inside and protestors outside, thus making their interventions as effective as possible and building a strong 'counter-mass' to the gathering. Typically, this would see delegates (accredited members of NGOs, for example) relaying information to the rest of civil society, so they know when to apply pressure in the streets. But that feedback system is not so simple this year.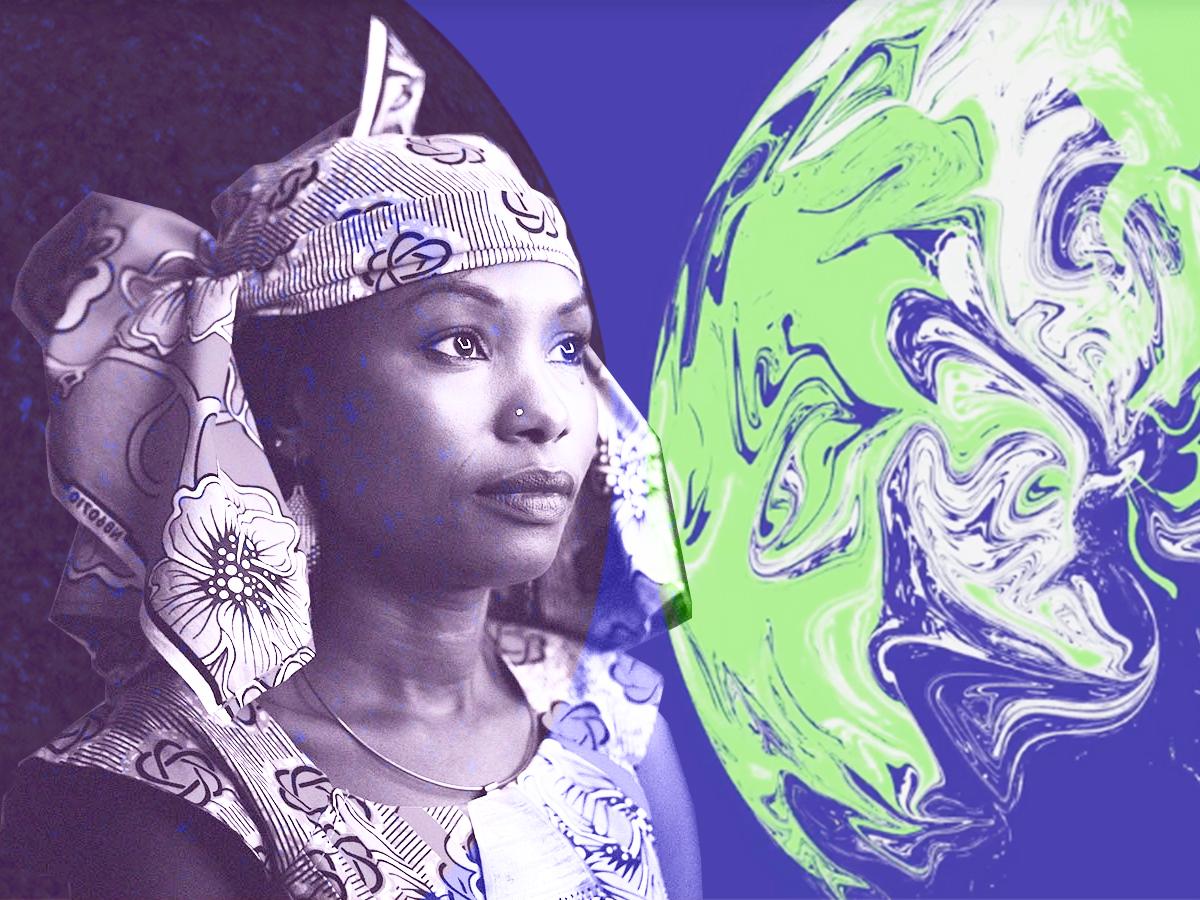 The Covid COP
Ngyuen's quandary remains: How do you plan to protest an event that might not take place? The UK's hosting duties were delayed a year due to the pandemic, and the pandemic is still here, or – more fatally – elsewhere, so added to the usual obscurity around COPs is the uncertainty about whether this event will or should go ahead.
"The problem is," he said, "what we're hearing is lots of our international allies aren't coming to the COP because they're not vaccinated and they can't risk the health of their communities." But "these international allies are normally what makes the COP civil society summit and the People's Summit, because what climate activists want to hear is not what the politicians decide but how climate change affects frontline communities." The G7's pledge of one billion vaccines to poorer countries over the course of a year falls far, far short of changing the health crisis.
Finding new ways to connect people is therefore essential. And yes, that might involve Zoom, but it's also going to need a new mapping of activists across central hubs in Glasgow and beyond, with online workshops in the lead up to a global rally for climate justice on November 6. It's a tall order but, as Nguyen points out, it's not the first time that movements on the ground are looking confused. COP25 was meant to take place in Chile, but was moved to Madrid in the month before following anti-government protests, giving Chilean and Spanish activists little time to pool knowledge and prepare.
The COP26 pre-negotiations this summer were shifted online, which sets a precedent. And - though the UK's presidency programme was released last week - it's possible that the Glaswegian conference could go the same way. If so, Nguyen asks, what is the role of civil society observers? And if there is a physical but purely performative event – with heads of state coming together to shake hands on a deal they've already agreed – what is the point in protesting that?
Personally, he believes the COP should be delayed further until all countries can take part on an equal footing - or skip straight to COP27 in Africa. "Lots of governments don't realise that you can actually do action on climate change without the UN telling you to," he says pointedly. But that's not stopping the Coalition being prepared for all eventualities.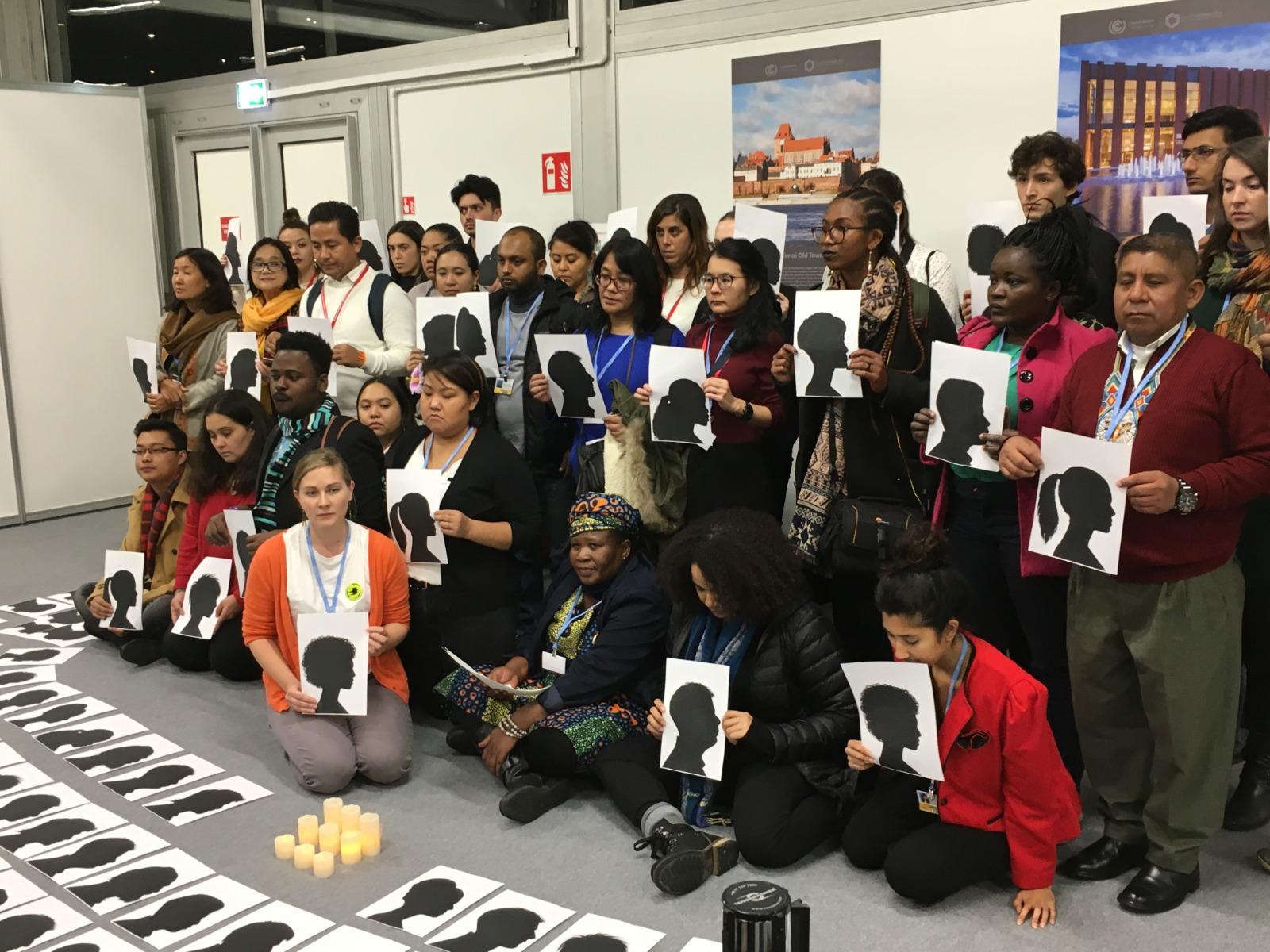 A protest inside COP 24
Good COP bad COP
And shadowing all possible protestors are the police. Assistant Chief Constable and Gold Commander for 'Operation Urram' (aka COP26) Bernard Higgins told Ecohustler: "Police Scotland has a duty to protect the rights of people who wish to peacefully protest or counter-protest, but this has to be balanced against the rights of the wider community."
At a parliamentary committee in March, ACC Higgins identified four categories of increasingly vociferous demonstrators, with the 'climate activist' at number three being one "who will not be afraid to engage in direct action to try to disrupt, so they might lock onto a bridge, abandon a vehicle or try to disrupt the conference." He claimed that the first three categories will be facilitated but, actually, it's highly unlikely those sorts of civil disobedience tactics would be tolerated at all. While family-friendly marches are waved on, any protest that sees 'business as usual' impacted will be dealt with swiftly.
Climate protest in Glasgow, February 2020 credit Taidgh Strogen
This is a "mega" policing event, ACC Higgins said, the biggest in Britain since the 2012 Olympic Games, and Police Scotland will be assisted by other officers from around the UK at roughly a 60:40 split. Having learnt from Extinction Rebellion protests in London, they anticipate arrests and have prepared arrest facilities accordingly. Though police services fall under Scottish control, the controversy surrounding the Police, Crime, Sentencing and Courts Bill – which seeks to crack down on peaceful protestors – would effectively be brought north. It's unclear what the hard end of Police Scotland's "carrot and stick" approach to policing might be in the hands of English officers embroiled in Kill the Bill clashes. As Knights, who was instrumental in XR's rise said: "with the new policing bill potentially passed into law, there is the possibility that COP26 becomes a very dangerous and important flashpoint."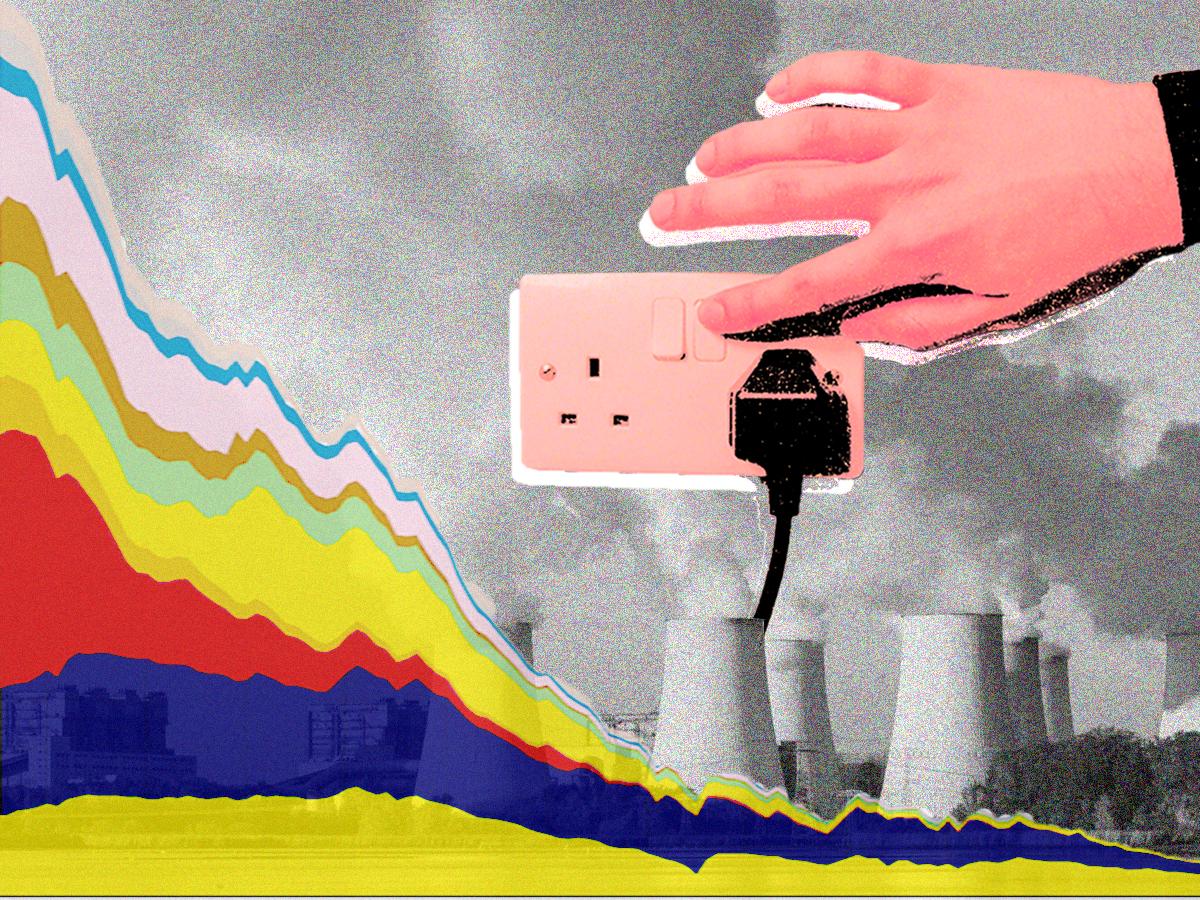 The purpose of protest
As the lines of legitimate and illegitimate protest are drawn, inside the Blue Zone and on the streets, it's important to remember that protest is not just about disruption. As thousands gather to exert pressure on the official process, something far more positive, proactive, creative and regenerative is forged in their ranks. Of course we need to engage with COP26, to call out its inadequacies - and these will be gaping. The topics on the table – like carbon markets, the emphasis on Net Zero and negative emission technologies – already show that the summit won't deliver what is needed to avert runaway global heating above 1.5C. While COP26 President Alok Sharma's vote to cut £4bn from the UK's foreign aid budget this week (despite criticising it) hardly inspires confidence in his ability to lead on climate finance.
So it's vital that activists and allies set their own boundaries too, and hold to a particular purpose. For Sherwood O'Regan, who has attended multiple COPs as a Young Pacific Leader, that purpose is about holding the line to safeguard the rights of her community back home, pushing for more resources to enact real change. It is also, she told a Coalition meeting, "a really important space to connect with a lot of people – particularly with other activists around the world – so achieving a great cross-pollination of ideas." Internally, the success of protests should be measured by how they educate the climate movement, Nguyen suggests. At COP21 in Paris, for example, protestors formed a 'red line' with clothes and cloth - clearly conveying the red lines that they did not want negotiators to cross.
You might be anywhere in the constellation of inner and outer climate circles, but you are, unmistakably, there. Each of us needs to engage with the official UN process, as well as thinking and acting beyond its parameters (to paraphrase Knights). The mystifying language around COPs is not an accident, and learning more about its issues and history is a great place to start. Luckily the Coalition has a glut of resources and a brilliant 'Boiling Point' video series to help understand the last 26 years. For those wanting to protest in Glasgow, they have a roster of events and a homestay network to connect people.
A UK Government spokesperson said: "The UK Government will work closely with the UNFCCC and relevant security organisations to ensure an inclusive approach is taken to protests in the COP26 event space that has safety and security at the core. This will give a platform for the voices of organisations and individuals to be heard on key issues during COP26."