Nature
More golf courses in Scotland too coarse for the environment
Precious highland ecosystem in Moray Firth at risk from another ridiculous planning application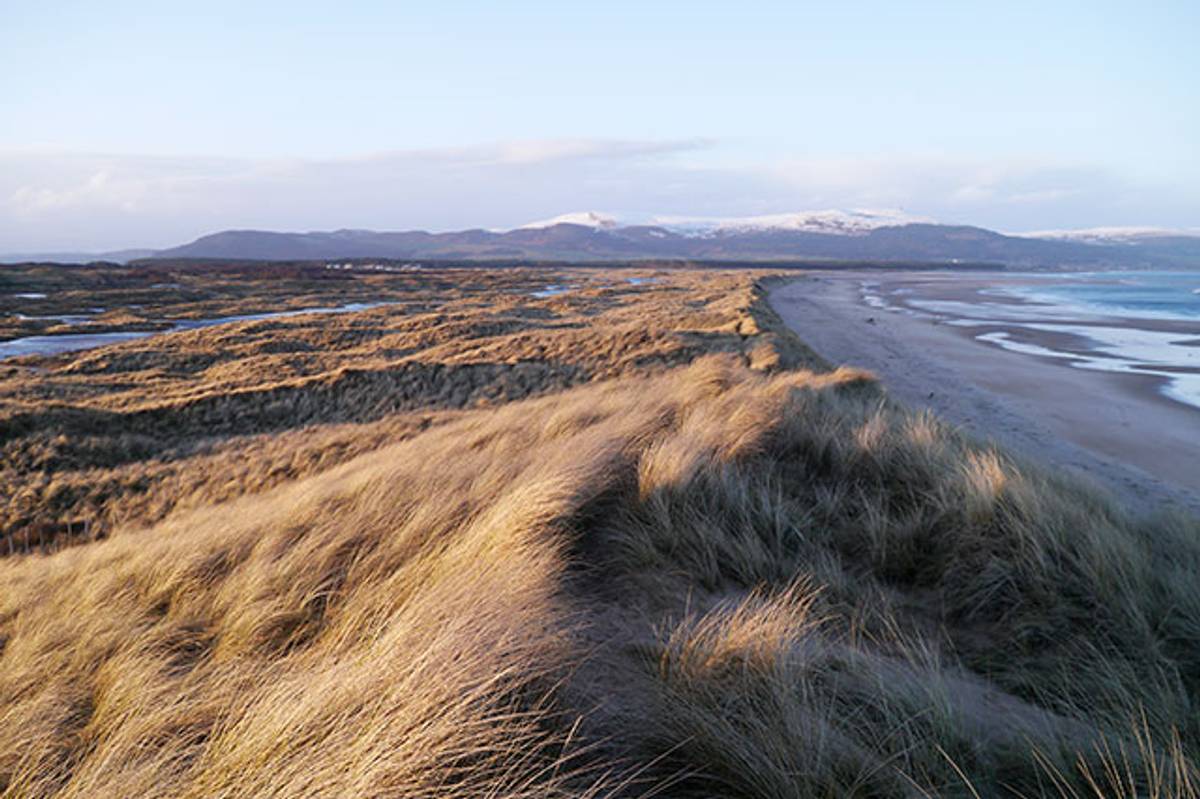 Coul Farm, hidden from most eyes, lies east of the A9, between Dornoch and Golspie in Sutherland. This Site of Special Scientific Interest (SSSI) is a rare dune, a true Highland ecosystem, habitat and breeding and feeding grounds for myriad birds and beasts. The owners are in a local battle to build a new Golf Course, one of at least four planned within a hundred-mile radius in all directions. The theory being a Golf Course creates twenty jobs in situ and fifty in local villages. There are seven marked on the Ordnance Map in the local area already and many more around the Moray Firth and elsewhere in the region.
Mark H. McCormack learnt a lot about Golf as agent to Arnold Palmer and Jack Nicklaus. The company he founded, IMG, is now a large multinational employing thousand. One of the many threads to this international long ball reach is developing golf courses.
What would Mark do to assist or resist the re-proposed Coul Links Golf project in the Highlands of Scotland? First, the introduction to his famous tome What They Don't Teach You at Harvard Business School provides a clue; he credits his twinkly eyed mother Grace with 'Money is indeed worth being concerned about'. Second, from his Father Nat, the importance of being highly sensitive to people's feelings no matter how difficult the circumstances.
As ever, there is both support and opposition locally, nationally and internationally to changing the face of this wild place forever. Environment, ecosystem, habitat and wildlife concerns on one hand - bringing resonant, if seasonal employment into the community, or to tug the heartstrings, saving community, on the other.
It is hard to be green when you are in the red.
Scotland's coastline is longer than India's. Apparently, there's room for sensitive development on these relentless and ever-changing shores. Modernising the infrastructure is needed to progress the increasingly dubious worth of the North Coast 500 - the Highland tourist's perpetual long drive - cars, bikes, cycles, the ubiquitous camper (who spend nothing locally having stocked up in the city), and even shank's pony are beguiled by a cleverly marketed peregrination into the unknown.
With foot and tyre fall attracting many for modest staycations, the campers are hugger-mugger with folk from foreign parts who have been quietly visiting for decades - grouse shooting, deer stalking and now ever more rarely catching a salmon. Our Kings past and present, sustainably harvested their own wild food for the table and sport. The new style of visitor expects to find a lay-by to park in with a washroom. Good luck. Sufficient bathroom facilities are thankfully absent in supporting such civilised expectations by the invaders. Bare necessities lacking is a seasonal challenge. What could be more desirable in the middle of a coach bound to nowhere than 'Toilets 1 Mile'.
Coul Sands flora
George VI opined,
The wildlife of today is not ours to dispose of as we please. We have it in trust. We must account for it to those who come after.
Cumulative Ecological Impact Assessment is the wider picture today.
Bertie died in 1952 - he played Golf since when, the times and attitudes have changed beyond recognition. Mistakes, some cataclysmic, have been made in Town and Country since in our rush to develop and improve our lives and lifestyle.
Today there is increasing objection to killing anything – while we electrocute the rat and grey squirrels are on the pill - the irony being all drugs are tested on rodents before human consumption. Protecting nesting avocets, the symbol of the RSPB, from rogue badgers uses electric fencing.
Can Coul links Golf course, sitting between Embo to the South and Loch Fleet to the North, develop without harming the environment? The Scottish Government felt otherwise, rejecting the initial planning application in 2019.
Can the second application succeed, promising highly sensitive protective kindness to this wild Sutherland place? There's no such thing here.
Which side of the debate will seek International aid for their cause? The local bigwig objected to anyone outside the immediate area having any say in a petition, forgetting Nature is all our inheritance and immediately making some wonder about his interest in the matter.
This is Scotland, achingly gorgeous and prone to poetic inspiration. The Big Country, iconic, photogenic, filled with obligingly beautiful native species, wild weather and magical light for digital creations. Outlander, the Amazon Prime series, invites the world to walk through the non-existent, once polystyrene stones seeking remembrance of things past, wracked with pangs of disappointment at the legerdemain, stuffing the narrow roads with cruise spill and commandeering all the buses of the north. It is a poisonous pound being spent everywhere but where it's needed. A golf course is little better.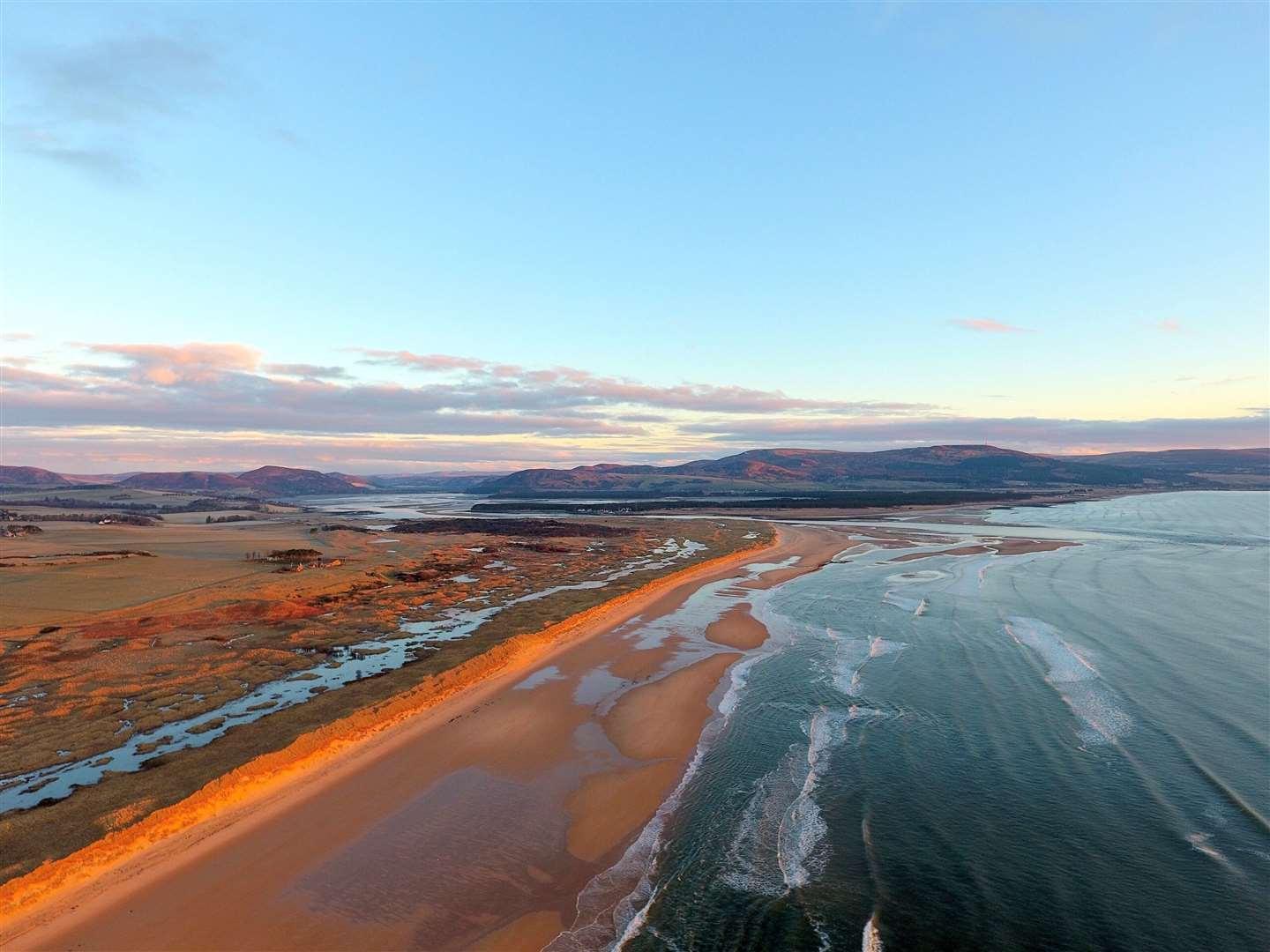 East from Inverness the A96 heads for disputatious duelling through some of the finest agricultural land in Britain. As populations increase, how can food be produced on fewer acres without the even more heinous industrial practices and the devastation of the health of all things? What is the true impact on the environment? Digging deep in questioning these damaging and aggressive projects, promoting convenience again taking precedence over Nature, turns up ugly truths about how we perceive our surroundings.
Road and golf course. Two projects, with oh so many more in the pipeline. Again, and again the same refrain. Black roads made safe, greedily seeking traverse in Arctic weather systems, with certain blizzards and snow drifts. Gritting, a scrouge of pollution in every burn with its salty run-off, a now catastrophic, nay apocalyptic litany of litter strewn verges and oily iridescence in the puddles - all heading for the sea.
How do we complain and reject such monstrous nonsenses as superfluous and irrelevant? Real planning applications must be in place today for our future. Write to your SMP echoing Disgusted from Tunbridge Wells with Furious of Forres.
Create a WhatsApp group. Tweet or Twitter. Generate a one hundred thousand signature online petition. Force Government to look at the issue. March on Edinburgh. Mirror the guile and media techniques, so sleek from big mouth conservationists, hand in hand with big mouth government.

_Coul Sands links plan from the air _
We should have listened to our future King rather than ridiculing him for talking to the trees and plants. He should be championed for broadcasting the first seeds of change long ago, the man who nailed the plastic problem before it became the global menace it is today. Well researched and well-read is Prince Charles. Gardening by the moon as the ancestors knew to do. The environment has to stop being relegated to the bottom of the list every time. We can all say ENOUGH. What is wrong with being particular about the natural look, noise and smell of a place?
P of W says,
We urgently need a fresh, positive and practical vision for the countryside.
Who needs another Golf Course North of Inverness, links or otherwise? The North District Golf Association comprises around 60 member clubs including two Championship courses.
Golf is an elite Sport. A leisure budget is required to pay between sixty and eighty pounds per round on Championship courses nearby, and heavens knows what on the latest gizmos, furiously promoted on Instagram to fire feelings of inadequacy and the competitive mind. The gorse at Coul will be burned and ripped away, destroying nesting habitat for warblers, stonechats, yellowhammers and linnets and so much more, already depleted and under enormous human pressure even in these more remote places. A cold wind that blows into these new wounds, shifting what remains of priceless sands.
This is SSSI designated territory for heaven's sake - A last resort for development, or so they say. Stringent rules about land management combined with frustrating red tape for landowners, a matter of ease when government advantage is perceived. Surely many years of science-based research needs be required before interfering on any level with this, or any other designated sensitive environment.
J. A. Baker spent a decade south and east of Coul in the 1950's, following the winter habits of a pair of peregrine falcons. His award-winning book is where science meets fine descriptive writing: The Peregrine contains an often-quoted hole in one observation, "The hardest thing of all to see is what is really there."
Is J.A.B talking about 'Nessie?' Arguably, given the tat and rot available along the Lochside.
Others think we have enough scientific information now. Incumbent HRH opines correctly,
We are the first generation to understand the full impact of our damage to the Planet and the last to be able to do something about it.
We need to see what is really there at Coul, beyond the desultory single-track roads, a few pull-ins with tables to watch the wildfowl, accursed barb wire and overhead power cables, glittering with orange baubles to warn the geese. A few lonely looking farm buildings -some derelict- promised upgrades. Bracing fresh air a' plenty on a stiff nor' easter.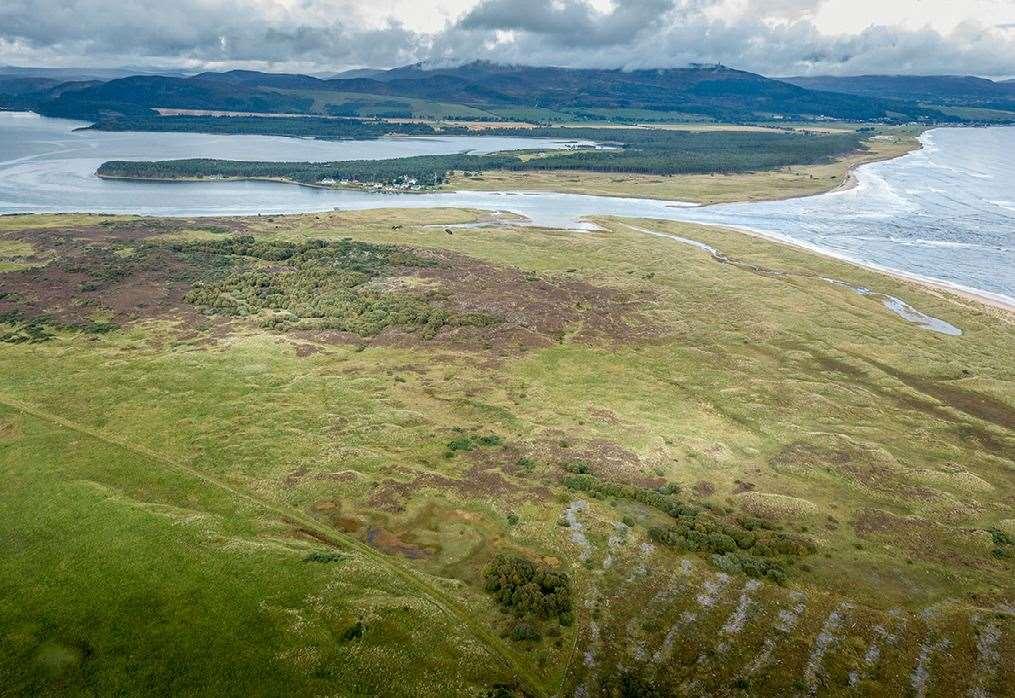 Coul Sands from the air
What is apparent, is the deepening and widening divide between town and rural communities is approaching the point of no return. Embo is one of countless places where rural employment is totally absent. Young people do not eschew the basic wage failing them, as it does, to buy or just rent their own homes locally, ousted by second home settlers. Employment is promised by the Coul project. The real fly in the ointment is government.
As J. McEnroe endorsed, "You cannot be serious!"
How many full-time jobs are there for a Golf course, only operable or worth keeping open for half the year?
One D. Trump, in nearby Aberdeenshire, denied Michael Forbes – the farmer who refused to part with his land – in a fit of pique, denied Mr. Forbes access to his once loved fishing.
Perhaps Coul too wants to be cool and decline income from visiting shooters, shooting geese at the Crown owned low water mark. Income is income. Riders, dog walkers, mountain bikers, fishers, surfers, swimmers all need to be remembered before access is denied, even as the blighted right to roam says otherwise.
The foreseeable future is this depressing schism 'tween town and country; both have seriously fragmenting communities. Whose countryside, is it?
A mown lawn, a car washed in the driveway is pollution. The great outdoors is treated with disdain; the missing universal respect defaced by fly- tipping, litter, farm gates left open, lambs silenced by unruly mutts. Government granted Scot's right to roam without updating or educating this generation in the Country Code. Dog shit bags left hanging as strange fruit from the bushes as if this halfway house exonerate from the full responsibility to dispose. The Council will do it.
Let's not even mention the environmental destruction being wrought by the hopeless, hapless, useless and wretched masks. Billions have entered the waters of the world. Please leave OUR countryside as you found it. It is not Glastonbury, the festival of Joy, where budget exists for a six-week contract to clear up all forms of human messes.
All by the by, the nesting birds, grasses, insects of the dunes, rarer by the year, take the brunt of the need to be employed in the service industry while Holyrood wants more immigration to fill the vacancies. You could hardly make it up.
And the Firth? One of Northern Europe's most important wildlife sanctuaries, a true creator of wealth for the area brought those who walk, watch and immerse themselves in such beauty, bemoaning the chemical run off from titivated greens and tees, catastrophic loss of habitat and a long slow choking of the great cetaceans basking in these waters.
Now then Wise Owl, the Coul links visitors are short-eared; they are silent to their prey when on the wing. This issue, and the countless others proposing a mirage of cheap alleged progressed progress, will too twist and turn on the wing.
Owl or Falcon - be Swift.
Make a difference rather than friends. Contact your SMP at least. No response from mine this end, several times, he's wants the tax income and dependency culture to keep him in business. Scottish personal vote May 6, they couldn't give a toss for the North.
This article was brought to you by the Mirthquake Foundation