Technology
Activists blockade the HQ of mega polluter Carnival Corp
Cruise companies European ships release more pollution then all of the continent's cars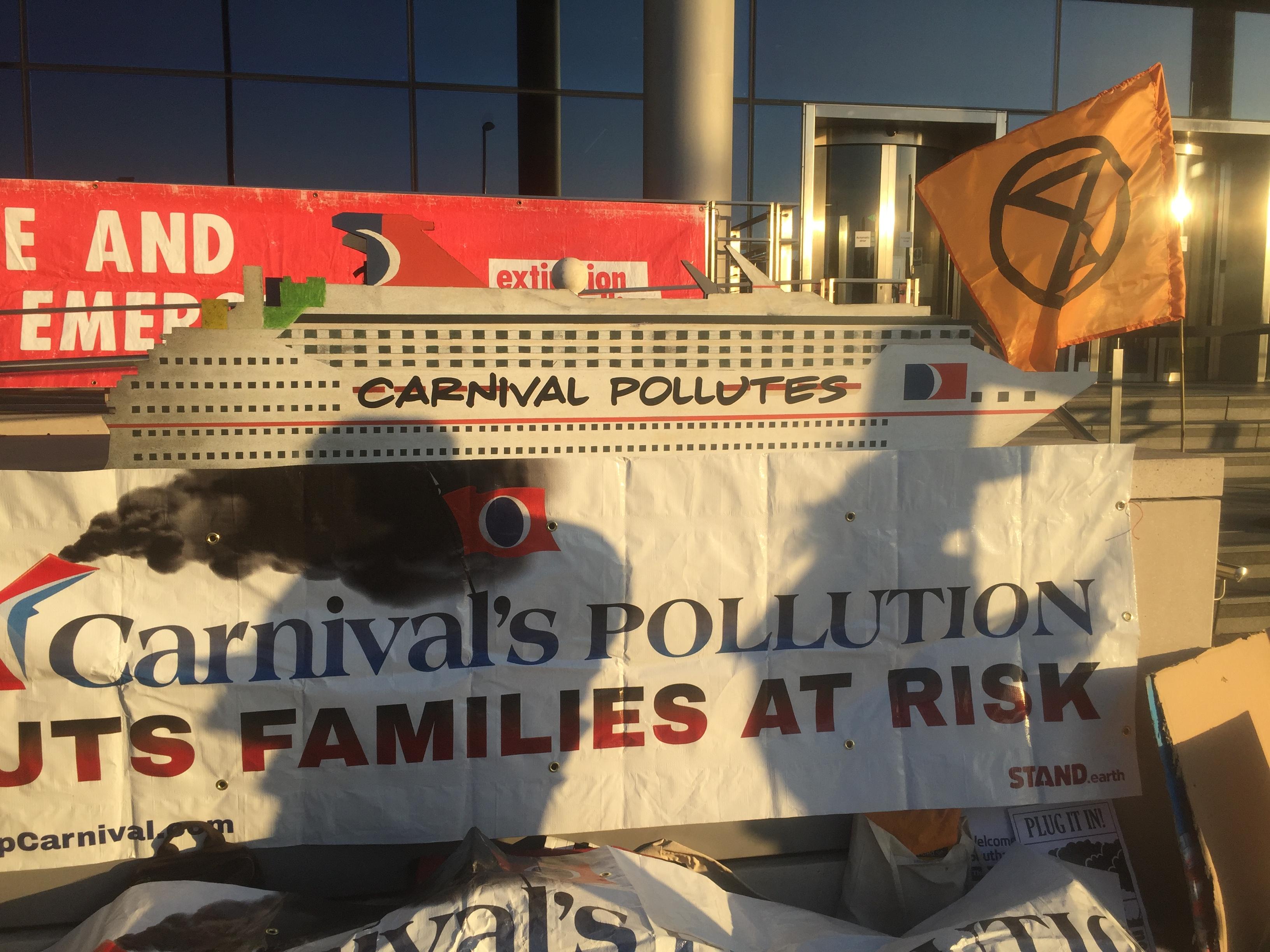 Awareness about the harm caused by air pollution is increasing everywhere. A new website allows people to check how dangerous the air in their postcode is and see the impact that this has on their house price. In the meantime, large polluters continue to cause most of the harm - especially in major port towns. Almost unbelievably, top polluter Carnival Cruises emits 10 times more air pollution than all of Europe's cars. Their giant cruise ships run their engines while in ports with serious health implications for the communities that live there. Pressure continues to mount for them to clean up their act and decisively reduce the pollution they cause.
Last month, Extinction Rebellion Southampton (XRS), alongside other concerned citizens and campaigners, staged another protest outside the UK Headquarters of Carnival UK PLC in Harbour Parade. This action was part of an ongoing campaign to highlight the serious environmental impact of Carnival's cruise operations in Southampton and across the world. Campaigners staged a die-in to and read an open letter XRS sent to Carnival to raise awareness to passing traffic, pedestrians and employees. Participants then joined hundreds to take part in the Global Climate Strike day of action.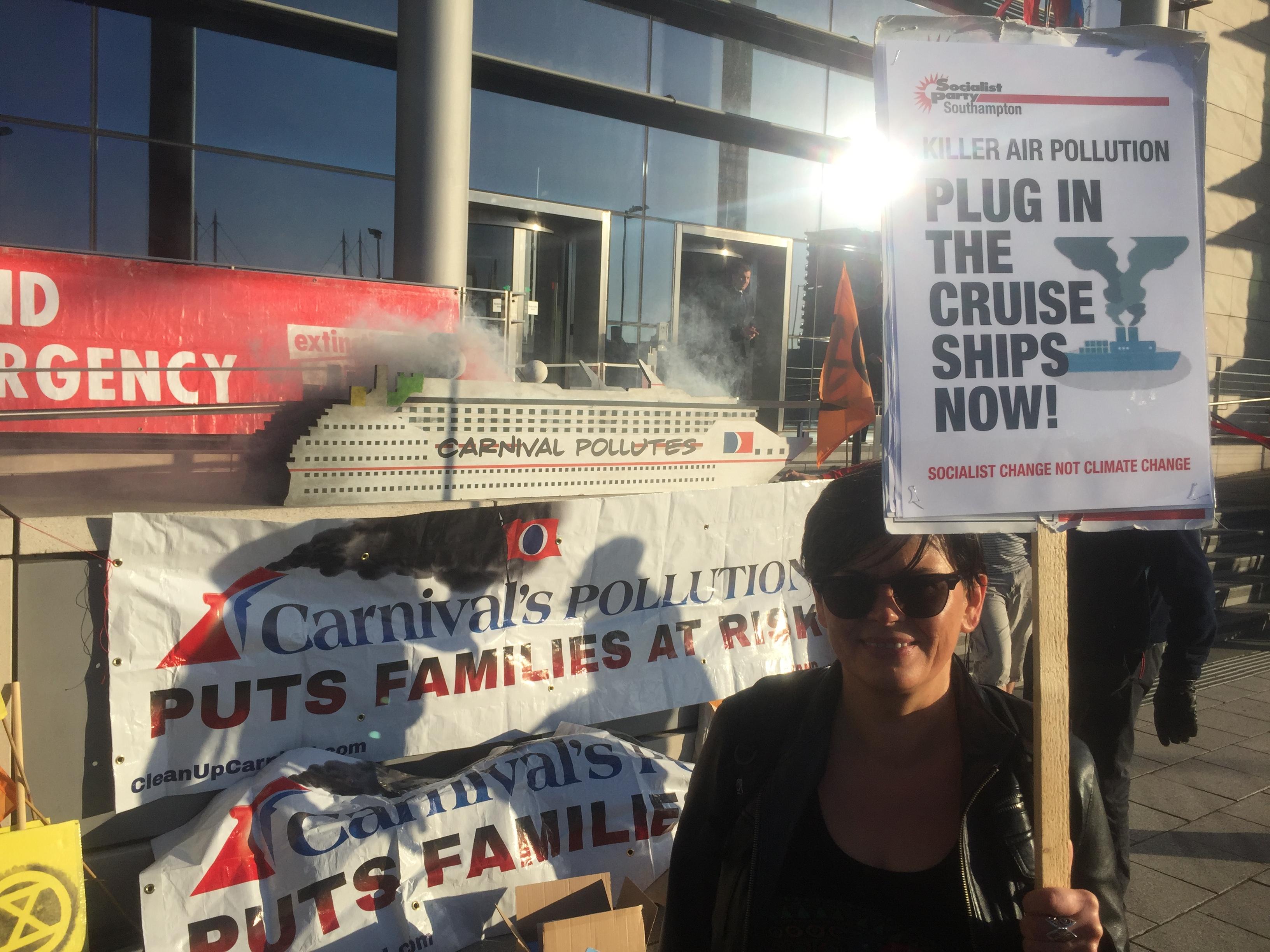 Hundreds of students from schools, colleges and university congregated in Guildhall Square to hear speeches, discuss opinions and share food. Speakers pressed the need for a wider change of values. An academic from the university explained the unsustainable nature of the aviation industry. Those opposing the expansion of Southampton Airport spoke about their campaign. Councillor Steve Leggett noted some very positive moves toward making the city's vehicle fleet electric as part of the Green City Charter. However, others also raised the fact that too little was being done about the pollution and carbon emissions from the port.
More than 100 people die every year in Southampton as a result of long-term exposure to air pollution. The World Health Organisation has named Southampton as one of the most polluted cities in the UK. Yet Carnival insists on running the engines of its huge ships in port, meaning the city centre and residential neighbourhoods nearby, which already have some of the worst air quality in the UK, must put up with further fumes.
Air pollution contributes to heart disease, lung cancer, and seriously exacerbates the effects of asthma. It is estimated that shipping will account for nearly 20% of the world's CO2 emissions by 2050, if left unregulated. We know that we need to drastically cut these emissions if we have any hope of avoiding hugely damaging climate change, which will affect all our lives.
It is long past time for the shipping industry to get its house in order. An estimated 7 million people took part in the Global Climate Strike on 20th September. This is a social movement that is not going away. It is an alarm bell which all sections of our society must take notice. Every industry must take its message on board, words and charitable donations are no longer enough. Companies must now actually start to change the way they operate.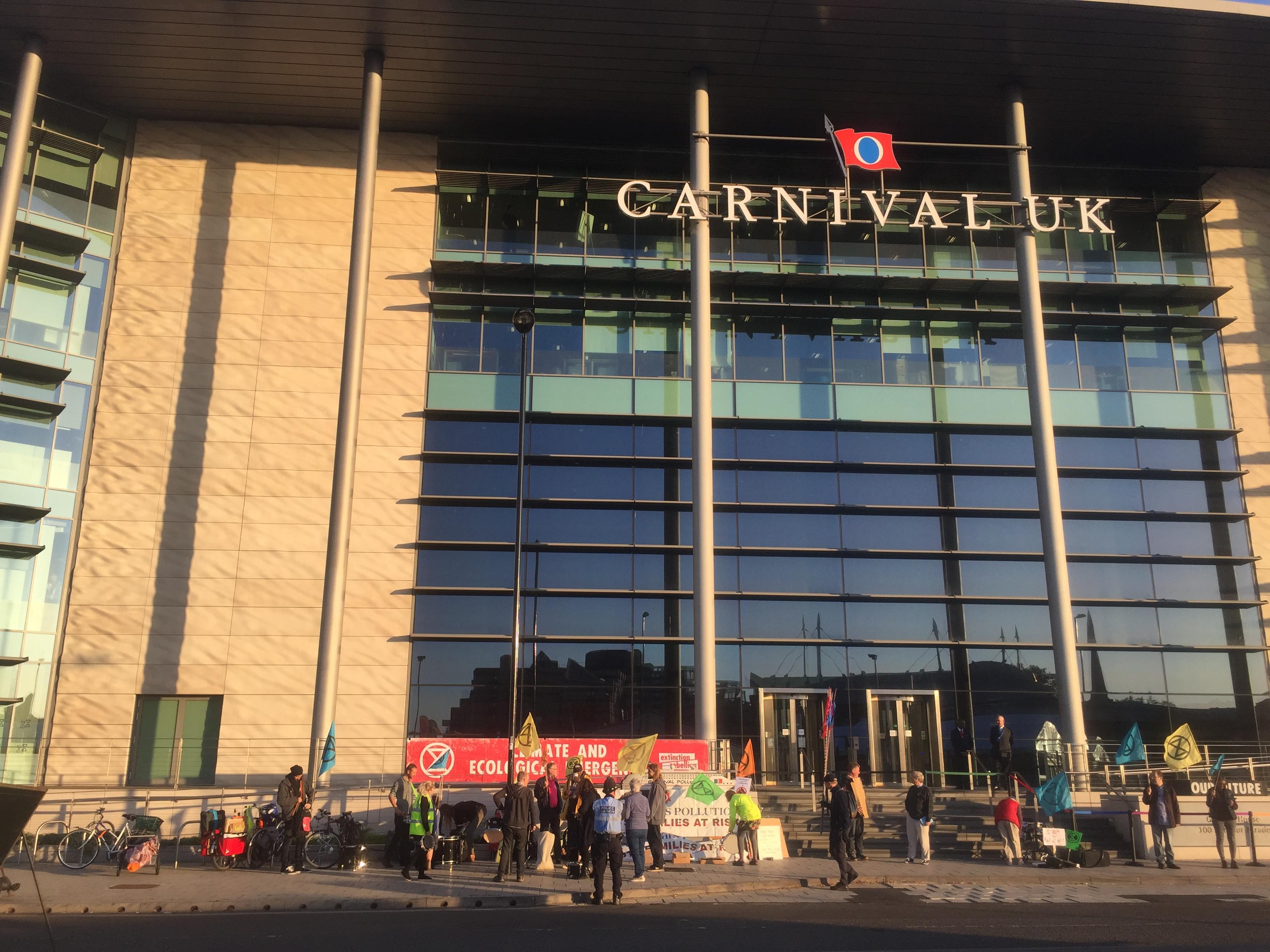 Carnival's ships run on heavy fuel oil, the dirtiest of fuels. In 2017, Carnival's ships emitted more than 10 times the sulphur dioxide around the coast of Europe than all the continent's 260 million cars. Carnival now says it favours powering its fleet with natural gas (LNG). But that has environmental risks. Spills at shipyards during refueling or potential release of methane, an explosive greenhouse gas, 30 times worse in the atmosphere than carbon dioxide. LNG is also often produced through fracking. Some forms of waste from its cruise liners is ejected directly into the sea.
2018 was a record-breaking year for Carnival with revenues increasing by 6.8 percent to 3.7 billion US dollars. We call on Carnival to ACT NOW to fit their ships to use shore-provided electricity when in port to stop polluting the city. The firm clearly has the resources to do this. This would be a decent first step and a show of goodwill from a cruise industry that has a massively negative environmental impact.
Well over a thousand people have already signed a petition asking for this. We call on Carnival to TELL THE TRUTH about the environmental impact of cruise ships both on our city and on our planet. Southampton City Council and Associated British Ports need to insist on the transition to electric charging to make Southampton a cleaner and greener city.
XRS will be keeping up the pressure and continuing to raise this issue in every forum we can. It is totally unacceptable that operations that make the company and its shareholders huge sums also contribute to a public health crisis.