Meet the secretive billionaire behind factory farmed salmon
This fascinating documentary shines a light on the dirty world of factory salmon farming and how mainstream environmental organisations are complicit in enabling the corporations to expand even whilst they decimate the natural world.
Salmon factory farming is a multi-billion dollar global industry wreaking havoc to ecological systems and coastal communities around the world. The biggest industrial salmon farming company was called Marine Harvest but rebranded as Mowi in an attempt to shake off their terrible reputation for scorched earth expansion. When Ecohustler published an article detailing Mowi's shocking recent track record in Scotland their lawyers demanded we take it down. This is business as usual for a company run from the top by notorious tax evader - John Fredriksen.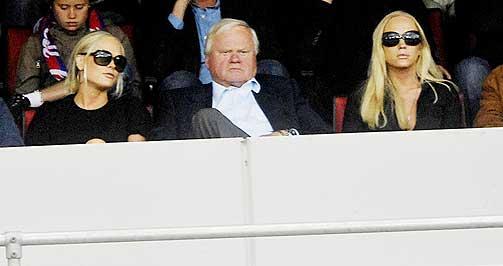 John Fredriksen with his twin daughters
John Fredriksen (born 10 May 1944) is a Norwegian-born Cypriot oil tanker and shipping billionaire businessman, who owns the world's largest oil tanker fleet. In 2012, Fredriksen and his family were listed as the 9th richest in Britain with a combined wealth of £6.6bn. Fredriksen owns houses in London, Oslo, Cyprus, and Marbella, Spain. His house The Old Rectory in London has been estimated to be worth around US$172 million and has the second biggest garden in London after Buckingham Palace.
Whilst this documentary focusses on Chile and is a little out of date it give key insights into huge global impacts of the poorly understood salmon industry and the billionaires behind it who are accumulating vast wealth at the expense of our shared environment and everyone that depends on it. It also exposes the way major environmental NGOs sell out. WWF gives their panda logo to Marine Harvest in return for cash, rubber stamping their operations even while wild salmon are pushed to extinction and Chile reels from appalling levels of pollution - excrement, antibiotics and toxic chemicals.
They have killed our ocean.
Whilst very little is known about John Fredriksen and Mowi aggressively enforces its narrative on the world; it is clear that once you start to look at the factory farming salmon industry the situation is truly dire. Factory farming salmon is a rogue industry causing massive harm to people and the planet.
Currently, the Scottish government is working with the salmon farming industry and plans to double output by 2030. In the wake of coronavirus, the Scottish government has weakened rules on the use of toxic pesticides by the fish farming industry, prompting further fears for marine wildlife.